Shop! Read! Watch! Listen!
Fair Trade
"What we buy and where we buy it can make a world of difference to our global neighbors. When we make fair trade purchasing a habit, our impact on people and the planet can be a positive one."
World Fair Trade Organization (WFTO)
When we talk of fair trade in India and the impact our purchases can have on the lives of the artisans, Dining for Women always includes The Anchal Project  – our Featured Program in October 2012.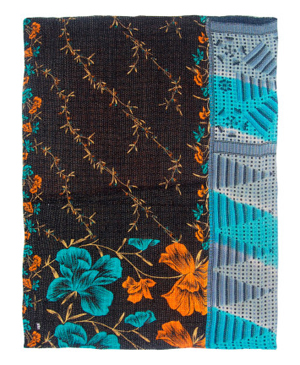 Hand made from six layers of vintage cotton sari, held together by a simple running 'Kantha' stitch.
When you purchase Anchal's one-of-a-kind products, you invest in new economic realities for women in India. In addition, portions of each purchase go towards artisans' health care program, educational workshops and a scholarship fund.
Each artisans stitches her name proudly on her design.
74" x 54" Quilt – $250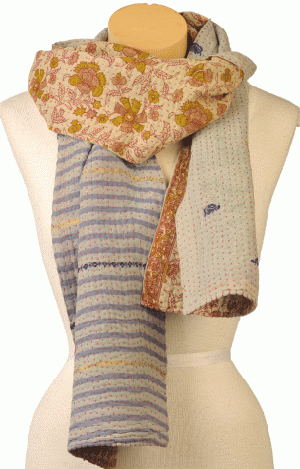 In India, women affectionately call each other Didi, meaning sister in Hindi.
During the filming of Half the Sky, activist and actress America Ferrera was inspired by Anchal's program that provides creative jobs to support women out of the sex trade. She partnered with Anchal to promote a line of scarves called 'The Didi Connection'.
The Didi Connection is a global sisterhood passionate about making a difference for women across continents and seas. Its effectiveness stems from the realization that all women are sisters and that you can do something to change your sister's life today.
Caring for a sister is a natural, joyful endeavor — the true Didi Connection!
Every Anchal scarf is one-of-a-kind and dual colored, making it the signature piece to your outfit. It is hand made from five layers of 100% recycled cotton sari, held together by a simple running stitch.
Scarves are available as flat or 'infinity' style – $75
Books
Fiction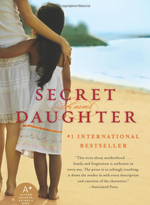 Secret Daughter: A Novel by Shilpi Somaya Gowda  (William Morrow Paperbacks, 2011)
In India in 1984, destitute Kavita secretly carries her newborn daughter to an orphanage, knowing her husband, Jasu, would do away with the baby just as he had with their firstborn daughter. In their social stratum, girls are considered worthless because they can't perform physical labor, and their dowries are exorbitant. That same year in San Francisco, two doctors, Somer and Krishnan, she from San Diego, he from Bombay, suffer their second miscarriage and consider adoption. They adopt Asha, a 10-month-old Indian girl from a Bombay orphanage. Yes, it's Kavita's daughter. In alternating chapters, Gowda traces Asha's life in America—her struggle being a minority, despite living a charmed life, and Kavita and Jasu's hardships, including several years spent in the slums of Mumbai, and the realization that their son has turned to drugs. Gowda writes with compassion and uncanny perception from the points of view of Kavita, Somer, and Asha, while portraying the traditions, sights, and sounds of modern India.
"This book is a must for anyone touched by adoption, or India, or the delicate dynamic between adolescent girls and their mothers." —Sujata Massey, author of Shimura Trouble
Keeping Corner by Kashmira Sheth (Hyperion Book, 2009)
As a member of the Brahman caste, twelve-year-old Leela doesn't notice the hardships of lower castes.  Engaged at two and married at nine, Leela is soon to have her "anu," when she will move into the home of her husband.  Before the much-anticipated anu, her husband is bitten by a snake and dies. As a widow, Leela must have her head shaved, wear dull brown saris, and spend an entire year "keeping corner." She can't leave the house for an entire year. Only gradually does formerly light-hearted Leela come to understand the magnitude of the calamity that has befallen her.  Set in India during the time that Gandhi is leading non-violent protests against the caste system and the British colonists, Leela's story exposes enormous gender inequalities as well. This novel follows Leela's inner growth during the year.  Coming to appreciate education as her only hope, Leela endures the year of keeping corner, studying, until she ultimately triumphs.  This novel is based on the life of the author's great-aunt.
"This powerful and enchanting novel juxtaposes Leela's journey to self-determination with the parallel struggle of her family and community to follow Gandhi on the road to independence from British rule." – Kirkus Reviews
Non-Fiction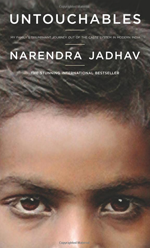 Untouchables: My Family's Triumphant Escape from India's Caste System by Narendra Jadhav (University of California Press, 2007)
Every sixth human being in the world today is an Indian, and every sixth Indian is an untouchable. Author Narendra Jadhav, head of economic research for the Reserve Bank of India, is a member of India's Dalits – or untouchables – a group that numbers 165 million.  Based on his father's diaries and family stories, Jadhav tells the triumphant story of his parents—their great love, unwavering courage, and eventual victory in the struggle to free themselves and their children from the caste system.  Jadhav also provides poignant glimpses into his parents' everyday lives: how their hut leaked during the monsoons, shelling tamarind pods for pennies a day, the devastation of the plague on families packed into tenements. One of his most surprising revelations is that even today he is asked about his caste, which remains "an inseparable part" of his identity.
"A loving paean to courageous parents, and an indicting portrait of prejudice in modern-day India. This Indian bestseller will strike a chord in the U.S." – Kirkus Reviews
Why Growth Matters: How Economic Growth in India Reduced Poverty and the Lessons for Other Developing Countries by Jagdish Bhagwati & Arvind Panagariya
In its history since Independence, India has seen widely different economic experiments: from Nehru's pragmatism to the rigid state socialism of Gandhi to the fast-paced liberalization of the 1990s. So, which strategy best addresses India's, and by extension the world's, greatest moral challenge: lifting a great number of extremely poor people out of poverty?  This book argues that only one strategy will help the poor to any significant effect: economic growth. This radical message has huge consequences for economists, development NGOs and anti-poverty campaigners worldwide. There are vital lessons here for anyone who cares that the effort to eradicate poverty is more than just good intentions.
"Bhagwati and Panagariya are two of the great intellectual lights behind one of the greatest miracles of economic history: the economic reform of India, and its subsequent takeoff. It is not just the well-to-do who have benefited, but, especially, the poor. The lessons from the spirit of 1991 are not just relevant for India today; they are also of prime importance for the billions of citizens of low income countries around the globe." – George Akerlof, Nobel Laureate in Economics, 2001
Films
Love in India (2009, 90 minutes)
Indian filmmaker Q explores the clash between contemporary and ancient sexual mores in his native land, which is famed for producing the erotic masterpiece Kama Sutra yet it exists under centuries of harsh, shame-based repression.  Meanwhile, every 6 hours, a young married Indian woman is beaten to death, burned to death, or driven to suicide by an emotionally abusive husband. Every four hours, an Indian woman commits suicide over a dowry dispute. Over two-thirds of married women in India have been beaten, raped, and assaulted, about sex; and 56% of women think it's acceptable under certain circumstances.
"Through Love in India, Q has set out on a journey to find out the stories of love, or rather how India thinks about love. This is, in effect an exploration of the sexuality of the Indian people and the dichotomy associated with it; the now repressive society that once celebrated sex." – Dearcinema.com
Darshan: The Embrace (2006, 92 minutes)
Known the world over as "the hugging saint," Mata Amritanandamayi Devi – or Amma, as the masses call her – shares her world and vision with Dutch documentarian Jan Kounen in this inspiring film. Following the famous mahatma across India – from Jaipur to Calcutta via Benares – Darshan places the spotlight on Amma's charitable work while providing a window into the mystical and logistical necessities of running a large-scale spiritual "tour."
"A profoundly touching documentary on not only Amma the hugging guru, but also an honest look at India, from the ground up of the 'extraordinary' and normal lives of India's people from an ancient religious standpoint and the secular world in which they live today." – Netflix
India: Kingdom of the Tiger: IMAX  (2002, 42 minutes)
This film takes you on a journey across India, a breathtaking land shaped by a multitude of cultures, customs and traditions. You will come face-to-face with the Bengal tiger and explore the spectacular world of this majestic creature.  Inspired by the writings of Jim Corbett, who pioneered wildlife conservation, this short documentary is a glorious tribute to this magnificent land.
"The national animal of India, the Bengal Tiger, is featured up-close in this IMAX presentation. Based on the life of writer/activist Jim Corbett, this program discusses how these tigers became endangered species and what has been done to protect them." – RottenTomatoes.com
Music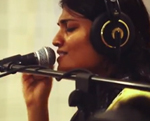 Sound Check looks at the developing music culture in contemporary India and explores the exciting variations of the 'Indian Sound' emerging from musicians across the country: a variety of sounds that are coming together and exploding in India's contemporary music culture, opening avenues for experimentation and hybridizations, plugging India's tradition of classical and folk music into a global music ideology and creating soundscapes that are international and yet Indian.
This 40 minute video is a great look at the depth and breadth of contemporary music in India.
ou may be familiar with the 2009 movie Slumdog Millionaire. As Gautam Chintamani, Delhi-based author and documentary film maker, says of the soundtrack, "Nothing can prepare you for the sound of Slumdog Millionaire. The album mirrors the magical journey of Jamal, a slum dweller who goes on to win a million rupees. Slumdog can be best described as a confluence of many music styles similar to the cultural cauldron that India has been identified for many years now. It's not surprising that Rahman let go of a lot of offers to concentrate on the score of Slumdog Millionaire."
"The propulsive score, by Bollywood soundtrack auteur A. R. Rahman, is hip-hop fusion of a very up-to-date kind" – Kurt Loder – MTV.com
If you've not yet seen the film, watch it on Netflix or buy on Amazon.
The biggest form of Indian popular music is 'Filmi' – songs from Indian films – which makes up 72% of the music sales in India. Filmi music tends to have appeal across India and overseas, especially among the Indian diaspora. Songs are often in different languages depending on the industry, for example in Hindi or Tamil.
'Playback singers' pre-record songs for use in film, and the actors lip-sync. Though playback singers may release solo albums, their performances in soundtracks tend to be more noticed due to the widespread appeal of movies. The songs of a film, the quality of the music and its music director (composer), lyricist, and singer have often determined the success of a film.
Listen to the Top Bollywood Songs of 2012