Shop! Read! Watch! Listen!
Fair Trade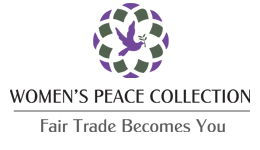 Investing in women is the basis for prosperity and peace in our world, and the Women's Peace Collection is doing its part. Each item in this online, fair-trade store speaks to this hopeful vision: women's hands are a force for peace. Owned by Sue Fish, a DFW member in Great Barrington, MA, the site sells jewelry, scarves, bags and more made by women from around the world who are rebuilding their lives in the shadows of war, civil strife or crippling poverty. All of the products are handcrafted, sustainable and will help empower women entrepreneurs. Dining for Women receives 10 percent of sales by mentioning DFW in the "Note to Women's Peace Collection" during checkout. Visit Women's Peace Collection here. Offer expires 6/1/19.
TisBest Philanthropy sells donation gift cards. The sender purchases a gift card for the dollar amount of their choice. The recipient spends their TisBest Charity Gift Card by donating to a charity they believe in. TisBest donates a portion of their sales to Dining for Women.
Books
Non-Fiction
Women's Empowerment and Global Health: A Twenty-First-Century Agenda
By Shari Dworkin (Editor), Monica Gandhi (Editor), Paige Passano (Editor and VSHD staff member)
Recommended by VSHD
From Amazon: What is women's empowerment, and how and why does it matter for women's health? These are questions that the University of California Global Health Institute's (UCGHI) Center of Expertise (COE) on Women's Health, Gender, and Empowerment aimed to answer with this book.
Films
The Man Who Stopped the Desert
Recommended by VSHD
From Amazon: In Burkina Faso, the desertification of once fertile plains caused droughts and ruined harvests, sparking a mass exodus and famines. Yet one illiterate peasant farmer and his ingenious farming methods have proved the key to achieving what experts have failed to do: stop the desert. This is the unique story of Yacouba Sawadogo, whose years of toil have transformed the lives of thousands.
Recommended by VSHD
From Amazon: A cattle herder and his family who reside in the dunes of Timbuktu find their quiet lives — which are typically free of the Jihadists determined to control their faith — abruptly disturbed.