---
Vietnam 2013 trip diary: Arrival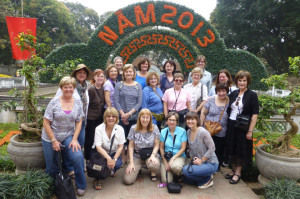 By Lynn Broadbent
Fairfax Station, Virginia chapter member
On March 8, our journey began. My flight out of Washington, DC was 14 hours into Seoul. The first lovely surprise was the flight itself and the delightful Korean Air crew. I watched four movies and enjoyed some authentic Korean dishes, and glimpses out the window of mountains, snow, and eventually the beautiful suspension bridge of Seoul.
The layover for me was about three and a half hours, time to find some of my fellow travelers, and change some dollars for Vietnamese dong. I handed over three hundred dollars and walked away with over five million dong – this trip turned me into a millionaire!
Nine of us flew together into Hanoi. By the time we reached the hotel, I had been traveling for 23 hours, others even longer.
Our first day in Hanoi was overcast and muggy but there was a pleasant breeze. We started out with a visit to the Temple of Literature. Our bus ride took us along tree-lined avenues and past elegant yellow stucco buildings, the legacy of the French who colonized the country from the late 1800s to 1954. The streets are teeming with motorcycles, some loaded with massive stacks of flowers or baskets of fruits, and they are parked in row after row on sidewalks. Hanoi is the second most densely populated city after Hong Kong, and if the number of motorcycles is anything to go by, that's easy to believe.
The Temple of Literature, built to honor Confucius in 1070, is a sprawling series of courtyards and ornate gates, small temples and altars. Students come to pray before exams, lighting incense and offering fruits and paper money. There are gorgeous bonsai gardens everywhere. We saw more altars and gardens at the Tran Quoc Pagoda, and briefly stopped at a marker on the site where John McCain was shot down in 1967 before being taken to the infamous "Hanoi Hilton".
After a lunch of fishballs and noodles we spent some time at the Women's Museum. The Vietnamese culture is one of rich family traditions and rites with costumes, textiles, calligraphy, and jewelry. The most surprising discovery for me was the exhibit about women war heroes. These women took enormous risks, carrying babies and weapons at the same time, leading troops while they also cooked rice to feed them. This was a part of history I was unfamiliar with and it leaves me in awe of these brave women.
Tonight we meet some girls who are in foster care and see the traditional Vietnamese water puppets.