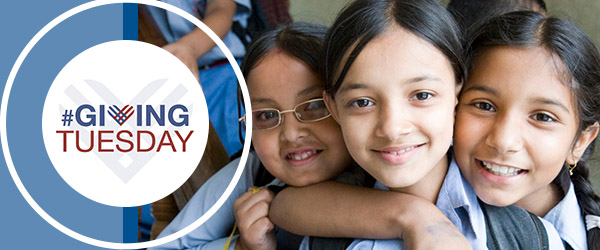 ---
JOIN OUR GIVING TUESDAY PARTICIPATION CHALLENGE
Giving Tuesday, a global day dedicated to charitable giving, is Nov. 29. Since its founding in 2012, Giving Tuesday has inspired giving around the world, resulting in greater donations, volunteer hours, and activities that bring about real change in communities.
As part of our 13th Month Annual Appeal, Dining for Women is issuing a special challenge tied to Giving Tuesday. We want to receive 1,000 donations to our annual appeal during a 10-day period starting on Giving Tuesday. All donations received online or by mail between Tuesday, Nov. 29 and Thursday, Dec. 8 (inclusive) will be counted in this special Giving Tuesday Participation Challenge.
As an added incentive, DFW member Corinne Blakemore will donate $5,000 to our annual appeal if our challenge is successful! Corinne has been involved in almost every aspect of DFW over the years. She is currently the Regional Leader for DFW's Central Region as well as Chapter Leader for the IN, South Bend-1 chapter. She has also served on our Grant Selection Committee for more than four years, and has participated in a DFW trip. We are so grateful for all of Corinne's contributions to DFW and her passion for supporting women and girls!
We will report our progress over the 10 days on the homepage of our website and in a series of emails. If you have already given to the 13th Month Annual Appeal, we sincerely thank you and will not be sending you these emails.
Please think of Dining for Women on Giving Tuesday and help us reach our goal!