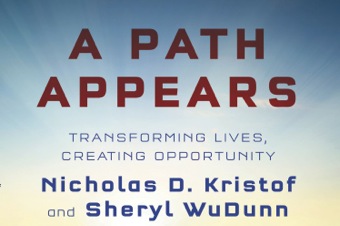 ---
A conversation with Nicholas Kristof
Marsha Wallace hosted a conversation with "A Path Appears" co-author Nicholas Kristof about the new book, the gains made in reducing extreme poverty and women's equality — and the distance yet to go. The authors mention Dining for Women in several spots throughout the book. "Sheryl and I are such big fans of what you guys do," Kristof said during the Hangout. View the on-demand video of this insightful conversation.
Reviews of "A Path Appears"
"It's time to rethink what a charity should be," write award-winning husband-and-wife journalists Kristof and WuDunn (coauthors of Half the Sky) in their latest collaboration, which will be the basis of a PBS series. Such is the tone of this broadly inclusive and multifaceted account of possible solutions to today's "overwhelming and unrelenting" social problems. Heartening anecdotal sketches of both givers and receivers in the "charity industry" are engaging and informative, and Kristof and WuDunn hope to provoke serious thought about the role of charity in today's world. They applaud "innovators who are using research, evidence-based strategies, and brilliant ideas of their own to prevent violence, improve health, boost education, and spread opportunity at home and around the world." Of particular note is Kristoff and WuDunn's endorsement of "social entrepreneurship" and for-profit organizations as the most promising models for change. Readers may quibble with their points of emphasis, but Kristof and WuDunn's commitment and passion for substantial action is inspiring. The book's appendix includes a valuable list of organizations that work in education, crime and violence prevention, family planning, public health, and other fields.
A primer on "finding innovative and effective ways to give back," from Pulitzer Prize–winning New York Times journalists Kristof and WuDunn (Half the Sky: Turning Oppression into Opportunity for Women Worldwide, 2009, etc.).
In their fourth collaborative effort, the husband-and-wife team addresses how ordinary people can participate in "a revolution in tackling social problems, employing new savvy, discipline and experience to chip away at poverty and injustice." While big-name charitable givers such as Warren Buffett and Bill Gates garner the headlines, the authors cite surprising statistics showing that poor and middle-class Americans collectively donate more to charity than the heavy hitters. Small, targeted donations can make a major difference in the lives of children by providing clean water and inexpensive medications—e.g., deworming an African or Asian child for a cost of only 50 cents per year. … Using anecdotes to illustrate their case, the authors squarely face the problems inherent in charitable giving, and they examine how clever-sounding projects may look good on paper but prove ineffective in the field. Noting that "the ability to empower others [by] giving is self-empowering," they warn that social entrepreneurship must be accompanied by practical business experience and careful management; this means monitoring outcomes as well as initiatives. The authors deliver a profound message that packs a wallop.
Interested in hearing more? Nicholas Kristof and his wife and co-author Sheryl WuDunn have a busy schedule of speaking engagements and promotional events. Find one in your area.