Please reach out to your Senators' and Representative's Legislative Director with a request that their bosses speak to leadership about passing an emergency COVID relief bill now. Use the sample email below to craft your message and follow up with a phone call. Copy the legislative aide for foreign policy if you have that contact information (let us know if you don't and we can get it for you). It is really important that we push those who are supporting these issues to speak to others in leadership, especially in the Senate.
Tips
Look up your members of Congress, their contact information, and staff here.
Form email address for staff using these formulas:

House: firstname.lastname@mail.house.gov
Senate: firstname_lastname@SenatorLastName.senate.gov

Send an email, then follow up with a call to the staff member asking if the Senator or Rep will take the action outlined in your email. Continue contacting the staff until you get an answer to your question.
Put others in action by asking them to take this online action.
Sample Message to Senators and Representatives (edit and personalize)
Dear ____
As a Dining for Women advocate, I'm extremely concerned about the impact COVID-19 is having on women, girls, and children in resource-poor countries. Women are typically the caregivers and the ones who see to food and nutrition for families, so if they are struggling, families and countries are struggling.
And women are struggling. Projections are that global hunger will double, and thousands of infants will suffer or die of severe malnutrition. An estimated 80 million children are at risk of vaccine-preventable diseases for lack of access to regular health services. AIDS, TB, and malaria cases and deaths are projected to rise to levels we haven't seen in 10-20 years. Cases of female genital mutilation (FGM) are projected to go up by 2 million and 7 million unintended pregnancies could result from the lack of access to overburdened healthcare systems. Young girls are suffering as well. It is projected that many will not return to school, that child marriage could increase by 2.5 million and more than 1 million vulnerable girls will face the risk of adolescent pregnancy because of lockdowns. Domestic violence against women and girls is also up.
Please browse through the 172 pieces of media from across the county, including XXX pieces from our state, calling on Congress to include a global response to the global COVID-19 pandemic in any supplemental bill. Americans do care about what is happening around the world and want action.
I'm calling on your boss to please speak and write to leadership, imploring them to craft and pass a COVID-19 relief package now that includes at least $20 billion in international development assistance with much of it going to organizations on the front lines in low-income countries—organizations like the Global Fund to Fight AIDS, TB, and Malaria and Gavi, the Vaccine Alliance.
Can you please get back to me and let me know if your boss will take this action? I'll be following up with a phone call soon.
Name
DFW Chapter
Contact Info.
Congress still has not passed an emergency COVID-19 supplemental spending bill, so we must continue applying pressure through our actions. Please take this urgent action today or tomorrow to leverage the media we've been working on over recent months.
Take Action: Personalize the message below and send it to Legislative Directors (LD) plus any staff contacts you already have for your senators and representatives
To find the LDs, look up your Senators and Representative in the RESULTS Legislator Lookup tool. Click on the "Staff" tab for each member of Congress you want to send the message to. Find the name of the Legislative Director.
Form the email address of the Legislative Directors using the following formulas:
Personalize the message below with your passion and send.
Draft Message for Senators and Representatives:
Dear ________,
I'm reaching out to you and your boss to plead that you do something to move a COVID emergency supplemental bill forward.
Elections are coming up and millions of Americans and people in poor nations are suffering the direct and indirect effects of COVID-19. If gridlock continues, Americans will go to the polls frustrated and disappointed that Congress can't even come together around a global pandemic emergency. Where is the urgency when people are so desperate? Where is the leadership?
In the RESULTS/DFW media compilations below you'll find pleas for action from people from around the nation, and our state. They are calling on you and your boss for leadership and action on a strong COVID-19 emergency supplemental.
Will you and your boss please think creatively about what you can do to break the impasse? Whatever you traditionally do with your party and in your chamber is not working. We see rank and file members of Congress taking action on this, like those who are part of the Problem Solvers Caucus. Can you do something different to pressure leadership to come together to help people in these desperate times?
We need a strong COVID-19 response that includes, among other things, at least $20 billion in international development assistance for suffering people.
Please let me know what your boss is doing to move this issue forward. I will share it with constituents in our network who are anxious for some good news.
Congress left DC for the long August recess with no agreement on a Covid-19 supplemental spending bill. This has left millions of people in the U.S. and around the world in dangerous predicaments. Governments and non-governmental organizations (NGOs) in low- and middle-income countries are struggling to mitigate the effects of Covid-19 on regular efforts to combat diseases, vaccinate children, provide basic maternal care, combat malnutrition, and provide basic education.  And women and girls are impacted the most!
We must publicly call on Congress and the Administration to do their job and pass a bill that addresses the needs of the people in the U.S. and in partner countries. The best way to do this is by calling them to task in the media.  Writing a letter to the editor is pretty easy if you think about the parts:
Hook (response to something in paper or reference to a topic most people would understand)
Why it matters to you
Call to action
There are some examples of letters in the slides from the Aug 19 webinar (see link above).  RESULTS also makes it very easy to write a letter to the editor. Just go to this online action, edit the subject line and the sample letter, put in your address, hit send. Your letter will automatically be sent to nearby papers.
Congress and the Administration are not doing their jobs. We must let them know that we do not approve and urge them to act.
Want to do more than write a letter to the editor? Contact Leslye (advocacy@togetherwomenrise.org) or Ken (kpatterson@results.org) for guidance and coaching.
We are at a time of urgency—if we do not get the Senate to add $20 Billion for global support to the next COVID relief package before the August recess, we will lose the opportunity to do so. The impact of this will reverberate worldwide—-without global funding we will not get ahead of this pandemic and therefore none of us will be spared the health and economic fallout. We stand to lose 10-20 years of progress on issues of poverty:
The World Bank estimates that 70 million people will be driven into extreme poverty.
The current generation of students is at risk of losing $10 Trillion in earnings over time due to pandemic-related school closures.
Disruptions to health services could cause an additional 6.3 million cases of tuberculosis and an additional 1.4 million TB deaths between 2020 and 2025.
The number of people facing hunger is estimated to double to 265 million by the end of 2020.
We are calling on all Dining for Women members and advocates to take at least one action. We must insist that Congress include a global response to the COVID-19 pandemic before they leave Washington in August. It's easy to do with all of the resources available HERE.  PLEASE ACT NOW!
Unless we take decisive steps, we stand to lose decades of progress made in the reduction of global poverty. Some sources are even beginning to consider the terrifying possibility that we may return to the times of the Millennium Development Goals of 2000.  Without action, COVID-19 will have a devastating impact on low-income nations. The disruption of health services for mothers and children is already happening. Food and drug supply chains have been interrupted which means that essentials are either unavailable or too expensive for most to consider.
Our June 17 advocacy webinar detailed the challenges we face and steps you can take to push Congress to take action. Below are the resources for taking critical action to ensure that the Senate knows that constituents expect a global response to the global COVID pandemic.
Steps for taking action:
Look up the staff and phone number for your Senator here. Find the Legislative Director (LD), and if available, the Foreign Policy aide. Directing your comments to a specific person within the senator's office is helpful.   Contact Ken Patterson if you need help finding staff.
Use the EPIC Laser Talk below to call and email both your Senators' Legislative Director and Foreign Policy aides. Form their email address with this formula:  firstname_lastname@SenatorLastName.senate.gov
Follow up until you get an answer. Persistence makes all the difference here. Staff are busy and although it seems counterintuitive, they actually appreciate your help in staying on top of your request.
Let Leslye Heilig know you've taken action. You can copy me on any emails you send as an easy means to do this.
EPIC Laser Talk: Senate COVID-19 Response
This is your outline for making a request. Get comfortable with it, use your own words, and don't worry if you don't get it exactly as written. It's more important that you be comfortable and engage your listener, set out the issue and solution, and then make your ask.  If you don't get the person you wish to speak with initially, consider this as practice for the next time and give the person on the phone an abbreviated version. And if your listener asks for information you don't have , tell them you will find out and get back to them with it.
Engage: According to a survey by the US Global Leadership Coalition, Americans agree that the U.S. should have a global response to the global COVID pandemic.
Problem: In low-income countries, COVID-19 is disrupting health services, drug and food supplies, education, and economies. Projections are that the secondary impacts of COVID could set us back 5-10 years on hard-fought progress made on global poverty and diseases.
Inform About the Solution: Additional resources and support from the U.S. could help us protect progress on fighting poverty and avoid extensive human suffering.
Call to Action: Will the Senator please speak to Senate leadership, calling on them for a global response to the COVID pandemic in the next emergency bill of at least $12-20 billion for development assistance, including specifically:
$4 billion over 2 years for the Global Fund to Fight AIDS, TB, and Malaria
Increased funding for Gavi, the Vaccines Alliance
$2 billion for hunger/famine relief with $500 million to address child nutrition and wasting.
Our focus was on the impacts COVID-19 is already having on women and children living in resource-poor communities, and the fact that Congress has not factored in ANY global aid in the newest US emergency response to the pandemic.
Without advocacy from constituents like you, Congress will not take action for global aid. We call on you to raise your voices and highlight this issue in the media. Please write a letter to the editor noting this omission by the House of Representatives and calling on the Senate to fix it.  As we demonstrated on the webinar, it is extreeemely easy to submit a letter to the editor via the RESULTS website here. We suggest that you personalize the sample message—why does aiding women and girls globally mean so much to you—and then hit send. That's it!
BONUS ACTION:
Call on your Senator to correct the House omission of international development assistance. Modify this sample letter and send it to the Legislative Director and Foreign Policy Aide for your Senators. You can find that information here (look under the "Staff" tab for your Senators once you put in your contact information). Create their email address using their name like this: firstname_lastname@SenatorLastName.senate.gov.
If you need any assistance with taking these actions, please email:
Leslye Heilig, Advocacy Committee Chair at advocacy@togetherwomenrise.org
Ken Paterson, RESULTS Director, Grassroots Impact at kpatterson@results.com
On our April webinar, we learned that:
Any of us can get letters to the editor published as long as we know the secret formula: Write, Submit, Repeat. That's it!
We also learned that media influences our elected officials.
We need to ensure that the most at-risk populations in low income nations are not left out of the US COVID response.
Personalize the draft letter to the editor below and submit it here via the RESULTS website. Once you enter your letter in the editable "Message Body" and add your address, the RESULTS media tool will find media outlets in your area automatically. Hit Send. Easy!
Draft Letter to the Editor (150 words)
The risks we all face right now are only further magnified for people in poverty or people with limited health services. 
In low-income nations, essential health services for malaria, vaccinations, HIV/AIDS and tuberculosis are already being compromised. So even if at-risk populations don't contract COVID-19, they could suffer or die because a lack of access to other essential services.   
Representative ______ and Senators _______ and _______ must ensure that, in addition to our domestic response, Phase 4 of the US COVID-19 response includes support for programs on the front lines in low-income nations. Organizations like the Global Fund to Fight AIDS, TB, and Malaria and Gavi, the Vaccine Alliance have leapt into action, but will need additional support. 
If this crisis has taught us anything, it's that we live in a connected world and that what happens "over there" in other nations is our concern. Let's support our neighbors everywhere.
Please let Leslye Heilig (drleslye@me.com) or me (kpatterson@results.org) know if you need help. Also, let us know when you've sent your letter.
Bonus Action 
Ask your Rep. to sign on to the bipartisan letter calling for an additional $1 billion to the Global Fund to Fight AIDS, TB, and Malaria for the COVID-19 response. Use this online action to make the request. The letter closes on Wednesday, April 22.
On our March webinar, we looked at the incredible impact that U.S. investments in maternal & child health, immunizations, and nutrition have on the lives of women, girls, and children. But these investments do not happen without advocacy.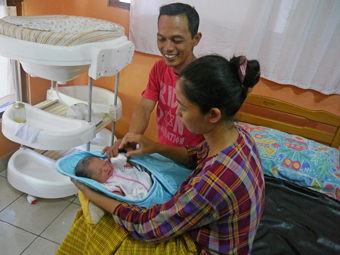 Take Action
Contact your Senators' offices and ask them to sign on to the Maternal & Child Health, Gavi, and Nutrition Dear Colleague letter. Here's what you need:
SEE SAMPLE MESSAGE FOR SENATE STAFF

TAKE AN ADDED ACTION ONLINE HERE

 

Body: