---
Cornucopia: The sights, sounds and emotions
Editor's Note: Jeanette is the daughter of DFW co-founder Barb Collins. We asked her to be our roving reporter during the 10th anniversary weekend and record her impressions, special moments and emotions from the event. 
By Jeanette Collins
I was 13 when I first heard of Dining for Women.
Marsha Wallace and my mom, Barb Collins, have done an amazing thing: They took an idea and made it a reality. I feel honored to have grown up with what began as one small gathering and is now an international organization changing the lives of women and girls.
I had just graduated from the University of South Carolina and was home for a week before my mom volunteered my services, a common occurrence, for the 10th Year Celebration conference.  I truly had no idea how much fun it would be and that I would get to meet so many fascinating women.  Everyone had this high energy about them and gave off happy vibes.  There wasn't a single person there who lacked passion.
Downtown Greenville Walking Tour with Russell Stall
We were lucky enough to have Russell Stall, founder of Greenville Forward and husband of board member Susan Stall, lead us on the tour of downtown Greenville.  I have lived here since I was 8, but decided to follow along on the tour to try and get some pictures.  I ended up learning a lot and realizing that I didn't know as much as I thought I did.
View Photos from Walking Tour
One interesting fact about downtown Greenville would have to be the nine random "Mice on Main."  These mice are all unique, bronzed sculptures that are placed in surprising places along Greenville's Main Street from the Hyatt to the Westin Poinsett Hotel.  We were a little pressed for time so we only located two of the tiny sculptures.
---
Founding Members and The Founders
Lucy Walters, left, and Kay Friddle, right, (shown above with Marsha Wallace and Barb Collins) were a pleasure to meet.  We call them founding members because they were at the very first Dining for Women meeting. They were DFW's first volunteers and still help out every chance they get.
---
Customs and Cultures Reception
The first night of the conference was filled with celebration and cultural experiences. The reception area was outside under a covered area.  There were tons of tables for people to sit and eat, and in the center was a dance floor and a stage.  The four corners of the building each represented a different program country and were filled with food, artifacts, clothing and other items to help us try and grasp the culture of that area.
Our Executive Director, Jamye Cooper, took the stage to open the night's festivities.  She talked about the success of Dining for Women and the journey it's been through to get to the point where we are today.
Jamye then talked a little bit about Marsha and my mom and how they are such astounding women.  I was able to capture an emotional moment shared by the two while listening to their story being told.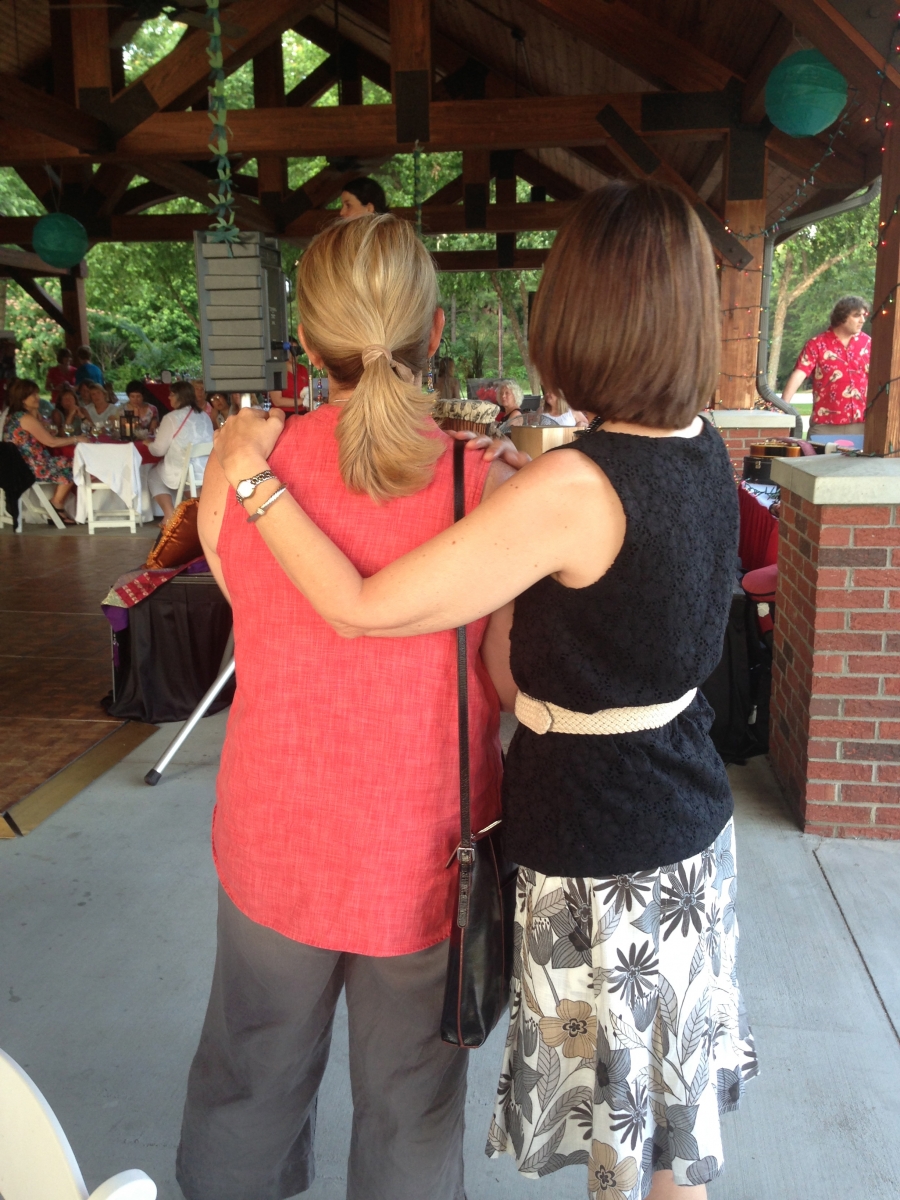 ---
View a Gallery of the reception
That night there were two small groups of performers.  The first was Drum4work, a program led by Jeff Holland and Lori Parker.  At first, everyone was enjoying cultural cuisine and stayed in their seats, but after their first rhythmic drumming song an infectious energy got us all clapping, chanting and dancing along.
The next performance was by Monty Craig and Kim Carroll who have been musical partners for almost 10 years now in their Latin band Alma De Candela.  This duo also did a great job in firing everyone up.
Listen to recordings of the music from the reception: (If the players do not appear here, refresh the page).
---
Shopping in The Marketplace
The Marketplace vendors were a huge hit.  All the items were handcrafted and many were from different programs that Dining for Women has sponsored.  I think the fact that the items were all unique and knowing the money would help women in need, made the shopping go above and beyond expectations.  Who can turn down an opportunity to help others while shopping?
---
Saturday night's reception was my favorite event. When Marsha and Barb took the stage, and before they even said a word, everyone was out of their seats clapping.  The standing ovation went on for a while and you could see the raw emotion that Marsha and Barb were feeling.  After the crowd died down, they talked a little about the journey they have been through and our next 10 years.  I think it's hard even for them to realize that they are changing the world. From a daughter's perspective and now a recent college graduate, they keep leading the way for all of us to make the world a better place.
---
Quilt Divas
This piece called "Women Empowering Women" was on display at the front of the reception room.  It was designed and created by a group of talented quilters called the Quilt Divas. It is comprised of nine panels inspired by Dining for Women and programs we supported. Miriam Bisk from Ithaca, NY, was the mastermind behind this breathtaking work of art.  Miriam found eight fantastic artists who collaborated together to create this artwork.  Before the reception started, numerous women gathered to admire it. Learn more about the quilt.
——–
Photos courtesy of Jeanette Collins, Russell Stall, Jay Kiskel and Laura Haight