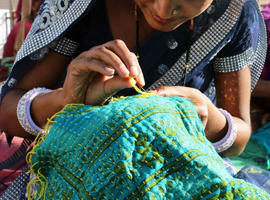 ---
Food for Thought: Plan a Fair Trade Holiday
When you make a purchase, it is often an opportunity to do far more than make a wardrobe change or add to your home décor. You can make a real difference in the lives of women around the world!
Unless an item is purchased from a local artisan or other producer, tracking its origin can be a challenge. Was that blouse made by an oppressed worker in Bangladesh? Did that banana come from a farm where workers are abused? Was that granite mined by children?
In many cases, it is virtually impossible to know the circumstances under which a product was made or grown. It can be so overwhelming that consumers wonder if their purchases even matter. Buying from artisan cooperatives and fair trade companies isn't a guarantee – but it can make a world of difference.
When a product is denoted or certified as fair trade, at a minimum it means that fair wages have been paid. It often incorporates other basic human rights such as ensuring that production was free from child labor and that workers had safe conditions and were free from abuse. It often means that cooperatives give workers greater influence, access to education, healthcare and more. Fair trade groups and cooperatives sometimes promote environmentally sustainable practices as well.
According to Fair Trade USA, the leading third-party certifier of fair trade products in North America, imports of fair trade certified produce rose 26 per cent in 2014. It was the biggest year to date for the organization's produce and floral category, helping farm workers and small producers earn more than $5.5 million in additional Community Development Premiums. And the demand for fairly-traded products continues to rise. More than 63 million pounds of fair trade produce from Mexico were imported into the U.S. in 2014, delivering $2.4 million in premiums to producers, a 344 percent increase over 2012. These funds are used directly by workers and small producers to invest in areas like healthcare, education, housing and transportation.
While fairly-traded food purchases are increasing, it is important to translate that model to other goods. This holiday season, there is a very real opportunity to directly impact the lives of women and girls around the world by ensuring that purchases benefit them directly, give them opportunities for education and healthcare and do not harm the environment.
Education and a change in mindset of buyers may be the keys to making fairly-traded goods the norm, rather than the exception that buyers have to actively seek.
Dining for Women is working with organizations that empower workers and assist them in gaining a fair wage for their work. Purchasing through Dining for Women's Marketplace multiplies the power of your buying choices. Your purchase supports organizations that make a positive impact on women and girls, gives back to Dining for Women and in some cases, offers you a discount. You can then use your savings to further support these important causes.
Please consider the impact of your purchases as you plan your holiday shopping list. Support DFW's cause marketing partners (below) or other fair trade companies to ensure that your purchases support those who need it. These partners offer many great gift ideas!
Other Resources on Fair Trade:
Sometimes clothing purchases come at a price much higher than the one on the tag. The True Cost, a documentary film about the fashion industry, reveals the real human and environmental costs associated with garment production around the world.
Learn more about the importance of buying fair trade cocoa and chocolate.
Bananas are the most popular fresh fruit in the United States, according to the USDA, with an average of more than 10 pounds consumed per person each year. Learn about just a few of the challenges faced by those who grow Americans' favorite fruit.