---
The Proven Platter: Lemon Chicken (Yassa Poulet)
This recipe marinates in onions and lemon juice overnight and then grills up and is finished in a sweet-tart sauce. Dig into this Senegalese recipe.
By Linda McElroy
DFW Recipe Curator
Hello Diners!
This month our culinary journey takes us to Senegal. Yassa is a familiar and much-loved dish all across West Africa and I have chosen to prepare this dish and share my findings with you. Yassa usually features chicken, but sometimes fish, and takes its time marinating overnight with lemon and lots of onion. This classic Senegalese dish utilizes the marinade by cooking it down into a sweet-tart sauce, and the slow-cooked onions help to balance out and contribute sweetness to the finished dish.
Traditionally, a whole chicken would be used and cut up into several pieces (ask your butcher to do this), with the bones still intact. I decided to go this route and was very happy that I did, but it does require paying a little bit more attention to the cooking process, as some pieces may be done before others. But for our purposes of potluck style dinners, I think it may make more sense for you to go with thighs or drumsticks, although I would still choose skin-on, bone-in pieces.
Other choices can be made as to how to pre-cook the chicken before it goes into the pot with the onions. Grilling and broiling are recommended. Although I desperately wanted to grill my chicken outside, it was the middle of December, dark as midnight and raining in Seattle, so I opted to brown it on top of the stove. But if your weather conditions are more suitable, I say go for it. There were many recipes for Yassa on the Internet, ranging from very basic chicken, lemon and onions, to versions with 10 or more ingredients in the marinade. In particular there was a version with cider vinegar in it that caught my eye, and since I adore cider vinegar I made sure to include that in my version. You'd certainly be within your rights though to just go with straight lemon juice (do be sure to use fresh) in the marinade. Serve with plenty of hot steamed white rice to soak up all the delicious juices!
Lemon Chicken (Yassa Poulet)
Serves 8 -10
The method for preparing Yassa is to first pre-cook the chicken and then to finish it in the sauce. Grilling is traditional, but you can use whatever works for your cooking circumstances. Broiling or browning on top of the stove will do the trick.
Ingredients
1/3 cup oil
½ cup fresh lemon juice
½ cup cider vinegar
2 large onions, about 2 pounds, thinly sliced
3 large cloves garlic, smashed
1 tsp. kosher salt
freshly ground black pepper
¼ tsp. red chile flakes
1 jalapeno pepper, sliced lengthwise in quarters
handful fresh thyme sprigs
2 large bay leaves, crumbled
1 4-pound chicken, cut into several pieces, or the equivalent weight of chicken parts
½ cup chicken stock
Add all the ingredients to a very large bowl, except chicken stock, and marinate overnight.
Remove the chicken from the marinade and brown the pieces in a hot pan, turning, until almost halfway done. Set the chicken aside on a platter and leave any remaining oil in the pan.
Drain the onions from the marinade (save the marinade) and sauté in the same pan you cooked the chicken, making sure to scrape up all the delicious brown bits in the bottom of the pan. When the onions have softened considerably add the chicken pieces back into the pan, nestling them in among the onions. Add the chicken stock and the remaining marinade, and simmer, slightly covered, until the chicken is done, 20 to 30 minutes, depending on how big the pieces are and how done they were to begin with. An instant read thermometer should read 160 degrees.
Remove the chicken to a platter, and simmer the onions a bit longer if it looks too soupy. Now would be a good time to pick out any bay leaves and thyme sprigs from the onions while you stir them. Serve the sauce on the side, or pour over the chicken and accompany with steamed white rice
Recipe and photo Courtesy of Linda McElroy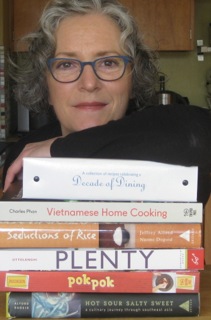 About the Author
Linda and her husband opened Ristorante Machiavelli in Seattle in 1988. After 25 years of cooking in and running a wildly successful neighborhood restaurant they sold the business and retired. Linda loves browsing through cookbooks, and the position of recipe curator provides her with a great excuse to indulge her passion. Linda hopes the dishes she tests and recommends will create a great experience for those who replicate her work in their kitchens.