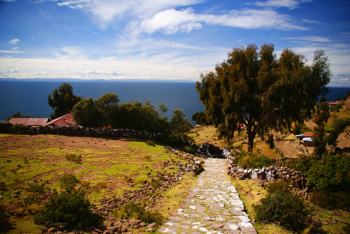 ---
Peru 2014: Lake Titicacca
By Karen Zocchi
We said good-bye to our generous hosts and set off on a walk to the town square of Taquile. The sun was bright, Lake Titicaca a brilliant blue, and the path was amazing. It was completed last September and was made of beautiful stone, gathered locally and cut and laid down by local laborers. Gullies cut alongside the path and in the path will maintain drainage during the rainy season. Lake Titicaca is the highest lake in the world, so some of us walked slowly, with ample rest stops to get our heart rate back to normal. Near the square, we observed workers adding a second trail, higher up. Of course, they were unaffected by the altitude!
The square had a couple of convenience stores, a couple of craft stores, one of which was called Knitting Men and a small photo exhibition. We made our purchases and headed out.
It was reported that there were 550 stairs on the way down to the boat, but I can't verify that. I lost track somewhere around 122!
Alpaca was on the menu for dinner in Puno. It was prepared in a yummy sauce with lots of veggies. And of course, potatoes. The real highlight of the meal was a 5 piece local band that played during & after dinner. They played & sang both Peruvian music & classic American tunes, including some from the Beatles.
Tomorrow we board the bus for Cusco!