Thirteen Threads: Featured (2010), Sustained (2012-2014)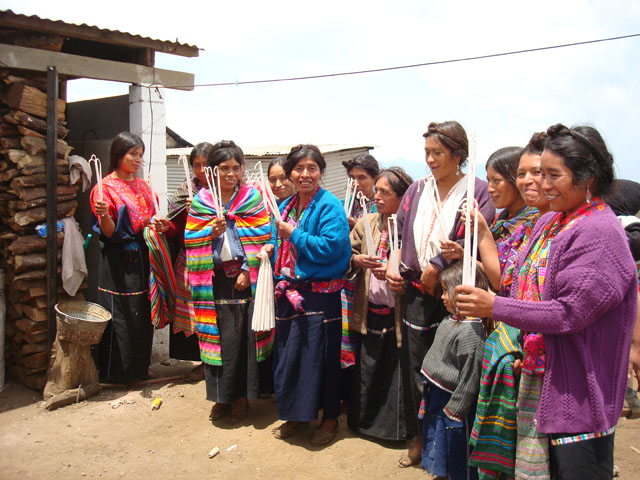 Sustained Funding
"Oxlajuj B'atz' is incredibly grateful for the support of all of the Dining for Women members! With your help, we have been able to initiate much of our Strategic Plan to be a real resource for our women members."
The Pathways to Sustainability project for 2012-2014 will develop the Fair Trade and Women's Cultural Center into a Maya women, member-owned and operated social enterprise.  The objectives of this program are to train the members and implement a plan for member ownership, and develop current, and initiate new, income generating activities securing their financial future and to lift themselves out of poverty.
In October 2012, DFW granted $15,000 a year, over three years for a total sustained funding of $45,000.
---
2010 Featured Grant Info
Project Title:
Thirteen Threads
Location:
Guatemala
Grant Amount:
$27,770
Areas of Impact:
Economic Sustainability, Education & Literacy, Leadership Development
Mission of Thirteen Threads: Featured (2010), Sustained (2012-2014)
To empower organized groups of indigenous women artisans to bring about changes, through their own efforts, that will alleviate the adverse effects of poverty and improve their quality of life. Oxlajuj B'atz' (OB) strives to fulfill its mission by focusing on the principles of harmony, sustainability and democracy.
Project Summary
Dining for Women contribution will support OB's 2010 Young Mayan Women Internship Program, Women's Literacy Fund, Candle-making and Rug-making workshops, Community Facilitator trainings in self-esteem, human relations and leadership development, yearly group evaluations, capacity-building and skills workshops for women's groups, an annual leadership assembly, and a new cultural center.
Why We Love This Project
In poor communities, Mayan women who are marginalized and scarred by war will learn artisan skills and basic business skills (such as identifying markets and products, developing a business plan, identifying assets and defining costs) and obtain the confidence needed to be successful in running a business. Indigenous women are the most marginalized and under-educated segment of Guatemalan society.
DFW travel to 13 Threads
Dining for Women members visited 13 Threads during a 2013 trip to Guatemala. Read the trip diary.