---
Safety and security far from the reality of women caught in civil war
Women and children in conflict zones around the world are far more likely to be killed, raped, injured and torn from their homes than actual combatants. The Women Peace and Security Act offers protection for women on the ground and a seat at the negotiating table. But it is languishing in Congress. What can DFW do to help?
By MARSHA WALLACE
Zaynab, 16, was an honor student living in Homs, Syria. After soldiers burst into her home in May 2011, and raped her and some of her classmates were kidnapped, raped and even killed, Zaynab stopped going to school. She now lives in Lebanon, where she told her story to blog reporter Lauren Wolfe, writing for
Women Under Seige
.
"This is my message to the world," Zaynab said. "Let all the world hear what is happening to us … I might not be the first one nor the last who was treated in this way."
The conflict in Syria may be the most visible but it is certainly not the only one where women and children are disproportionately affected by conflict, internal strife and war. As much as we want to help women and girls like Zaynab, there are few organizations able to really support them in the midst of these conflicts.
So what can we do to help? A key goal is Congressional passage of the Women Peace and Security Act. Primarily, this bill would implement the already developed US National Action Plan. Learn more about the bill.
Passage of the bill is an uphill battle but it is a critically needed if the situation for women in conflict zones is to be addressed in any meaningful way.
Consider these startling statistics:
It's estimated that about 80 percent of refugees of war are women and children who bear agonizing hunger, violence and stress during times of conflict. This is supported by the United Nations Development Programme (UNDP), which reports women make up 80 percent of the 210,000 Syrian refugees in Iraq and a substantial percentage of refugees in Jordan's, Zaatari camp.
Rape, sex trafficking and torture are brutal realities for many women and girls in conflict who are unable to obtain help in healing their physical and emotional wounds in refugee settings.
The Women's Media Center reports that Syrian women are suffering more than just sexualized violence itself, with 20 percent of incidents leading to the victim's death, 10 percent to anxiety and/or depression, and 5 percent to pregnancy.
A report from Save the Children , found that childbirth assistance had all but evaporated in Syria. Prior to the civil conflict, 96 percent of women had access to assistance during childbirth. Today, it is nearly non-existent.
Although these scenarios are repeated in conflict zones around the world, Syria is the U.S.'s first opportunity to demonstrate commitment to the advancement of the U.S. National Action Plan (NAP) on Women, Peace and Security. The national plans are part of the implementation of UN Security Council Resolution 1325 (SCR 1325) . Adopted in 2000, Resolution 1325, which is intended to ensure women's participation in decision-making and peace processes, the protection of women and girls and gender training.
"If Congress would enact the Women Peace and Security Act, WPS Act (H.R. 2874/S. 1942, it would make the US National Action Plan law and would give the Congress oversight on how the U.S. government is including and protecting women in diplomatic, development, and defense related efforts in conflict and crisis," notes Tanya Henderson, public policy director for Women's Action for New Directions, (WAND).
The adoption of UN Security Council Resolution 1325 reflects the fact that women are crucial to the process of peacekeeping efforts. Yet the progress of integrating women into peace building has been abysmal.
At the most recent Geneva Peace talks in Jan. 2014, only four  women were involved and none were at the negotiating table.  The Christian Science Monitor reports that fewer than three of the peace accords since 1992 have had women signatories.
Leaving women out of the peace-making process means that critical issues that can prevent the rising of further violence are not addressed.
More than 40 percent of post-conflict countries have slid back into conflict within a decade, so peace building without women doesn't have a stellar track record. What might that statistic be in women were included in post conflict resolution strategies? In order to see the success we want to see long term for peaceful societies, we must work at the grass roots level, as DFW does by funding our monthly programs, but we must also work from the top down.
Our efforts will not have overnight success, but no major effort – think women's suffrage, and civil rights — has been quick or easy. We are addressing nothing less than the "moral challenge of our time" as Sheryl WuDunn, co-author of Half the Sky, says.
Peace cannot be obtained exclusively from the grass-roots level. Concurrent top down efforts are also necessary. It's up to us to educate ourselves, to speak up and to take action on the issue of Women, Peace and Security.
Let's add our voices to efforts ensure that Syrian women are included in ongoing peace processes and post conflict reconstruction efforts, and are protected in conflict and crisis. Read and sign the petition. Be the change we want to see in the world. One dinner, one signature at a time.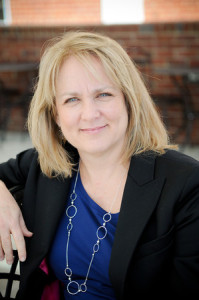 About the author
Marsha Wallace is the co-founder of Dining for Women. She is currently a member of the Board of Directors, a speaker and passionate advocate for the rights of women and girls around the world.