Shop! Read! Watch! Listen!
Fair Trade
Black and White Geometric Plateau Basket
Plateau baskets feature striking colors & traditional motifs. The artisan crafts each one-of-a-kind basket by hand – using needles & fine plant threads. The technique requires patience, precision & great skill to master. These baskets are the best way to add a touch of Rwanda to a coffee table, an office desk, a holiday table or even on your favorite wall.  The baskets are made by a weaving cooperative named Covamaya-Imirasire. Imirasire means "sunshine" in Kinyarwanda. The 150 skilled weavers in this co-op have perfected the process of hand dying locally grown imegwegwe (sweetgrass) and weaving it into bold, colorful baskets.
Sold by IndegoAfrica, an innovative nonprofit social enterprise & lifestyle brand that supports women in Rwanda through economic empowerment and education.
12″ diameter, 3″ high
Loop on back for wall hanging
$60
These cheerful little Joy Baskets are wonderful gifts for children, who can store a few small treasures in them. You can even hang them as an ornament in your home. They are crafted by weavers at a cooperative in Rwanda renowned for their skills in basket weaving. Basket weaving is a symbol for healing – often with circles of both Hutu and Tutsi women coming together to weave these traditional baskets in the spirit of reconciliation.  No longer a simple craft, basket weaving transformed into something much larger and meaningful in the women's lives. Today, the women are celebrating their new world by creating basket weaving enterprises that support them and their families.
Color selected by cooperative
$5 each
The Ingenzi Loop adds a pop of color to the basic darks and neutrals of fall and winter. The women at Ingenzi Knit Union used hand-knitting machines to create this gorgeous cold weather accessory in a cozy cotton yarn. This beautiful knit was created by the women of Ingenzi Knit Union, a powerful combination of four knitting cooperatives – 150 Rwandan women – and marketed by IndegoAfrica, an innovative nonprofit social enterprise & lifestyle brand that supports women in Rwanda through economic empowerment and education.
60″ x 16″ double loop
Magenta Pink
$30
Books
Fiction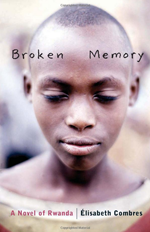 Broken Memory: A Novel of Rwanda
By Elisabeth Combres (Groundwood Books, 2011)
Hiding behind a sofa, five-year-old Emma does not witness the murder of her mother, but she hears everything. And when the assassins finally leave, the young Tutsi girl somehow manages to stumble away from the scene, motivated only by the memory of her mother's last words: "You must not die, Emma!" Taken in by an old Hutu woman, Mukecuru, Emma is still haunted by nightmares long after the war ends. Through her growing friendship with a young torture victim and the gentle encouragement of an old man charged with helping child survivors, Emma finds the courage to return to the house where her mother was killed and begin the journey to healing.
"Written simply, with short chapters, this is an amazing story of courage in the face of danger and how early events can (obviously) have a huge impact on your life. An approachable intro to the Rwandan genocide." – Goodreads
Deogratias, A Tale of Rwanda
By J.P. Stassen (First Second, 2006)
"Deogratias means "thanks be to God," and it's the name of a boy coming of age in Rwanda in 1994. He is just figuring out what it means to be a man, and wrestling with the feelings he harbors toward two sisters, Apollinaria and Benina. The sisters are themselves struggling to establish their own place in society and understand the difficult decisions their mother, Venetia, has made. But Deogratias is Hutu, and they are Tutsi, a simple fact that renders all of their internal battles irrelevant. This award-winning comic was originally published in Belgium in 2000 and has an introduction explaining the history leading to the Rwandan genocide. The heartbreaking power of Deogratias is how it keeps the reader distant from the atrocities by showing the trivial cruelties of everyday life before and after the genocide. There is no catharsis, only the realization that even justice turns its champion into a monster." – Publishers Weekly
"Very powerful for the imagery … the artwork is stunning. – Goodreads
Non-Fiction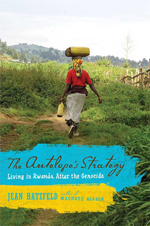 The Antelope's Strategy: Living in Rwanda After the Genocide
By Jean Hatzfeld (Picador, 2010)
The horrors of communal violence give way to internal torments in this collection of oral histories. Hatzfeld revisits Tutsi survivors and confessed Hutu killers he interviewed in Life Laid Bare and Machete Season after the latter were unexpectedly released from prison and returned to their homes. The official Rwandan policy of reconciliation holds. But to Hatzfeld, the survivors reveal inner scars—their sense of grief, mistrust of their neighbors, the fear whenever they encounter Hutu farmers carrying their machetes.  How are they managing with the process of reconciliation? Is such a thing even possible? The enormously varied answers Hatzfeld get suggest that little faith in true recovery survives among those who lived through the genocide.
"Artfully written . . . a book that illustrates vividly the thorny realities that accompany survival and appeasement."- The Washington Post
You Alone May Live: One Women's Journey Through the Aftermath of the Rwandan Genocide
By Mary Blewitt (Biteback Publishing, 2011)
Mary Blewitt's book is a moving, thoughtful journey of a single person dedicated to improving the lives of those around her, regardless of the personal cost. The book tells a compelling story of growing up in the poverty of East Central Africa, a move to the UK and of Blewitt's return to Rwanda in the aftermath of the Rwandan genocide. This story is a very personal account, and is an important contribution to the understanding of the terrible cost of human slaughter.
"Mary Blewitt is a remarkable human being. Her work has involved extraordinary personal sacrifice. Those of us who witnessed genocide in Rwanda know that Mary Blewitt stands among the bravest of the brave, the kindest of the kind." – Fergal Keane, BBC Special Correspondent and author of Season of Blood: A Rwandan Journey
Films
The Devil Came on Horseback (2007: 85 minutes)
Former Marine Captain Brian Steidle joined the African Union in 2004 to help monitor the cease-fire in Sudan. As he puts it, "All I had was a camera, a pen, and paper. I was totally unprepared for what I'd see."
An unarmed military civilian, he describes his observations, via voice-over and audio recordings, as filmmakers Annie Sundberg and Ricki Stern alternate between their contemporary footage and his images of slaughtered civilians and incinerated villages. Steidle wrote his reports and took his pictures, but nothing changed. He went to The New York Times, and they published his photographs. The soldier-turned-activist proceeded to spread the word everywhere he could.
Rwanda: Do Scars Ever Fade?  (2008: 70 minutes)
In 1994, the small African country of Rwanda was awash in blood. Extremists in the majority Hutu-controlled government organized a systematic genocide of Rwanda's minority Tutsi population. In just 100 days, more than 800,000 were killed.
The atrocity was halted a decade ago, but for Rwandans the ordeal does not yet have an ending. Today, the physical scars sustained by survivors are fading, but emotional scars remain. "Rwanda: Do Scars Ever Fade?" explores the country's turbulent pre-genocide history, the horrifying 1994 slaughter, and the difficult ten-year, post-genocide period during which the current government has embarked upon an ambitious effort aimed at reconciliation. The program grapples with a perplexing question: How does a country haunted by the scourge of its past recover?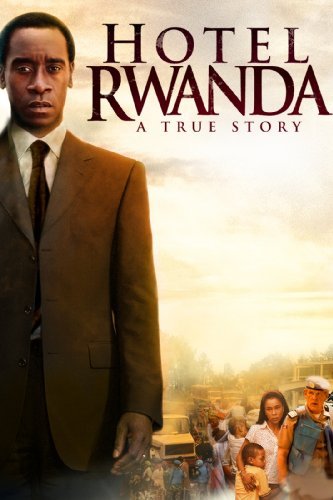 Hotel Rwanda (2004, 122 minutes)
Solidly built around a subtle yet commanding performance by Don Cheadle, Hotel Rwanda emerged as one of the most highly-praised dramas of 2004. In a role that demands his quietly riveting presence in nearly every scene, Cheadle plays real-life hero Paul Rusesabagina, a hotel manager in the Rwandan capital of Kigali who in 1994 saved 1,200 Rwandan "guests" from certain death during the genocidal clash between tribal Hutus, who slaughtered a million victims, and the horrified Tutsis, who found safe haven or died.
Cheadle plays Rusesabagina as he really was during the ensuing chaos: "an expert in situational ethics" (as described by film critic Roger Ebert), doing what he morally had to do, at great risk and potential sacrifice, with an understanding that wartime negotiations are largely a game of subterfuge, cooperation, and clever bribery. – Jeff Shannon, film critic and writer, Seattle Times
"Emerges as an African version of "Schindler's List." – USA Today
Music
Cornelius Nyungura (born 24 March 1977) is a singer who performs under the name Corneille. He was born in Germany to Rwandan parents, though he currently holds a Canadian passport and sings in French and English. His work is greatly influenced by American funk and soul music; among those he admires are Prince, Marvin Gaye and Stevie Wonder.
"His lyrics are fresh and smart, smooth and powerful as he sings about love and innocence, as well as the Rwandan genocide which took away his family and childhood friends. The result is a fantastic album of various musical origins, just like the singer: African, Canadian and French." – Babacar M. Diene , Voltage Pictures
Singer/songwriter Enric Sifa grew up in Rwanda and lived through the Rwandan Genocide. After losing his parents at the age of nine, Sifa lived on the streets struggling daily for food, shelter, and suffering from loneliness and abuse. To combat loneliness, he sang his mother's songs and brought comfort to many other street kids. He became known on the streets for his extraordinary talent.
In 2002, Sifa met American business people Tony and Serena Morones who were working to develop Africa New Life Ministries. They helped him get off the street, attend school and gave him a guitar. Soon after in 2004, he won a national singing competition that put him on Rwandan radio and TV. Sifa speaks and performs in Rwanda and the US, advocating for marginalized children. Many of Sifa's songs are popular on Rwandan radio and he has released three albums in the United States.
Hotel Rwanda – Music from the Film –
"Mixing original and traditional songs drawn from R&B, pop and world music, this album aurally paints the action in the lauded film "Hotel Rwanda," a true story based on hotel manager Paul Rusesabagina's rescue efforts during the 1994 Rwandan genocide. An impressive lineup—including Wyclef Jean, Jimmy Jam & Terry Lewis, Deborah Cox and Uganda's Bernard Kabanda—helps tell an inspirational story that embodies myriad emotions. The urgent drum beats on opener "Mama Ararira" by the Afro-fusion Afro Celt Sound System set the scene, further underscored by Jean's moving "Million Voices," Cox's plaintive plea on "Nobody Cares," Tilly Key's heartfelt "Ne Me Laisse Pas Seule Ici" and Andrea Guerra's hopeful "Children Found." The true testament of an engaging soundtrack is its ability to underscore a film's action yet remain compelling on its own merits. This album does just that." – Billboard