"The doctor of the future will no longer treat the human frame with drugs, but rather will cure and prevent disease with nutrition."

— Thomas Edison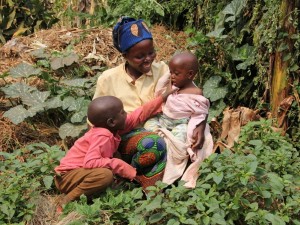 Throughout sub-Saharan Africa, poverty robs too many mothers of the ability to feed their children.  In Rwanda, a staggering 44 percent of children below the age of five are stunted – their physical and cognitive growth has been irreversibly limited due to malnutrition. This is a complicated problem that cannot be solved by food aid alone.  The featured program for November mixes empathy with a holistic approach to address the challenge of malnutrition in Rwanda.  Recognizing the key role mothers play in their children's health,  the program educates mothers on the basics of nutrition and provides them with the knowledge and skills to successfully grow the right foods to feed their children and families for continued good health.
Dining for Women will support health and agricultural programming at Bumbogo Health Center, one of the collaborating health partners of Gardens for Health International (GHI).  The program targets mothers of children with a clinical diagnosis of malnutrition and will arm them with the knowledge, resources, and support to feed their families now and into the future.  The program will accomplish this through a combination of comprehensive health education and targeted agricultural support, delivered by community leaders in close collaboration with the Bumbogo Health Center.
The program addresses two Milennium Development goals: eradicating extreme poverty and hunger and reducing child mortality.
Life Challenges of the Women Served
Today, malnutrition is responsible for the deaths of more than 3.5 million children globally each year, more than one-third of all deaths among children under five. It is the single most important risk factor in the common diseases that lead to child mortality. Even when children survive, chronic malnutrition can disrupt mental and physical development, often with permanent consequences. Malnourished children are less likely to attend school, and when they do, they are less likely to succeed. Studies suggest that, in the future, they are likely to earn less than their peers, and will die earlier.
Having a child with malnutrition is a source of stigma and shame for many mothers in Rwandan communities. Too often, they feel as though their child's illness is their fault. In order to achieve health and self-sufficiency, these families must learn self-forgiveness. That is why, in addition to providing families with the resources they need to grow nutritious food, the program leads discussion groups that give mothers the chance to share deeply personal stories about the hardships they face – from depression to HIV. With the support and love of their peers, mothers are able to forgive and become advocates for themselves and other mothers experiencing similar struggles.
The Project
The  program focuses on homestead food production for homestead food consumption.  Garden for Health's model involves partnering with health centers in order to integrate both agricultural support and health and nutrition education with the pre-existing clinical treatment for malnutrition.  The Bumbogo Health Center, focus of the DFW funded grant program, provides the diagnostic, nutrition education, and clinical treatment elements of the grant program.  GHI provides the agricultural resources and training.
Activities include:
Community Awareness Campaigns delivered in advance of each season. The staff works with the Community Health Workers in Bumbogo's catchment area to conduct the campaigns.
Enrollment: Clinical staff at Bumbogo refer patients diagnosed with severe or moderate malnutrition to the program. Forty mothers referred by the health center will be enrolled in the program each of the four seasons. Enrollees are prioritized by severity of malnutrition, number of children under five in the family, and the mother's willingness and ability to fully participate in the program.
Seed and Livestock Distribution: The program delivers a home garden package to each family in the program. It includes small livestock (chickens or rabbits), three seasons of seeds and seedlings, and is designed to promote both dietary and bio diversity. Families are encouraged to grow indigenous vegetables that are rich in nutrients and better able to grow in local soil. Each family receives an avocado seedling, orange flesh sweet potatoes and chili peppers. They are encouraged to select one vegetable per season from either leafy greens, legumes, market crops or fruit trees.
Health Training: The health and nutrition component addresses many factors that contribute to malnutrition beyond household food production. The curriculum, designed with and for the women served, addresses topics including family planning, financial literacy, mental health and HIV/AIDS prevention.
Agricultural Training: This component is designed to empower families to grow enough nutritious food to feed their children and keep them healthy. Field educators work with each family in the program to design and plant a home garden that will allow them to grow bio-diverse and nutritionally diverse food crops. Gardens for Health promotes sustainable farming practices designed to improve soil quality and prevent erosion. Weekly topics include:
Low external input agriculture
Intercropping practices
Natural pesticides
Reduced tillage
Seed saving
Farm Work: Each week on a rotating basis,  30 to 50 vulnerable women from the surrounding area are hired as farm workers on the demonstration farm. The program is designed to benefit as many women as possible. They earn roughly twice that of the average Rwandan farm worker and receive empowerment training. Free day care and enrichment programs are provided for their  children, and their families are welcome to share the daily community lunch.
Questions for Discussion
Why do you think babies and young children are suffering from malnutrition in farming communities of Rwanda?
Emergency food aid is available from many sources.  Why does GHI believe that it's not enough to solve the malnutrition problem?
Why is partnership with regional health centers a critical element of the GHI service model?
In what ways does GHI empower the women it serves?
The Project Budget and How DFW's Donations will be used
DFW's grant of $43,867 will cover the full salaries of two field educators, and two monitoring & evaluation agents who collect data to measure the program's impact.  The grant also covers partial salaries for a driver and the district supervisor, partial support for the farm employment program, the cost of materials for both the empowerment and the early childhood development programs, and all the program costs for the Bumbogo Health Center outreach program, which is about $300 per family.
Why We Love This Project
Gardens for Health works to address the root causes of malnutrition. This organization utilizes a compelling model targeted at mothers in the community to create lasting, sustained improvements in the health of families previously trapped in the vicious cycle of malnutrition. The program also has robust outcome measures, making the model both desirable and transferrable to other locations within and outside of Rwanda.
Evidence of Success
Since launching this program in August 2010, the organization has worked with over 630 families, reaching approximately 3,150 children. On average, families enrolled in the program saw their Household Dietary Diversity Score (a USAID-validated indicator) improve by more than 50 percent. This means they are eating a more nutritious and balanced diet – one that grows in their own backyards. Most importantly, mothers who came to the program without resources – and too often without hope – proudly share their victories: the weight gain of their children, the food they now grow and share, and the knowledge they use to keep their families and communities healthy.
According to Gardens for Health, Many of the mothers who graduate from this program are inspired to spread the message of love and forgiveness to others in need. One recent graduate identified more than 20 families in her community who were struggling with malnutrition, encouraging them to seek treatment at the health center and enroll in the program.
Voices
"My name is Naomi Musabyimana. When I was 17 years old, I met a young man who promised me a better life with his support, but after I got pregnant, he abandoned me to avoid the risk of being imprisoned because I was not of age. So I resorted to working in a field, making just enough to support me and the child I was carrying. I even delivered my child when I was on the field. At first my daughter, Aline, was malnourished, and got food aid from the local health center. But I started working with Gardens for Health when she was an infant, and now she is healthy and no longer malnourished. I am grateful to be a trainer with Gardens for Health. Through training other women, I feel now I can make a change in my community.
"Before, I believed my life was about cooking only, but now I believe there is more to it, and because of this I am able to contribute to the wellbeing of Rwandan women. In our culture, a woman is the pillar of a good home, and by educating her you are enriching the family as well as the community." 
About the Organization
Gardens for Health International was established in 2008 by then college students, Julie Carney, Emma Clippinger, and Emily Morell, to use agriculture as a key driver of better health outcomes in Rwanda. Initially, GHI worked with the Rwandan government to advocate for land access for communities living with HIV/AIDS. In response to Rwanda's 44 percent childhood malnutrition rate and the political will to tackle this significant public health challenge, the organization's programming evolved to focus on childhood malnutrition.  In August 2010, they launched what is now their core effort: the health center program.
Today, Gardens for Health works in Rwanda to provide lasting agricultural solutions to chronic malnutrition by:
Partnering with eight health centers, in two regions of the country, to integrate agriculture and comprehensive health education into the clinical treatment of malnutrition.
Working with the Rwandan Ministries of Health and Agriculture, and with multi-national partners, including UNICEF and the European Union, to advocate for policies and programs that include agriculture in the treatment of malnutrition.
Providing technical assistance to partners interested in adapting their model and methodology for their communities, including coffee farmers and community health workers.
Where They Work
Demographics:
The life expectancy in the country is approximately 59 years
The Total Fertility Rate (number of children per woman) is 4.62
Literacy rates – 74.8 percent of males and 67.5 percent of females aged 15 and over can read and write
Maternal mortality rate – 340 deaths/100,000 live births
Infant mortality rate – 60 deaths/1,000 live births
Rwanda has few natural resources. A large part of the population lives on subsistence farming. The country faces pressures from a rapidly growing population and exploitation of the environment, e.g. the pollution of important water resources due to unpurified waste water, the threat of deforestation, and the dangers of erosion because of uncontrolled settlement activities. Crushing poverty still affects about 40 percent of the population. Millions live on tiny plots of land scarcely capable of producing adequate food for families.
Source Materials
Documentation and images provided by Gardens for Health International to Dining for Women
Official website of the Republic of Rwanda
Suggested Reading