Shop! Read! Watch! Listen!
Fair Trade
Bird + Stone is a jewelry company that gives back. All jewelry is ethically made in the USA, and 10 percent of every purchase is donated to support causes like women's health, poverty alleviation, and girls' education. The owner founded the company after selling jewelry to fundraise for a volunteer trip to Kenya. She was inspired by the power of collective donations and wanted to create a way for people to support their favorite causes with everyday purchases. Dining for Women will receive 20 percent of all sales when you select 'Dining for Women' in the 'How Did You Hear About Us?' question at checkout. Shop now. Offer expires 12/31/19.
Dining for Women Merchandise
You can celebrate your passion for Dining for Women by purchasing custom merchandise featuring the Dining for Women logo. Items include stationery, drinkware, apparel, aprons, bags, and more. Dining for Women receives a portion of the proceeds from each sale. Click here to shop our Café Press Store.
Books
Non-Fiction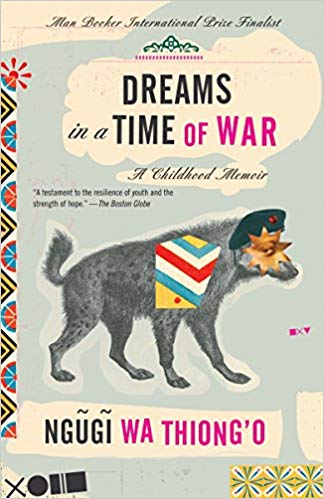 Dreams in a Time of War: A Childhood Memoir
By Ngũgĩ wa Thiong'o
Recommended by Jacaranda Health
From Amazon: Born in 1938 in rural Kenya, Ngũgĩ wa Thiong'o came of age in the shadow of World War II, amidst the terrible bloodshed in the war between the Mau Mau and the British. The son of a man whose four wives bore him more than a score of children, young Ngũgĩ displayed what was then considered a bizarre thirst for learning, yet it was unimaginable that he would grow up to become a world-renowned novelist, playwright, and critic.
By Wangari Maathai
Recommended by Jacaranda Health
From Amazon: In Unbowed, Nobel Prize winner Wangari Maathai recounts her extraordinary journey from her childhood in rural Kenya to the world stage. When Maathai founded the Green Belt Movement in 1977, she began a vital poor people's environmental movement, focused on the empowerment of women, that soon spread across Africa. Persevering through run-ins with the Kenyan government and personal losses, and jailed and beaten on numerous occasions, Maathai continued to fight tirelessly to save Kenya's forests and to restore democracy to her beloved country.
Films
Recommended by Jacaranda Health
From Amazon: For almost a decade Kenya has been targeted by terrorist attacks of the Al-Shabaab. An atmosphere of anxiety and mistrust between Muslims and Christians is growing. Until in December 2015, Muslim bus passengers showed that solidarity can prevail.
Recommended by Jacaranda Health
From Jacaranda Health: "This is an incredible documentary that follows the story of a Kenyan farmer who gets involved with climate change both in his community and then suddenly on a more global stage. You can buy it directly from the website: https://thankyoufortherain.com/about."