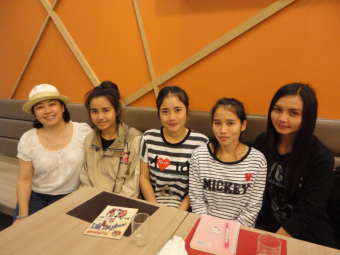 ---
Smiles on Wings' Scholarship Students
In December 2013, through the Smiles on Wings program, we invested in the futures of five young women. They are daughters of the Karen tribe in Thailand. The Karen people are outcasts in Thailand and often have little or no access to health care or education. These five girls are studying either nursing or childhood education and will return to work in their villages and improve the lives and health of their community. Here's a look at the students we are supporting. 
Smiles on Wings offers three different scholarship programs. The Dining for Women grant funds the New Beginnings Scholarship for five girls from 2014-2019. Meet our scholarship recipients!
Sangthong Sodsaichampa
Sangthong is from the Sop Moei District of the Mae Hong Son Province in Northern Thailand. She is currently participating in a 5-year program at the Mahachulalong-kornrajavidalaya University Chiang Mai Campus, where she will earn a Bachelor of Education in Social Studies. Sangthong's favorite classes are Social Studies and Thai. In her free time, she participates in many extracurricular activities such as working for the school radio, organizing activities for Children's Day and Dhamma. After graduating, Sangthong would like to become a teacher and hopefully return to her hometown to help develop and improve education in the community.

Janjira Thoednaphai
Janjira's hometown is Mae Sariang, in the Mae Hong Son Province. She is studying at Chiang Mai Rajabhat University Mae Hong Son Campus. In four years, she will earn a Bachelor of Science in Public Health. Her favorite classes are Science and Thai. In her free time, Janjira takes part in Student Club and sport activities; she is even working to build a nursing clinic! After completing her degree, Janjira hopes to go into nursing and return to Mae Sariang to improve development in the community.
Sriprai Yongsakunnuansri

Sriprai is also from Mae Sariang District in the Mae Hong Son Province. Sriprai is completing her Bachelor of Education in Chemistry, at Phayoa University. Her favorite class is chemistry because it can be applied to everyday life. Sriprai is very involved in the University; she is the head of sports for the UP Freshman Games and runs the University's First-Step Camp for freshmen. After graduation, Sriprai plans to apply her education to her occupation and work to improve the financial situation for working-class families.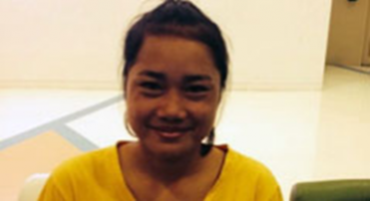 Chuleeporn Sisophawiman

Chuleeporn is from Sop Moei District, near the Sop Moei River. She is attending Mahachulalong-kornrajavidalaya University Chiang Mai Campus to earn a Bachelor of Education in Social Studies. Chuleeporn's favorite class is general law because it is useful on a daily basis. Outside of school, she volunteers to clean the university campus and helps out at Children's Day. After graduation, Chuleeporn wants to become a teacher in her hometown.
Muthita Sremphaiwan

Muthita lives in Ban Mae Kong in the Mae Sariang District. She studies English at Lampang Rajabhat University, on an Education track. Muthita and her friends participate in freshman sports at their University. Muthita's favorite class is English because it is interesting and challenging. She would like to speak English fluently so she can eventually teach English to the children in her hometown. Muthita hopes to get a chance to travel abroad to practice English.