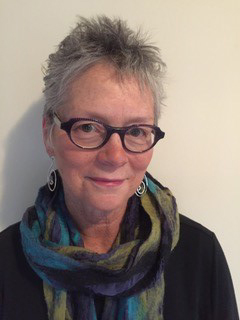 ---
Sue Fernbach: First Asheville Chapter and So Much More
By Janine Baumgartner, DFW Member, NC, Asheville-1 chapter
Sue Fernbach and her sister loved to cook. Their passion led them to a series of cooking class fundraisers embracing the food of one country at a time. A friend noted a similarity to Dining for Women, and an idea was planted in Sue's head. She phoned co-founder Marsha Wallace for information and decided to start a chapter. It would take six years to gestate. Family illness, hurricanes, and a move from classroom teaching in Florida to retirement in North Carolina got in the way.
In 2011, Sue moved to Asheville, NC and learned there were no DFW chapters nearby. She'd never attended a chapter meeting, but fearlessly started her own. With a handful of condo neighbors attending, the first Asheville chapter was born. Today, the chapter has 70 members and has raised over $65,000. Sue has held a community fundraiser, partnered with the woman-focused aSHEville Museum to develop a DFW traveling exhibit, coordinated with Ten Thousand Villages fundraisers, and helped spawn new area chapters. Sue also serves as a Western NC Mentor, helping new leaders launch their chapters.
Charitable giving comes naturally to her. She says she won the birth lottery with loving parents who supported her academic ambitions and endeavors. She believes hers was a charmed life and that she has a responsibility to give back.
Like most members, Sue loves DFW for the friendships with like-minded women who gather to share meals and learn about the needs of underprivileged women and girls living in poverty across the globe. She embraces chapter responsibilities and encouraging new chapter start-ups. She likes the flexibility that DFW offers to chapters to organize around the needs of their members, and she advises new chapters to form a co-leadership to share responsibilities and be each other's back-up when life gets in the way.
Our thanks to Sue for everything she has done for our chapter and for DFW!
Save