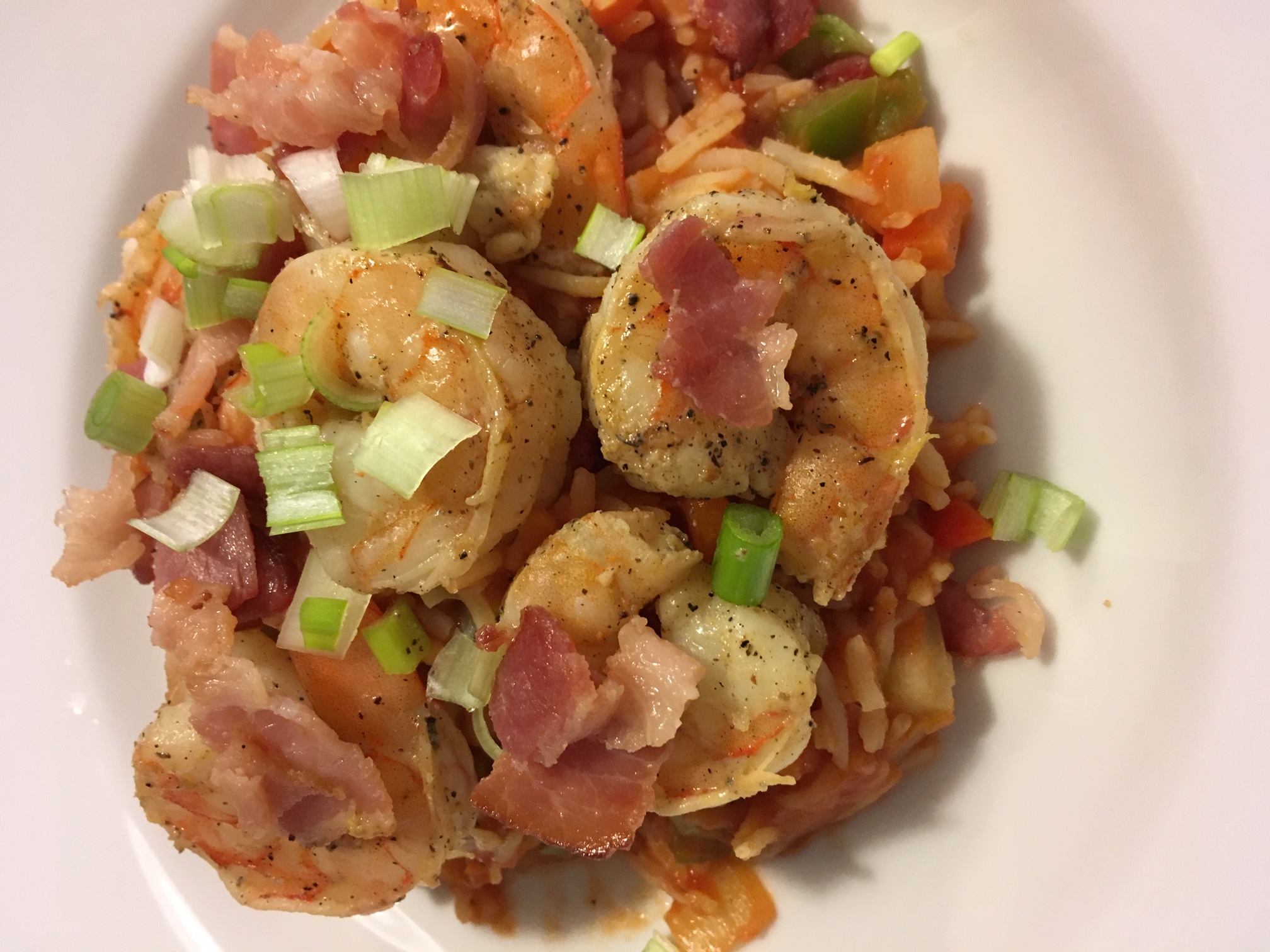 ---
The Proven Platter – April 2019
We travel back to the western part of Africa this month: to Mauritania, south of Algeria and Morocco, with miles of coastline along the Atlantic Ocean.
I absolutely love the name of April's featured grantee: Mindleaps! It makes me think of exactly what my mind was doing – all while developing a recipe that was inspired by thieboudienne, the national dish of Mauritania. Here's what I mean: Lots of sources indicate thieboudienne is a "coastal dish of fish and rice, usually made with tomatoes." Seems easy enough. But, even a simple-sounding, tomato-based dish of seafood and rice can send my thoughts bouncing around like they're in a sort of competitive-recipe ping-pong match.
Things in my head first went something like this: "Thieboudienne sounds like a variation of Jollof Rice, the celebrated West African rice dish. A version of which is the ubiquitous (at least throughout South Carolina and Georgia) rice dish called Red Rice. And if I think about substituting shrimp for the fish, suddenly Shrimp Creole comes to mind, a dish that's certainly familiar, albeit appropriated (in lots of restaurants) to the point it's often a caricature of its true former self."
Almost all Mauritanians are Sunni Muslim. So, my next series of thoughts went to the foods that are halal, that is, permissible under Islamic law. Most Sunni schools of thought interpret Islamic dietary laws as to include all creatures from the ocean, including shrimp. However, pork is not. So I debated with myself about whether or not to include bacon in the recipe I created. In the end, my greed for flavor settled the argument. But I include a possible substitute in the "cooking tips/notes" section as an alternative.
Then, I did some deeper thinking about rice itself, one of the most essential foods in the world. It sustains billions of people around the globe. I've learned a lot about the fascinating history of rice in The Cooking Gene, by the chef and culinary historian Michael Twitty. It is, far and away, the most important book about food I've read within the last several years. Twitty devotes an entire chapter to the roots of "rice culture" in the American Southeast and how its "birth … depended on the skill and knowledge of black women."
My attempt to develop a "simple" dish of rice, tomato, and shrimp humbled me. As I worked on it, one of the last of my ping-ponging thoughts was about something else I remembered from Michael Twitty's book: "It has been said that if an extraterrestrial wanted a specimen of the world's most common human, they would have to find a poor woman in a rice field."
I hope this recipe sparks some thoughts for you, too—about the interesting country of Mauritania and, especially, about the great things happening for girls at Mindleaps.
Please do not hesitate to let me know if you have questions about any recipe ingredient, method, etc. I can be reached at traci.dfw@gmail.com.
---
4 servings
Ingredients:
1 pound large, raw, deveined shrimp
1 tablespoon extra-virgin olive oil
1 tablespoon lemon zest
4 cloves garlic, minced, divided
¼ cup lemon juice, divided
2 ½ teaspoons kosher salt, divided
¼ pound bacon, cut into ½-inch wide strips
1 large yellow onion, diced small
1 red bell pepper, seeded and deveined, diced small
1 green bell pepper, seeded and deveined, diced small
2 celery stalks, diced small
1 small jalapeño pepper, seeded and deveined, minced
2 bay leaves
1 teaspoon minced fresh thyme leaves
1 large (28-ounce) can crushed tomatoes
½ teaspoon ground black pepper
2 cups low-sodium broth
1 cup long-grain white rice
4 scallions, white and green parts, thinly sliced for garnish
Method:
Put shrimp in a large glass bowl. Add the extra-virgin olive oil, lemon zest, half of the minced garlic, half of the lemon juice, and 1 teaspoon of kosher salt. Gently toss everything together so that all the shrimp is coated. Set aside while you make the rest of the dish.
Heat a large, heavy pot over medium heat. Add the bacon strips and cook until crisp and most of the bacon fat has rendered. Remove the bacon strips with a slotted spoon and drain on paper towels. Reserve to use as garnish at the end.
Add the onion, red and green bell peppers, celery, and jalapeño pepper to the pot. Sauté until the vegetables are slightly tender, approximately 5 minutes. Add the remaining garlic, bay leaves, and minced thyme. Season with 1 teaspoon kosher salt and ½ teaspoon ground black pepper. Cook for another minute until very fragrant. Add the drained canned tomatoes and stir everything together. Reduce heat and simmer gently, stirring occasionally.
While the vegetable mixture is simmering, put broth into a medium-sized pot and bring to a simmer. Add the rice and ½ teaspoon of kosher salt. Stir together and return to a gentle simmer. Reduce heat to low and cover the pot with a tight-fitting lid. Cook rice for approximately 15 minutes until tender and all liquid has been absorbed.
While rice is cooking and vegetable mixture is still simmering, heat a large heavy skillet or griddle pan—cast iron is best—over high heat until very hot. Sauté the shrimps for 2 to 3 minutes, just until they're turning pink and getting slightly charred on the edges. Remove from skillet and set aside.
When the rice has finished cooking, fluff it a bit with a fork and then add it to the pot with the vegetable mixture. Add the remaining lemon juice and stir everything together. Discard the bay leaves.
Divide portions into large, pasta-style bowls. Arrange several shrimps over the top and garnish each serving with some of the sliced scallions and reserved bacon strips.
Recipe credit: Traci Barr
Photo credit: Kathy Williams