---
The Proven Platter: Better-Than-Sex Cake
With our featured program in Rwanda this month, recipe maven Linda McElroy decided to go old school and pull some different entries from our own Dining for Women Cookbook. The Better-Than-Sex Cake is actually the only one of the collection that Linda didn't make. So you could call this an un-Proven Platter. You tell us how it works out!
By Linda McElroy
DFW Recipe Curator
Hello Diners!
Here it is, the month of June already. We are now halfway through the year and have just completed our first six months of programs. Our program this month is Indego Africa, based in Rwanda! What, did I just hear you say, "Again?" I thought so. That's why I'm offering up an entirely different menu this month. For inspiration, I looked to our very own "Decade of Dining" cookbook and selected some of the recipes that I've enjoyed over the past year.
You'll find this month's selections on our website, along with our previous collection of recipes from Rwanda, so you'll have plenty to choose from if you wish to prepare something authentic to the region.
Here's what I love about this cookbook—the recipes are delicious and easy to make. Most call for ingredients that you'll already have in your cupboard or can easily find in the grocery store. And they can generally be assembled in 15 minutes or less. Most importantly, these recipes have been tested by our member base and approved!
I am also intrigued by recipes that are not endemic to the region I live in or that sound so odd I must try them. I would not have thought "bacon prune rolls" would be so tasty – a stuffed olive, stuffed into a prune, rolled with bacon and baked. Voila, a perfect snack to serve with a cocktail. Thanks to Erica Kelley, Vancouver, WA, for that contribution.
I've tried and tested all the recipes in this month's collection, except for Better than Sex Cake. Sadly I ran out of time to make it, so you'll have to tell me what you really think. Is it? Or isn't it!
Better than Sex? Cake
Serves 18 to 24
1 box yellow cake mix, (18.25 oz.) plus ingredients to prepare (do not get cake mix with pudding in the mix)
1 can crushed pineapple, (20 oz.)
1 cup granulated sugar
1 package French vanilla pudding mix, (3.4 oz.) plus ingredients to prepare
1 ½ cup heavy cream
1 cup flaked, sweetened coconut, toasted
chopped toasted nuts (optional)
Preheat the oven to 350 degrees.
Prepare the yellow cake mix as directed using a greased 13x9x2-inch pan and bake for 30-35 minutes. While the cake is baking, combine the pineapple and 1 cup sugar in a saucepan and bring it to a boil over medium heat, stirring constantly. Remove from heat and allow to cool slightly. Remove the cake from oven and pierce holes in it with a skewer or chopstick. Pour the pineapple mixture over the hot cake and set aside.
Prepare the pudding to package directions. Spread the pudding over the cake and refrigerate until it is thoroughly chilled. Whip the heavy cream until it holds a peak, just this side of stiff. Cover the top of the cake with whipped cream and sprinkle with toasted coconut, or chopped nuts.
Other recipes Linda tested and selected to round out this collection:
Better-than-Sex Cake recipe contributed by Lisa Jemus, Calgary, Canada
Photo used with permission from Nancy Wolff,  http://homefront.prudentliving.com/recipe-box-better-than-sex-cake/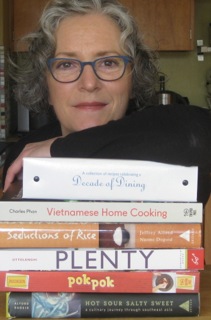 About the Author
Linda and her husband opened Ristorante Machiavelli in Seattle in 1988. After 25 years of cooking in and running a wildly successful neighborhood restaurant they sold the business and retired. Linda loves browsing through cookbooks, and the position of recipe curator provides her with a great excuse to indulge her passion. Linda hopes the dishes she tests and recommends will create a great experience for those who replicate her work in their kitchens.