---
The Proven Platter – Cameroon, July 2021
The cuisine of Cameroon has the distinction of being some of the more diverse of the cuisines in the continent. Partly due to the location, at the junction of Western, Northern and Central Africa, and partly due colonial influences from being a German, French, and British colony. July's featured grantee, Global Pearls, Inc., created recipes for three dishes that showcase the variety in the cuisine. Though the recipes were created by Global Pearls, these are Cameroonian dishes made with locally available ingredients.
Ndole is considered the unofficial national dish of Cameroon. An honor that is bestowed upon it possibly as a nod to the story of the origins of the country's name (camerones = shrimp) or possibly because it is the dish served at special occasions or possibly because of how rich and tasty it is rumored to be. While there might not be consensus on the reasons behind it earning the unofficial national dish spot, there is unanimous agreement that it is a delicious dish that melds ingredients and flavors that are quintessential to Cameroon. Ndole is a flavorful bitter leaf/spinach and shrimp stew made with fish stock. Some recipes also call for the addition of beef. It is creamy from the addition of ground peanuts and is almost part stew, part dip in its consistency. It can be served with fried plantains, rice, or even flatbread.
Ndole (Spinach and Peanut Soup)
Prep Time: 30 minutes
Cook Time: 50 minutes
Ingredients
2 medium onions, sliced
2 cups dry roasted peanuts
1/2 lb shrimp
4 garlic cloves
1 lb spinach leaves
2 tbsp chicken bouillon
1/4 lb dried anchovies
2 tbsp cooking oil
Equipment
Instructions
Boil dried anchovies with salt and water for about 45 minutes, to generate about 2 cups of stock. Strain and add chicken bouillon to stock.
Blend peanuts into a fine paste. Add to the chicken/fish stock in the pot and let boil.
Blend one of the sliced onions and garlic. Add to the peanut and fish stock and let boil.
Add spinach leaves to the pot and simmer until spinach is soft.
Separately, heat oil in a pan until hot. Add shrimp and cook until pink. Remove shrimp from pan. Add remainder sliced onion into pan and stir fry until brown.
Serve the pot of Ndole onto serving plate and arrange fried onion and shrimp on top. Serve hot as main dish for 4 – 5.
Recipe and photo credit: Global Pearls, Inc.
African Stewed Potatoes
Also known as "Hot Pot Potatoes" this is a very versatile, hearty, one pot dish that easily lends itself to customization of ingredients. Potatoes are a key ingredient – it is called "African Stewed Potatoes" after all – but other ingredients are not quite set in stone. The stew typically has some other root vegetables such as carrots with any choice of meat (ground or cubed beef, chicken, or as in the recipe that follows, ground turkey). While not quite authentic, I dare say, one can make this plant-based by substituting a plant-based protein for the animal protein. The meat and vegetables are cooked in a spiced onion and tomato broth with some recipes adding dried shrimp or crayfish to give the broth more depth of flavor. Serve hot with crusty bread to dip in the delicious, spiced broth.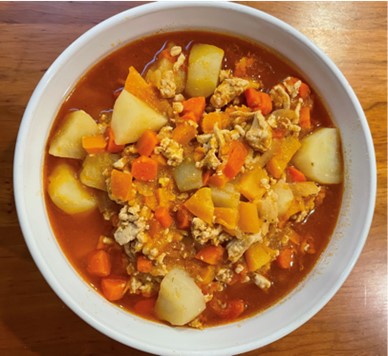 Prep Time: 15 minutes
Cook Time: 25 minutes
Ingredients
2 lbs potatoes
1/4 cup cooking oil
1 lb ground turkey
1 medium onion, diced
4 tomatoes, chopped
1 tsp smoked paprika
1/4 tsp cayenne pepper
2 cups chicken broth
4 garlic cloves, crushed
1 red bell pepper, diced
1 cup carrots, diced
Salt and pepper to taste
Instructions
Peel potatoes and cut into big pieces and soak in water. Leave aside.
Heat oil in a medium saucepan over medium heat.
Add onions and sauté till brown.
Add ground turkey and continue to sauté
Add tomatoes, cayenne pepper, paprika, stirring for 5 minutes.
Add potatoes, chicken broth, and let it simmer for 5 minutes.
Add carrots and bell pepper and continue cooking until potatoes are soft.
Stir occasionally.
Add salt and pepper to taste. Serve hot as main dish for 4 – 5.
Recipe and photo credit: Global Pearls, Inc.
Banana Fritters
 A sweet potato and banana fried crispy and mildly sweet treat that can be served either as an appetizer or dessert.
Prep Time: 30 minutes
Cook Time: 30 minutes
 Ingredients
1 large sweet potato
1/2 cup water
2 ripe bananas
1 cup flour
1/2 tsp salt
oil for frying
Instructions
Cut sweet potato into small pieces. Blend with water.
Add peeled bananas to mixture and blend till smooth.
Pour blended mixture into bowl. Mix in flour and salt till smooth.
Heat oil in pot till hot.
Put spoonful of mixture into oil and fry till golden brown.
Serve hot as appetizer/dessert for 6-8.
Recipe and photo credit: Global Pearls, Inc.