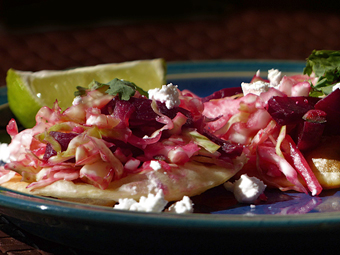 ---
The Proven Platter: Guatemalan Beet and Cabbage Tostada
Hello Diners!
This month we travel to Guatemala. Oh how I love the food of Central America! While Guatemala does not seem to have a national dish, tamales are very popular. I hesitate to share a recipe with you because they're pretty labor intensive. Instead, how about something simple, refreshing and different, like a Cabbage and Beet Tostada?
Variations on cabbage and beet relish was something I found a few times when I was doing my research on Guatemalan food. So I've combined the best elements to bring you my version. It can be used as a salad or piled onto a tostada. You could even buy round tortilla chips and portion the slaw and toppings to make one-bite appetizers.
Guatemalan Beet and Cabbage Tostada (Tested)
Serves 10-12
Ingredients
1 small head white cabbage, cored and finely shredded
½ small white onion, thinly sliced
1 jalapeno, minced
1/2 cup red wine vinegar
¼ grated piloncillo sugar or dark brown sugar
1/4 cup olive oil
5 small beets, steamed, peeled and cut into matchsticks
1 clove garlic, mashed
salt and freshly ground black pepper to taste
1 cup cilantro leaves, removed from stems
½ cup crumbled cotija cheese or substitute feta
limes for garnish
12 tostadas or 6"corn tortillas for serving*
Directions
Toss all ingredients in a bowl, through salt and pepper. Let marinate a couple of hours, occasionally tossing with your hands and gently squeezing to break down the cabbage a bit.
Just before serving, stir in the cilantro leaves and garnish with the cheese. This can be served piled onto tostada shells. You can find them at Latin markets, well supplied grocery stores, or even better, you can fry your own.
To so do heat up some oil in a small fry pan and fry the corn tortilla on both sides for about a minute or so, until they are crisp.
Garnish with lime.
*Note: In case you're wondering, no, that is not a corn tortilla in my photo. I used flour tortillas, cut into smaller rounds and fried. That was all that was available to me at the time, but I must say it was delicious and they worked quite well.
 Recipe and photo credit: Linda McElroy