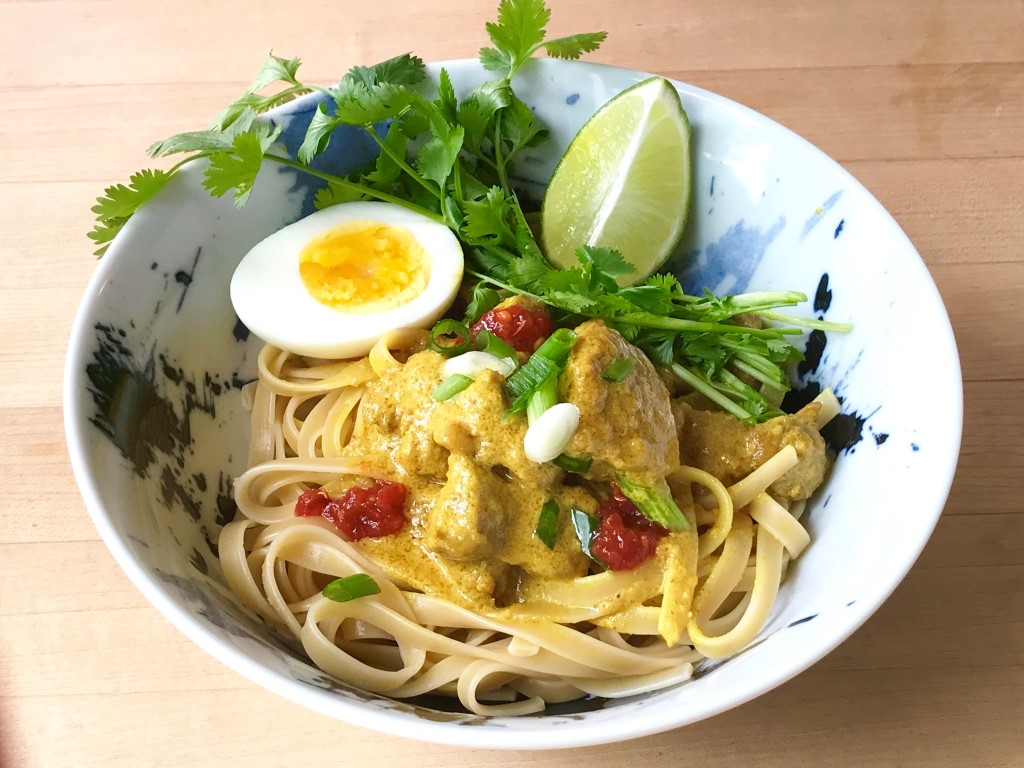 ---
The Proven Platter, Myanmar – September 2017
Hello Diners!
We're visiting Myanmar this month, formerly known as Burma, and I've got a delicious curry for you to try.
"Ohn-No Khao Swè" (Burmese Coconut Chicken Noodles) is one of the most common and well-known noodle dishes you will find in Myanmar. Although it is spelled "Khao Swè," you may think it similar to the very famous Thai dish known as "Khao Soi." The reason for this is that Khao Swè is considered to be the predecessor of that dish now made all over northern Thailand. As proof that the Burmese laid claim to this dish first, they point out that the Thai translation of Khao Soi doesn't really mean anything in the Thai language, whereas the translation of Khao Swè in the Burmese language means noodles. The full translation of "Ohn-No Khao Swè" literally means coconut milk noodles. Definitive proof!
Pay attention to the garnishes, that's where the fun begins. Since this dish is basically a very mild curry, you'll want to spice things up a bit. Lime wedges, chopped cilantro, scallions or sliced raw shallots are all common garnishes. You can put out little bowls of chili powder, chili oil or paste to spice things up a bit. And for added interest often boiled eggs are included. Boil them just a bit past the "soft-boil" stage, but short of hard-boiled.
To serve I would suggest setting up a buffet, with the noodles in one bowl, curry in another, and all the garnishes set up in their individual bowls. Then let people assemble their meal to their liking.
For potluck style, you could divide this meal plan up three ways. Somebody could be assigned to bring the garnishes, someone could make the chicken curry, and someone could do the noodles.
It might make sense for the hostess to do the noodles as they could then be cooked and served immediately when everything was set up and ready to go.
I've also got a delicious cabbage and ginger salad, "Jin Thoke," to share with you as part of this menu. This salad would be the perfect foil to the richness of the chicken curry. It provides lots of crunch and brightness. While there are a few steps to this recipe, I've also suggested quick substitutions if necessary.
Have fun with this menu, and please feel free to contact me if you have any questions or comments at nw4@togetherwomenrise.org.
Burmese Coconut Chicken Noodles (Ohn-No Khao Swè)
Serves 6
Use any type of noodles that you have on hand. Flat fettucine noodles would work well (what I used), or egg noodles. Rice noodles would be fine too.
Garnishes add fun and excitement to this dish, so feel free to go beyond the usual ones that I have listed.
Click on the YouTube video listed at the end if you'd like to see how this dish is made, although I did not follow her recipe.
Ingredients
1 ½ lbs. boneless, skinless chicken thighs
4 tbsp. fish sauce, divided
1 tbsp. turmeric
1 tsp. chili powder
1 lb. wheat or egg noodles
3 large shallots, peeled and chopped (or small red onion, about 6 ounces)
1 heaping tbsp. chopped ginger, about a 1" knob
5 cloves garlic, peeled and chopped
¼ cup vegetable oil
1 (14 oz.) can coconut milk, divided
Garnishes
Lime wedges
Sliced shallots or green onions
Chopped cilantro
Chili powder, chili oil, or chili paste
Soft-boiled eggs (somewhere around a 9-minute egg, slightly soft in the center)
Directions
Slice or dice the chicken thighs into bite-sized pieces, and place into a bowl. Add 2 tablespoons of the fish sauce and mix well. Set aside to marinate while you prepare the rest of the ingredients.
While the chicken is marinating bring a pot of water to the boil for cooking the noodles.
To a food processor add the shallots, ginger and garlic. Add the remaining 2 tablespoons of fish sauce, turmeric, and chili powder. Process until everything is evenly combined, or finely minced.
Heat the oil in a large fry pan. When the oil starts to shimmer add the onion paste and cook over low heat, until the paste starts to become golden brown, about 10 minutes. The paste will have reduced by about half once the water has cooked out of it, that's how you'll know it's ready. Once the paste is ready, add to the pan ½ cup of the coconut milk and 1 ½ cups of water. Let this simmer until reduced by half, stirring occasionally, about 10 minutes.
Stir in the chicken pieces, and the remaining coconut milk. Bring to a simmer, and cook for 5 minutes, or until the chicken is done. If you've cut the chicken into small pieces it will cook very quickly. Taste for salt and add a bit if necessary.
Now it's time to cook the noodles. Add to the boiling water and cook according to package directions. Drain and put into a serving bowl, drizzle with oil and toss the noodles so they won't stick together.
To serve, set out bowls with the noodles, curry, and the garnishes, and let people serve themselves.
Recipe and photo credit: Linda McElroy
Source materials: http://www.meemalee.com/2010/08/ohn-no-khao-swe-burmese-coconut-chicken.html