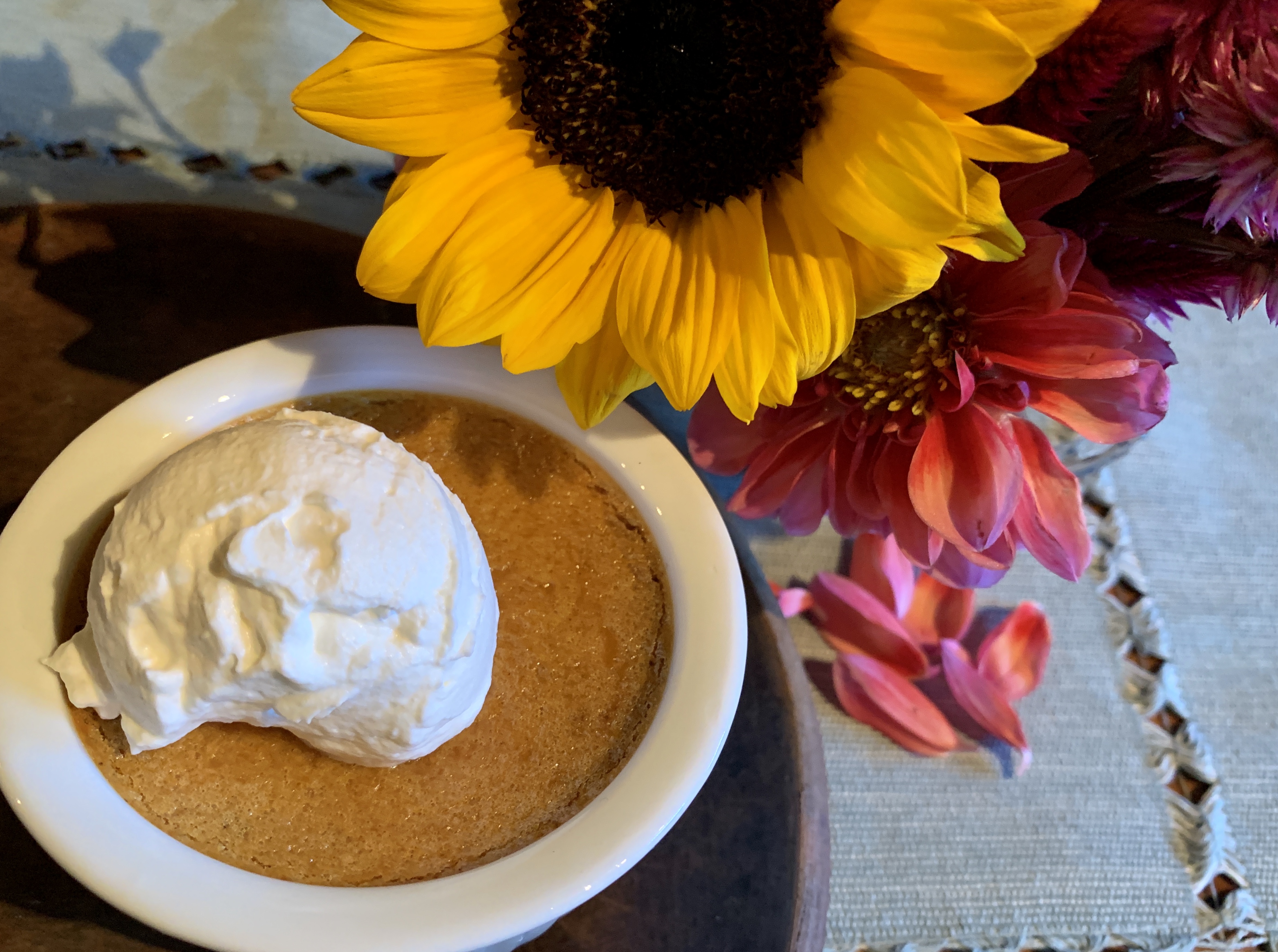 ---
The Proven Platter – November 2019
In doing research about Swaziland, the country of origin of Young Heroes Foundation, November's featured grantee, I learned about a dish called sidvudvu. It's a thick, nutritious porridge made of mashed cornmeal and pumpkin. In other words, corn and winter squash. That particular combination of ingredients seems not unlike something that could be served at a traditional American Thanksgiving dinner. So I had those ideas in mind as I tried to come up with a recipe for this month's Proven Platter.
What could be pumpkin-based and have an almost-porridge-like texture? How about a pumpkin custard? Which, I think, is the best part of a pumpkin pie – and eliminates the time (and stress) of having to make pie crust. Give it a try!
I am very grateful for the impact Dining for Women is having on so many women and girls throughout the developing world—especially at time when the world seems particularly unsettled. I hope you all have a peaceful Thanksgiving.
---
Pumpkin Custard
Yield: 8 servings
Cooking tips/notes: This recipe has all the goodness of traditional pumpkin pie, but without the stress of having to prepare a pie crust. Serve with sweetened whipped cream. For this recipe, you'll need 6-ounce ramekins and a 9 x 13 cake pan.
Ingredients
1 (15-ounce) can of plain pumpkin puree
4 large eggs, lightly beaten
2 (12-ounce) cans evaporated milk
2 teaspoons vanilla extract
1 cup light brown sugar
4 teaspoons cornstarch
1 teaspoon ground cinnamon
½ teaspoon ground ginger
½ teaspoon salt
¼ teaspoon ground allspice
Pinch of ground clove
Method
Preheat oven to 350 degrees. Fill a large teapot with water and bring to boil as you are preparing the other ingredients.
Place ramekins in the cake pan and set aside.
Whisk together the pumpkin puree, eggs, evaporated milk, and vanilla extract in a large bowl until blended. Set aside.
Whisk together the brown sugar, cornstarch, ground cinnamon, ground ginger, salt, ground allspice, and ground clove. Add to the wet ingredients and mix everything together until well-combined. Using a ladle, fill each of the ramekins with the custard.
Then, slowly pour the boiling water from the teapot into the cake pan and fill to halfway up the sides of the ramekins. Try not to splash the hot water onto the custard as you pour. Transfer to the oven and bake for 50 minutes, until the custard is set.
Carefully remove ramekins from the cake pan and cool completely on a wire rack. Serve with sweetened whipped cream.
Recipe and photo credit: Traci Barr