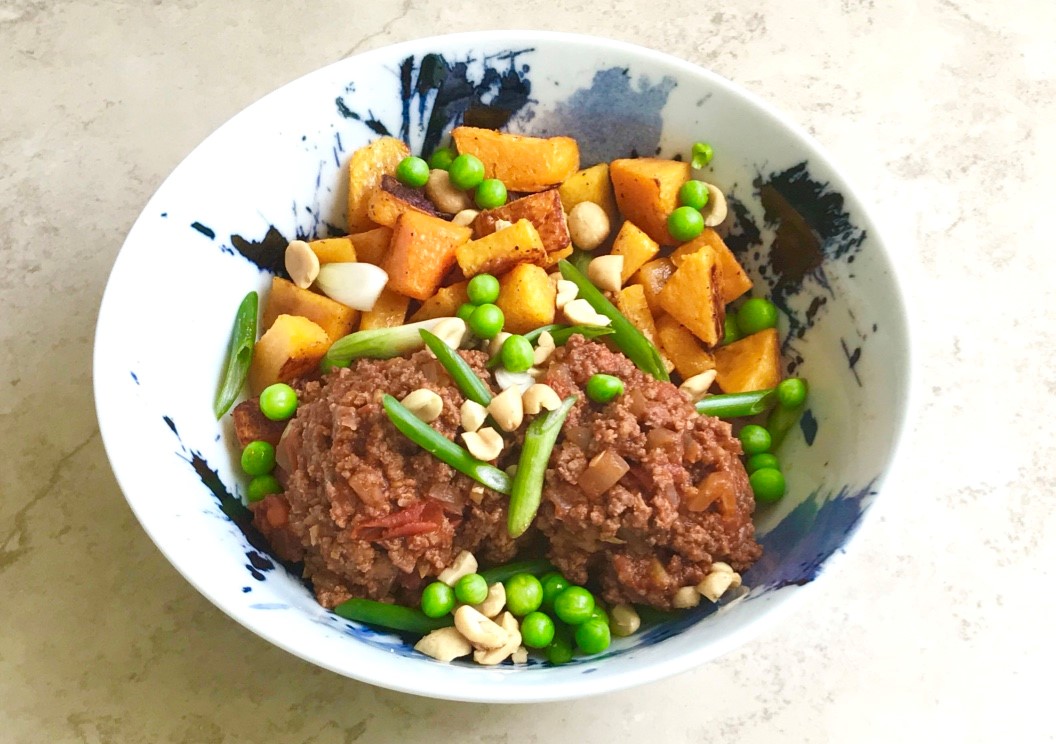 ---
The Proven Platter – September 2018, Malawi
Hello Diners!
This month our good works take us to Malawi. I think we've been there a few times before! I picked up one of my go-to African cookbooks, "Zainabu's African Cookbook," for inspiration this month. I found a recipe for Beef with Butternut Squash that sounded promising. When I read the recipe, I realized it is very similar to something I've made in the past that I've really enjoyed.
This is an easy recipe to prepare with readily available ingredients. Your choice of which squash to use may depend on whatever is available at your market. Personally, I really enjoy the kabocha squash. Delicata is another good choice. Neither squash needs to be peeled as the skins are pretty tender, so that really cuts down on your prep time.
For this time though, I used packaged cubed butternut squash, because in July when I was testing this recipe, one is not likely to find fresh whole squash in the grocery store. Go ahead and use the packaged variety if that shortcut suits you, but since it is September, the stores should be bursting with fresh squashes of all types. Why not take advantage of the fresh bounty?
Please feel free to contact me at nw4@togetherwomenrise.org if you have any questions or comments about the recipes. I love to hear from you!
Beef with Butternut Squash
Serves 4 to 6
No one country lays a specific claim to this dish, as it is common in Central, East, and West African countries. Although butternut squash is called for in this recipe, use whatever kind of squash you like. Other varieties of squash such as kabocha and delicata squash are good choices as well. Neither one of those squashes needs to be peeled, so that makes using them a timesaver.
Ingredients
2 (12 oz.) packages cubed butternut squash (or the equivalent of one medium)
2 tbsp. oil, divided
1 cup chopped onion, about l medium
2 tbsp. chopped garlic, about 4 cloves
2 tbsp. chopped ginger, about 2" piece
2 small Thai bird chiles, chopped, remove seeds for less heat
1 lb. ground beef
2 medium sized tomatoes, diced, about 1 ½ cups
2 tsp. kosher salt
6 tbsp. tomato paste
One lime
1 cup water
For garnish:
2/3 cup frozen green peas, thawed
3 green onions, sliced on the diagonal
½ cup roasted peanuts, lightly chopped
Directions
Preheat the oven to 400 degrees. Open the packages of squash and examine the pieces. If the cubes of squash are large, I like to cut them into smaller dice, about 1 inch pieces. Toss the butternut squash on a baking sheet with 1 tablespoon of the oil, and sprinkle with salt and pepper. Bake for 20 minutes. Remove the tray from the oven, and if the squash needs some more time, give it a stir and continue to bake for 10 more minutes or so.
In the meantime, you can make the meat sauce. Heat up a large frying pan with the remaining oil. Add the onion, garlic, ginger, and chile. Sauté over medium low heat, just until the onion looks softened and translucent. Add the ground beef. Chop up the meat with a wooden spoon and continue to stir and chop until the meat is cooked, about 5 minutes.
Add the diced tomato and the salt, and cook for a few minutes, continuing to chop the tomato into the meat. The goal is to break down the tomato a little bit. Add the tomato paste and continue to stir the meat mixture until the paste is completely incorporated. Let it simmer for a couple of minutes to caramelize the tomato paste. Remove the pan from the heat for just a minute while you take your lime and grate the peel right into the mixture. This way you don't lose any of the essence of the lime, and you'll want to remove the pan from the heat so that you don't burn yourself while doing this!
Place the pan back on the heat and add the water. Simmer the mixture for just a minute or so until it thickens up a little bit. You do want the meat to be a bit soupy, so add a splash more water if necessary.
Hopefully, your squash will be done about the same time as your meat. To serve, layer the squash on a platter, and spread the meat sauce on top of the squash. Garnish with the peas, green onions, and peanuts.
Recipe contribution and photo credit: Linda McElroy
Adapted from Zainabu's African Cookbook with Food and Stories, by Zainabu Kpaka Kallon.