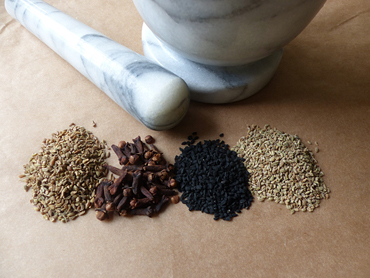 ---
The Proven Platter—Togo, November 2015
Hello Diners!
This month we visit the small West African country of Togo. Sandwiched between Ghana on the west and Benin on the east, the southern end of Togo sits at the Gulf of Guinea, where plenty of access to fresh fish helps to round out the cuisine. While fish is an important source of protein, bush meat is also often consumed. The most well-liked bush meat is the giant rat. I think we'll skip that and make a delicious beef stew instead!
There's not a wealth of recipes out there for Togolese cuisine, but I did manage to find a few dishes that are easy to make and yummy. We'll make the aforementioned beef stew, called Gboma Dessi, accompanied by Djenkoume, a tomato cornmeal mush. We'll also make our own spice blend, Gbotemi Spice Blend, to season the stew. Initially I thought the combination of ajwain, cloves, anise and cardamom sounded odd to me, but I was pleasantly surprised. It serves to flavor the stew without any one spice overwhelming the end product.
Our recipe for Djenkoume this month is very similar to making polenta, but it has added flavorings of onion and tomato. I used a fine cornmeal as the recipe called for, but I suppose you could use a coarser-grind polenta and cook it longer.
Accompanying our Djenkoume is an absolutely delicious beef stew. It may not seem all that different from an American beef stew, but the seasoning really kicks it up a notch. I will definitely be making this dish again and I am already looking forward to eating the leftovers!
German beers are commonly found in urban areas of Togo, and I highly recommend a fine one to round out your meal. And since French is the most common language spoken in Togo, I wish you Bon Appetit!
Beef and Spinach Stew (Gboma Dessi) (Tested)
Serves 4 to 6
Ingredients
2 to 3 tbsp. red palm oil (a must have ingredient for authentic results and flavor, but regular oil can be substituted)
2 lbs. stewing beef, cut into cubes
3 small yellow or white onions, peeled and sliced thin
4 large cloves garlic, peeled and chopped
1 tbsp. minced fresh ginger root
2 to 4 piri piri hot peppers, depending on taste (these peppers are hot!)
2 beef bullion cubes
3 cups water
14 oz. canned tomato sauce
1 ½ tbsp. Gbotemi spice (see recipe below)
1 tsp. salt
1 lb. fresh spinach (about 2 large heads)
Directions
In a large, wide frying pan, heat a couple tablespoons of oil. Add half of the beef cubes and brown on two sides over medium heat. Remove to a plate and brown the second batch of meat. Remove again.
Sauté the onions in the same pan; if you need a bit more oil add another tablespoon. When the onions are softened and colored, add the garlic, ginger and hot peppers and sauté for a few more minutes.
Add the rest of the ingredients, except for the spinach, and simmer covered for about 3 hours. The meat must be absolutely tender when pierced with a fork. I used pre-cut beef cubes from the butcher and they were on the large side and it took 3 hours. If your beef cubes are on the small side it may take less time.
Check every so often to see if it needs a bit more water added and stir to make sure it is not sticking to the pan. Remove the cover during the last half hour of cooking if the stew is looking soupy and you want to reduce it a bit.
In the meantime, you can prepare the spinach. I prefer to use large mature heads of spinach for this dish rather than pre-washed baby spinach. It holds up better and you can use all the stems as well. Remove the root end of the spinach and wash well in a couple changes of water. Put the spinach with the water still clinging to the leaves into a large pot and cover with a lid. Steam the spinach for 5 to 10 minutes, stirring once or twice until it is all wilted. Remove and drain, let cool. Coarsely chop the spinach and set aside until ready to add to the stew.
When the stew is ready, taste for seasoning and add the spinach, warm through for a minute or so. Serve in bowls accompanied by Djenkoume.
Recipe adapted from http://ethnicfoodsrus.com/around-the-world-recipes/african-cuisine/togolese-cuisine/
Photo credit: Linda McElroy
Gbotemi Spice Recipe (Tested)
Makes about 1 ½ tablespoons, enough for one recipe
Ajwain seed is mostly found in Indian cooking. It has a pungent thyme/cumin fragrance. If you can't find ajwain seed I recommend substituting cumin seed.
Cardamom seeds are very expensive to buy. I purchase the whole pods and crack them open to remove the seeds. You'll need 20-25 green pods. Crush with the flat side of a chef's knife, or break up in a mortar and pestle.
The spice will keep, stored in a cool, dry place, indefinitely. You may want to double or triple the recipe though, because I guarantee you will want to make the recipe again!
Ingredients
1 tsp. whole cloves
1 tsp. anise seeds
1 tsp. ajwain seeds (can substitute cumin seed)
1 tsp. cardamom seeds
1 tsp. ground ginger
Directions
Mix all the above ingredients (except the ground ginger) together in a small sauté pan and toast over medium flame on the stove until the spices are fragrant and turning brown.
Grind the toasted spices with a mortar and pestle until it is one consistent powder. Pick out any bits of clove stems that you can visibly see. Add ground ginger to taste, mix and blend together thoroughly.
Recipe adapted from : http://ethnicfoodsrus.com/around-the-world-recipes/african-cuisine/togolese-cuisine/
Photo credit: Linda McElroy