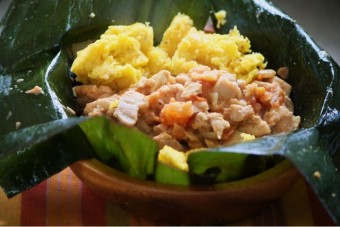 ---
The Proven Platter: Ugandan Luwombo
This month's Proven Platter recipe is authentic Ugandan – chicken steamed in banana leaves (with a simple substitution if you can't find the leaves).
By Linda McElroy
DFW Recipe Curator
Serves: 8
Approximate time – 2 hours
Difficulty rating – Moderately Easy
Hello Diners!
This month's program is based in Uganda and, being the month of December, I've tried to find some fun and festive recipes for you to try. We've got a delicious pineapple rum drink (easy), a decadent banana bread pudding (easy) and our recipe of the month Luwombo (moderately easy), loosely described as meat and vegetables steamed in banana leaves. I hope you'll be able to find banana leaves in your area as they really do contribute a nice flavor profile to this dish.
Here's the thing as well, they make charming little packages tied up in string. It's like a Christmas gift on your plate! But fear not, if you can't track down banana leaves you can certainly use parchment paper, or tinfoil as a substitute.
In addition to the meat packets in the pot, whole peeled plantains are also added, and when everything is done the plantains are removed and mashed, to be served alongside the meat packets. I followed the recipe instructions though, and when I tried to mash my plantains I ended up with a bowl of dry crumbly pellets. Not good!
My next thought was to try and rescue this mess by adding lots of butter and cream, as you would do for mashed potatoes. But, honestly, it looked so bad that I decided no amount of butter or cream could rescue this pile of sawdust so into the compost bin it went.
Maybe the plantains cooked too long, or maybe they weren't very good to start with, but for sure I don't have much experience cooking them. So here's my advice: if you are somebody who knows your way around a plantain go ahead and steam a couple in your pot and serve them mashed, as would be typical. Let me know how it turns out!
My alternate suggestion though, and the way I've written up the recipe, is to include a couple of chunks of plantain in each meat packet. I think that might keep them a bit moister. In fact, I'd go so far as to suggest that sweet potatoes would be a perfectly appropriate alternative to plantains if you'd rather not deal with any uncertainty. I found this dish to be really tasty and not too hard to make. All the prep can be done a day ahead of time, and steamed on the day you plan to serve it.
Chicken in Banana Leaves (Ugandan Luwombo)
Chicken seems to be the traditional meat to use in this dish, but pork or beef are fine as well. When I made the dish I used pork because that's what I had. If you use chicken, I recommend boneless skinless thighs as they can withstand longer cooking time.
Ingredients
2 pounds chicken, pork or beef (cut into serving-sized pieces)
1 cup unsalted peanuts, finely ground
2 onions, halved, and then sliced crosswise
1 cup sliced mushrooms
4 tomatoes, chopped
1 chicken stock cube
Salt and black pepper, to taste
Banana leaves (parchment or tinfoil will work)
1 smoked fish (optional)
3 plantains, peeled and cut into 1" chunks (or substitute sweet potatoes)
Directions
Brown the meat in an oiled frying pan; do this in batches so as not to crowd the pan, then remove and set aside.
Add a couple tablespoons of oil to the same pan, then add the onion slices and saute for 10 to 15 minutes to lightly caramelize them. Add the mushrooms and cook for 5 more minutes. Next add the tomatoes, chicken stock cube, salt, pepper, peanuts and the (optional) smoked fish. If necessary, add a little water to form a smooth sauce. Cook to heat through and thicken up just a bit. Then add the browned meat to the sauce.
Plunge the banana leaves in boiling water to soften them, remove the mid-rib and cut the ends off the leaves to form rectangles. If you buy packed banana leaves, most brands (like Goya) have already removed the mid rib for you. Place a portion of the mixture in the center of a leaf. Then add two or three chunks of peeled plantain.
Fold the leaf from the sides then wrap from the ends to make at least a double layer. Tie into a package with oven-proof string then repeat until all the mixture is used up.
Place a wire rack or trivet in the bottom of a large casserole dish or Dutch oven, and add water to the level of the bottom of the trivet. Place the meat packages on top of the trivet and cover the dish. Bring to a boil and steam the packets for an hour.
Remove the packets from the pot and serve.
Note: To see a pictorial on how to make this dish and tie up the packets be sure to visit the website. Recipe adapted from (and photo credit): What's Cooking in Your World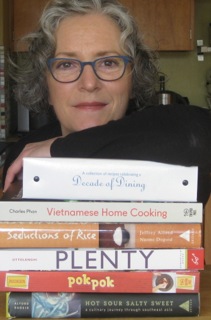 About the Author
Linda and her husband opened Ristorante Machiavelli in Seattle in 1988. After 25 years of cooking in and running a wildly successful neighborhood restaurant they sold the business and retired. Linda loves browsing through cookbooks, and the position of recipe curator provides her with a great excuse to indulge her passion. Linda hopes the dishes she tests and recommends will create a great experience for those who replicate her work in their kitchens.