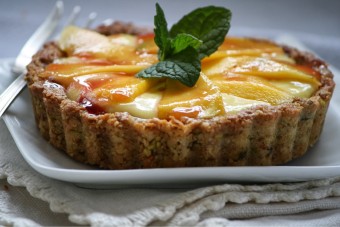 ---
The Proven Platter: Mango and Coconut Tart (Tanzania)
Each month, recipe curator Linda McElroy will take a recipe from the featured program's country and put it through its paces in her own kitchen. She will test it, tweak it and fine-tune it and you will benefit from her insights. This month it is a Mango and Coconut Tart, adapted from a traditional Tanzanian recipe. Mmmmmmm.
By Linda McElroy
Serves: 8
Approximate time – 2 hours
Difficulty rating – Medium
This tart was inspired by a beautiful picture I'd seen of a mango and lime curd tart on the "What's Cooking in your World" website. I couldn't wait to try it out! But for my taste I thought that pairing it with coconut cream would work beautifully as well. An added bonus is that pastry cream is easier to make than lime curd.
Don't be afraid to try your hand at this tart. The crust is easy – no rolling, and making pastry cream is about as simple as making pudding! After making this tart twice and tweaking various methods and measurements I hope that I have perfected the process so that you will have success with this in your own home kitchen!
Ingredients for the crust (Can be made two weeks ahead and frozen. Remove from freezer and bake without thawing, add a few extra minutes onto your baking time. )
1 1/4 cups roasted macadamia nuts
1 1/4 cups sweetened shredded coconut
1 cup shelled pistachio nuts
3 tablespoons brown sugar
2 egg whites (can save the yolks for the coconut cream if baking same, or next, day)
For the coconut cream (can be made five days ahead)
2 1/2 cups whole milk
1/2 cup sweetened shredded coconut (toasted)
2 egg yolks
1 whole egg
1/3 cup sugar
2 tablespoons corn starch
pinch of salt
1 teaspoon vanilla
4 tablespoons chilled butter
Fruit topping
1 large mango, peeled and sliced (watch a great video on how to cut, peel and slice a mango)
2 tablespoons jam to glaze the tart, apricot is nice
Directions for the crust
Preheat the oven to 350 degrees. Combine the macadamia nuts, coconut, pistachios and brown sugar together in a food processor and continue processing until the nuts are all finely chopped, transfer to a bowl. Make sure the nuts stay fluffy and don't turn into a paste.
Next, whisk the egg whites with a pinch of salt until they become foamy. Fold the egg whites into the nut mixture and let sit for a few minutes.
Grease a 9" tart pan with removable bottom (cooking spray works very well for this task) and add the nut mixture to the pan. Use your fingers to press the mixture onto the bottom and up the side. If you're having trouble with the dough sticking to your fingers use a piece of plastic wrap to press the dough into the pan, or just dampen your hand. If you don't have a tart pan an equivalent pie dish will work, but make sure not to press the crumbs too far up the sides or you will not have enough filling.
Place tart shell in the oven on a cookie sheet and bake until the crust is puffed and beginning to brown, about 20 minutes. Don't over-bake the shell or it will be hard – I made this mistake the first time around. Remove from the oven and allow it to cool for 5 minutes before carefully removing the pan sides. If you notice the crust sticking to the sides use the tip of a sharp paring knife to loosen. Transfer to a wire rack and allow it to cool completely.
Directions for the filling
To toast the coconut place it in a shallow pan over medium heat and stir constantly until the coconut is toasted, it should have an even light brown color. Remove to a bowl.
In a heavy bottom saucepan heat the milk and the toasted coconut until bubbles form around the edges and the milk is steaming. Turn off the heat and let the milk steep, covered, for 20 minutes. Once the milk has steeped, strain it into a large measuring cup or bowl and throw away the coconut (you should have 1 1/2 cups of milk left). Rinse out your saucepan to get rid of any bits of coconut as you will use it again.
In the meantime, place your egg yolks, whole egg, sugar, cornstarch and salt into a bowl and whisk all together. Now pour the warm milk into the egg mixture whisking the whole time so that the eggs and milk blend together. Return this mixture back to the saucepan and set over medium heat. Bring to a boil, whisking all the while. Don't worry if all of a sudden it goes lumpy on you, it will smooth out with more vigorous whisking.
Do make sure that it comes to a boil for at least two minutes as this cooks the cornstarch and ensures a smooth pastry cream, you will see large thick bubbles popping.
Remove from heat and stir in the vanilla and the butter, one tablespoon at a time. If at this point it looks lumpy you can always strain it again.
Pour into a container and press a piece of plastic wrap on the surface to prevent a skin from forming. Cool, and then refrigerate until ready to fill the tart shell.
To assemble the tart, whisk the chilled coconut cream thoroughly to loosen and spread onto the baked and cooled tart shell. Top with mango slices.
To glaze the tart warm up a couple of tablespoons of the jam with a bit of water until it is spreading consistency. If the jam is lumpy or has bits of fruit in it, strain, and then brush onto the mango slices.
About the author
Linda and her husband opened Ristorante Machiavelli in Seattle in 1988. After 25 years of cooking in and running a wildly successful neighborhood restaurant they sold the business and retired. Linda loves browsing through cookbooks, and the position of recipe curator provides her with a great excuse to indulge her passion.  Linda hopes the dishes she tests and recommends will create a great experience for those who replicate her work in their kitchens.