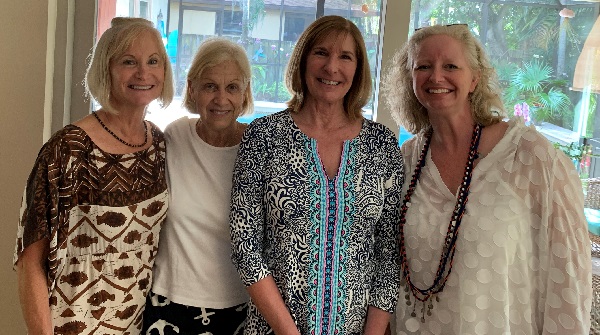 ---
Recently, I had the pleasure of visiting with three of our incredible Together Women Rise volunteers in Florida, shown in the photo (from left: Beth Palmer, Carol Buzilow, and  Kay Yoder). Spending time with these women is pleasure enough, but this was extra special because it was one of my first in-person, member visits since COVID. Visiting chapters and getting to know our members has always been a favorite part of my job, and I have missed it!
I'm sure that many of you feel the same way about your own chapter. Perhaps your chapter has not met since COVID began last year; or perhaps you have been meeting virtually but have had fewer members attending. I'm sure that you miss having your Together Women Rise community all together.
While we are seeing some light at the end of the tunnel, it is too early to declare this global crisis over, and 2021 will continue to be a challenging year. For global gender equality — and women and girls in low-income countries specifically — there will be long-lasting impacts from the pandemic. We know that even more women are being pushed into extreme poverty; girls are not returning to school; and child marriage and harmful practices like female genital mutilation/cutting (FGM/C) are on the rise.
Here are a few great resources for more information on COVID-19's impact on women and girls:
From Insight to Action: Gender Equality in the Wake of COVID-19, UN Women 2020
Pandemic Pushes Back Gender Parity by a Generation, Report Finds, World Economic Forum, March 31, 2021
In addition, while vaccines are bringing hope to many of us here in the US, inequities in vaccine distribution will mean that lower-income countries will continue to be impacted by the pandemic for much longer. It is going to take a lot of effort and time to even get back to where we were in terms of global gender equality prior to the pandemic.
Our powerful community of members and grantees can, together, contribute significantly to rebuilding global gender equality. We must step up in this time of need for women and girls. To do so, we need every member of our community to be engaged and active — in whatever way you can.
And that is why we are launching our "We Miss You" Campaign.
Since COVID began, we have seen a drop in the number of chapters and active members. While we celebrated the historic milestone of reaching 500 chapters in early 2020, this number has now dropped to 448. And we estimate that about one quarter of the 448 chapters have not been meeting regularly, or at all, over the past year. Prior to COVID, we had more than 8,500 active members – by our definition, an active member is someone who has donated in the past 12 months. That number has dropped precipitously to about 5,500 active members. In addition, prior to COVID, we were attracting several hundred new members each month, but now that is not happening.
It is time to turn this around! While we may not be ready yet to return to our pre-COVID normal, there are so many ways that you can engage with our mission. If we are going to step up for women and girls globally, we need everyone to join us!
Watch for "We Miss You" communications over the next few months. Whatever way you engage with us — through your local chapter, our national virtual chapter, book club, or advocacy activities – tell a friend about Together Women Rise! Or, invite all your friends to follow the Together Women Rise Facebook page. You will increase awareness of our important work and the challenges facing women and girls.