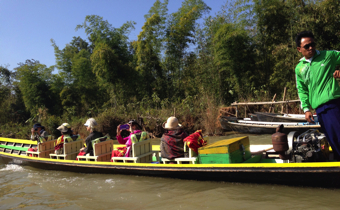 ---
Burma 2015: Life along Inle Lake, Day 11
A trip along Inle Lake shows us fishermen, women doing chores and a popular market.
By Tisha Scurich
Our morning started with delicious crepe-like banana pancakes from our hotel, a real treat! We headed out for the riverside to board three boats reserved for us, for the trip up one of the Inle Lake Canals.   Our instructions were to board one at a time and to sit down. Afterwards no standing for good reason, the boats sit low on top of the water and can be tipped easily. We had chairs, blankets, and life jackets to keep us comfortable.
Our first stop was a view of the Inle Lake fisherman who stand on the edge of their boats holding baskets, lowering them, all the while stirring the water  with a stick with one foot, and standing on the edge of the boat with the other foot. Quite the balancing act ! After a few photographs we moved on.
Riding along the canals and the open waters of Inle Lake we viewed many produce fields and bamboo day houses that farmers use to rest during hot days. We saw lots of waterways heading off in different directions, and many communities. Along the waterways as we got closer to our destination we saw villagers in very low boats paddling with oars going about their daily business.  There were mini bamboo docks  where women would gather to do their laundry , bathe or wash their long hair.
We arrived to our destination Khaung Daing and the Five Day Market that is there. This is an area where restaurants and food vendors abound.  Hill tribes come down from the mountains to buy or sell produce, jewelry, trinkets, textiles, household  goods and artwork. We stopped in to view the market displays , produce and  village wares.  It is right along the waterway and many boats make the stop for eating or shopping.
We headed out after awhile to continue up the waterway to a small Intha village. We walked along the waterway and passed the restaurant we would dine at later in the day. As we walked we came upon many villagers selling anything from fried crispy wafer like large crackers made of beans , scarves, loungi's and many other items.  We walked through a covered market of many vendors lined along both sides of the hallway reminiscent of a Greek market hall. As we continued on past the covered market , we exited the building and immediately we saw ancient whitewashed ruins and some not so ruined pagodas.  They were of various sizes and colors including newer Pagodas. The area also included a Buddhist Monk cemetery with the characteristic small cement above ground tomb. Buddhist  burial tradition  includes cremation.

We lunched near the waterway then headed back to the boats to continue our journey to the famous silk and lotus weaving demonstration in Innpawkhone Village. We got to meet some women weavers at the Khit Sunn Yin Lotus and see them running their looms. We learned about the importance of fair trade, the lotus plant which is abundant in the area and how it is used to make textile. The lotus plant folklore tells of lotus fabric that heals the spine when worn around the neck.
It was very interesting and sure made us feel the value of the hard work that goes into each piece fabric that is created by these women. We were told they are paid just five dollars a day for two days work to create one two meter piece of textile!
After visiting the shop with all the products that are made here we headed back to our boats for a wonderful ride back to Indain. The sun was just starting to set which made for a wonderful view all the way back.  Later this evening we had Pizza and Pasta at a local popular restaurant nearly right across the street from our hotel ~ The Cassiopeia.