---
Burma 2015: Rolling on the river, Day 6
Travelers go with the flow on an 11-hour ferry trip down the Ayeyarwady River.
By Marilyn Murphy
Thousands Oaks, CA
It was the dead of night when we left our hotel – to catch the 5:30 AM ferry from Bagan to Mandalay. Most of us had chosen to take a hot-air balloon ride yesterday – which was also a very early morning wake-up call. And the day before involved an early morning flight from Yangon. Despite this, everyone showed up on time and I heard no grumbling! What a great group of travelers!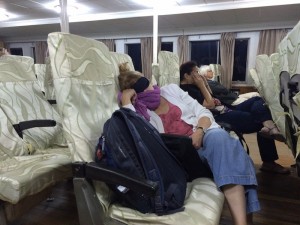 The Ayeyarwady (formerly called the Irrawaddy) River is the lifeline of Burma/Myanmar, flowing 1,350 miles from the Himalayas in the north to the Andaman Sea. We were traveling upriver, from Bagan to Mandalay – a distance of only about 115 miles. There are several luxury vessels which ply this route – with linen tablecloths, massage treatments and swimming pools. Ours was not one of them. We were going local – on one of the government ferries. "No frills" was an understatement. We were all learning to go with the flow. And today we were going to be flowing on this river for about 12 hours
A few managed to doze on the shabby seats in an extremely uncomfortable position.
At 7 AM, the "Dinning Room" opened and we eagerly redeemed our breakfast coupon for a hard-boiled egg, instant coffee and two slices of spongy white bread, toasted and smeared with mystery margarine and hot pink jelly.
We passed much of the time in deck chairs, aiming our cameras left and right to snap photos of barges floating downriver laden with huge teak logs or those going upriver, loaded with bags of white rice grown in the southernmost delta region. Small wooden fishing boats, dusty villages and women washing clothes on the riverbank were common scenes as we cruised through this sparsely populated region.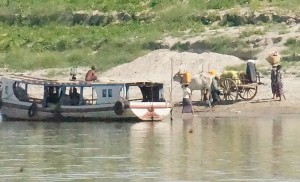 It's the dry season so the water level is low and the ship's pilot had to carefully navigate around sand bars. At one point, a crew member at the bow was taking depth measurements with a long bamboo stick and calling out to the Captain. Someone translated for me: eight feet. Yikes … this was a pretty big boat and that didn't leave much margin for error! I was pleased to see a Buddhist altar next to the wheel, and hoped that our Captain was a man of right action, in good standing with the river gods!
We had arranged something special for us to help pass the time: a fortune teller. Unrelated in any way to Buddhism, astrology and superstition are entrenched in the Burmese culture, and many people consult astrologers regarding naming their children, suitable marriage partners, etc. I had come prepared with my information – including the time of my birth. I've always had a healthy skepticism about such things, and was disappointed to be told that I am having marital problems (I am not) and that there will be a divorce (I think not!). His other prediction was that I should avoid international travel for a year after I turn 61 because I will have an accident and injure my foot. Travel is not only my passion, but my profession – so I am most certainly not going to heed this advice!
When I told him so through our tour guide's translation, he scribbled something on a slip of paper and told me to carry it with me as a "protection symbol." He explained that carrying this will mean that, "my accident will be less serious and my foot injury not as debilitating."
He did have one piece of promising news for me. He told me that my book will be a success as long as I publish on a Thursday at 9:30 AM.
Comparing notes about his insights and predictions provided us with plenty of laughs:
A childless woman was surprised to learn that she had two children!
Another was told "you will die at age 76, but if you make it past that, you'll be okay."
A woman who is in the medical field was told that "your hands are poison." (Which somehow translated to "your hands are medication.")
Another woman was told that she knew her husband in a past life, that they had a good relationship, but that "he is very popular with women."
One was told she was "difficult to manage." (To which she said her husband would agree.)
And two different women were told that they would "meet someone special." (Perhaps I should introduce them to my husband?!)