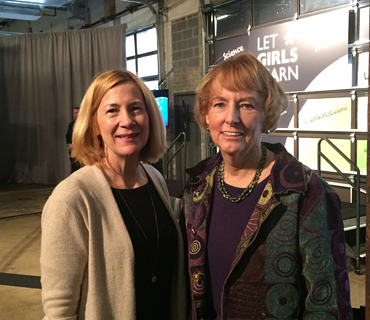 ---
DFW is Closest Thing to Peace Corps Experience
By Peggy Smith, Mid-Atlantic Regional Leader and Returned Peace Corps Volunteer
Ask any Returned Peace Corps Volunteer (RPCV) about their experience and they will tell you, "It changed my life". Yes, we come home after working as a volunteer in a Third World country to clean water, hot showers, comfortable beds, nice dwellings and clean sanitation, but with a passion that does not dissipate. We have to get involved, to do something, to continue to serve a need. So, we volunteer in soup kitchens, teach English to the newly-arrived from developing countries, work with the Junior League, help with outreach at our church — and for many, we join Dining for Women.
When I casually mentioned to DFW's Executive Director Beth Ellen Holimon that she should consider collaborating with the Peace Corps, I never imagined I would see the agreement that was announced on March 8, International Women's Day. There were days when it appeared that bureaucracy would do its usual thing — too many walls to knock down. But, a special friend who had connections with Peace Corps administration kept pushing for that first meeting. I still remember that voice message from Beth Ellen after she and Marsha and Barb met with the Peace Corps and Let Girls Learn representatives for the first time, shouting with delight and excitement, "we met and something amazing is going to happen."
During my recent chapter meeting, after watching the video on Americas Association for the Care of Children in Nicaragua, Nancy, my good friend, chapter member and an RPCV who volunteered n Colombia in the 80's, turned to me to me and said, "Peggy- this is what I did, this is how I lived –I was there". And that is what makes these two organizations such a perfect marriage: the common goals, the common experiences, the shared passion. Dining for Women projects are the closest to our Peace Corps volunteer experiences than anything else we do.
It was an incredible honor to be invited to join Marsha, Barb, Beth Ellen, Wendy and Anne to attend the International Women's Day event with the First Lady. The Director of the Peace Corps embraced us and expressed such joy and enthusiasm to have us as a partner.
And, as I listened to First Lady Michelle Obama share her stories of meeting girls in Liberia, Guinea, and Congo, about how they spoke of their future goals and their commitment to finish school, in spite of cultural and physical barriers, the memories flooded my brain of my time with the Peace Corps in Colombia and Nepal, along with a renewed commitment to spread our Dining for Women mission!