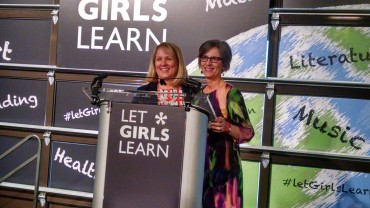 ---
Yes, being in the same room with change-maker champions and meeting First Lady Michelle Obama was a big moment for Dining for Women. Announcing a cross-sector strategic partnership through a $100,000 grant to the Peace Corps' Let Girls Learn Fund is a defining moment. But at the end of the day, it's all about impact. It's all about the girls. And it's personal.
Let's listen to what the First Lady shared with us:
"The ability to read, write, and analyze; the confidence to stand up and demand justice and equality; the qualifications and connections to get your foot in that door and take your seat at that table – all of that starts with education. And trust me, girls around the world, they understand this. They feel it in their bones, and they will do whatever it takes to get that education.

You see, they know that education is their only path to self-sufficiency. It is their only chance to shape their own fate rather than having the limits of their lives dictated to them by others.
And let's be clear, this issue isn't just personal to women. I have met countless men who learn about the plight of girls around the world, and they look into the eyes of their daughters and wives and mothers – women they deeply respect and love – and this issue becomes personal for them too. And like many of you, as a woman, I take all of this personally."
I'd like to share my thoughts as one of the co-founders on what led us to this moment – being invited by the White House to celebrate the first anniversary of Let Girls Learn.
Ever since Marsha's first gathering in 2003, DFW has always belonged to all of us. It's a philanthropic model resonating with lots of people. It's a way for individuals to join together and change the way the world works.
Our culture is strong. We work at it. Collaboration, education, inspiration, transformation.
We nurture our model by being open to ideas and actively listening to one another. When great ideas rise to the top, we take action.
We keep it personal, learning early on that chapter members want to connect on an emotional level with each other and the women and girls receiving our grants. We are committed to working at a grassroots level.
We remain vigilant in our commitment to innovation, always seeking paths that leverage our impact. We evolve as the world evolves.
We work to advance the Millennium Development Goals, now the Sustainable Development Goals, believing that partnering leverages impact.
We built a strong infrastructure, hiring top-notch staff embodying our culture. We believe that volunteers add value beyond measure.
We listen to our stakeholders – members, volunteers, staff, board – and crafted a collaborative five-year strategy, our 2020 Vision. Investing in Let Girls Learn puts an exclamation point on our goal to to make high-impact investments that bring about systemic change by fostering gender equity and becoming an issues-driven organization.
We walk in doors that are opened for us by passionate members and friends who believe in our mission. One of these doors was the Peace Corps where we learned about the First Lady's vision for educating girls. This door was opened by Peggy Smith, our Mid-Atlantic Regional Leader and a Returned Peace Corps Volunteer, who encouraged us to consider the Peace Corps for possible collaborations or partnerships and facilitated our initial contact with the Peace Corps.  Early on, we knew that the Peace Corps is a natural fit for DFW and, together, we are now part of a much larger global movement to remove the barriers to girls education.
Two days after attending the Let Girls Learn celebration, I was in the audience listening to Leslie Crutchfield, author of Forces for Good: The Six Practices of High-Impact Nonprofits. What she said got my full attention. In her words…
"Great organizations work with and through others to create more impact than they could ever achieve alone.
Collaborative impact is achieved by working together with a common goal to nurture solutions for complex problems.
The most effective nonprofits lead through adaptation to change and with shared leadership.
The great nonprofits build networks and movements, not only organizations. They build communities around members, tapping into fundamental beliefs and emotional visceral connections."[1]
Needless to say, Dining for Women is on the right path.
Our Let Girls Learn moment cuts straight to the heart of our mission. Our $100,000 grant is really ninety-five $1,050 grants. They are local, community-driven, monitored by boots-on-the-ground Peace Corps volunteers, telling the stories of thousands and thousands of girls.
Thanks to each of you for getting us here. Thanks to Regional Leader Peggy Smith who opened the door. I can hardly wait to watch the ripple effects of our partnership for many years and generations to come.
[1] Forces of Good: The Six Practices of High-Impact Nonprofits, by Leslie Crutchfield and Heather McLeod Grant, 2008, Wiley & Sons, Inc.