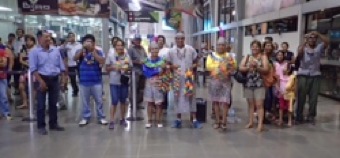 ---
By Karen Zocchi
Oct. 20, Day 2
Fifteen women.
Thirty large suitcases and duffel bags.
More than 15 backpacks and additional bags.
One very determined tour leader and one very patient airline employee who worked magic math to get everything on the same plane. A short, smooth ride and then…
Loud music, people clapping, putting paper leis around our necks, welcoming us to Pucallpa and inviting us to dance. Right now. In the airport.
All the planning, collecting, buying, packing and schlepping giant suitcases to another continent seemed a distant memory.
Thus begins our adventure with InMed. Tomorrow we will meet the people who are served and supported by InMed. We can't wait!