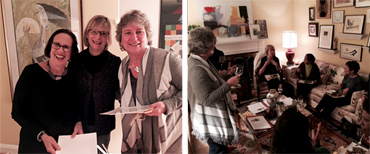 ---
Sharing Best Practices – The Joys of Mentoring
By Peggy Smith, Regional Leader for the Mid-Atlantic Region
 Let's hear it for our DFW Mentors. These are our foot soldiers, they walk the talk.
So what does it take to be a mentor? It takes a commitment to DFW and its mission, and an interest in sharing that passion to inspire and motivate others.
Mentors play an important role at the grassroots level of DFW by answering inquiries from people who want to join an existing chapter or start a chapter of their own. They have to know their territory well so they can match up potential new members with the most appropriate chapter within their geographic area. They also help launch new chapters, which includes educating potential Chapter Leaders about how to start and manage a DFW chapter, helping them organize their first meetings, attending the new chapter's first meeting where possible, and answering any questions that arise.
Mentors also maintain regular, ongoing contact with Chapter Leaders in order to inspire and motivate them to stay engaged and active. They work hand in hand with DFW Regional Leaders.
In the Mid Atlantic, we have seven Mentors; each one covers a state or section of a state. Susan Richards and Rosemary McGee have been Mentors for several years and are seasoned in their areas of New Jersey and Pennsylvania respectively. As we grow and meet the goals of our Vision 2020, we will be looking for more Mentors to help, especially in Pennsylvania and areas outside of Philadelphia.
Peggy Bare has been a Mentor about a year now, and covers Maryland and Washington, DC. She recently drove over an hour to attend a first chapter meeting in Baltimore! The Chapter Leaders were so grateful to meet Peggy and establish a bond with their Mentor. Colleen McLain, our newest Mentor and also a Chapter Leader in Vienna, Virginia, is quickly establishing ties with chapters in her state. And, finally the first state, Delaware , touts six chapters, and Mentor Judy Christensen communicates with them regularly, even hosting a brunch once a year.
North Carolina, our most active state in terms of new chapters, has both Shashi Khanna and Sue Fernbach as Mentors. Shashi and Sue each support half the state with new members and chapters as well as hosting some creative fund-raising events throughout the year.
So, what's in it for the Mentors? If you love DFW and are willing to share your enthusiasm, the feeling of watching a new chapter take wings is incredibly rewarding. As you leave a chapter meeting, and the members and Chapter Leaders thank you profusely for attending, it is so apparent how much your presence has contributed to helping sustain and grow the chapter.
It is also fun to learn how chapters are organized, each one a bit differently. So, you gain a wonderful sense of the different characteristics of DFW chapters outside of your own. We all like to feel needed, and believe me, new chapter leaders need you, your guidance and experience. And as you visit veteran chapters, you feel a tremendous respect for the commitment and loyalty that members have for supporting women and girls in developing countries.
As you read this, please consider volunteering to serve as a Mentor. As DFW moves forward with its 2020 Vision to grow to 20,000 members, additional mentors will be essential in all our regions. If this is something that interests you, please talk to your Regional Leader.
I was a mentor prior to becoming a Regional Leader, so I may be prejudiced, but I think it is the best role of all. A Mentor is the closest to the chapter members, after the Chapter Leaders. Watching the organization grow and expand is exciting and you can be part of making that happen.