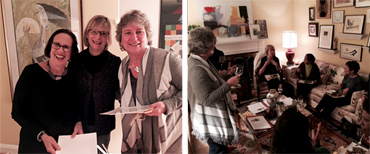 ---
By Peggy Smith, Regional Leader for the Mid-Atlantic Region
 Let's hear it for our DFW Mentors. These are our foot soldiers, they walk the talk.
So what does it take to be a mentor? It takes a commitment to DFW and its mission, and an interest in sharing that passion to inspire and motivate others.
Mentors play an important role at the grassroots level of DFW by answering inquiries from people who want to join an existing chapter or start a chapter of their own. They have to know their territory well so they can match up potential new members with the most appropriate chapter within their geographic area. They also help launch new chapters, which includes educating potential Chapter Leaders about how to start and manage a DFW chapter, helping them organize their first meetings, attending the new chapter's first meeting where possible, and answering any questions that arise.