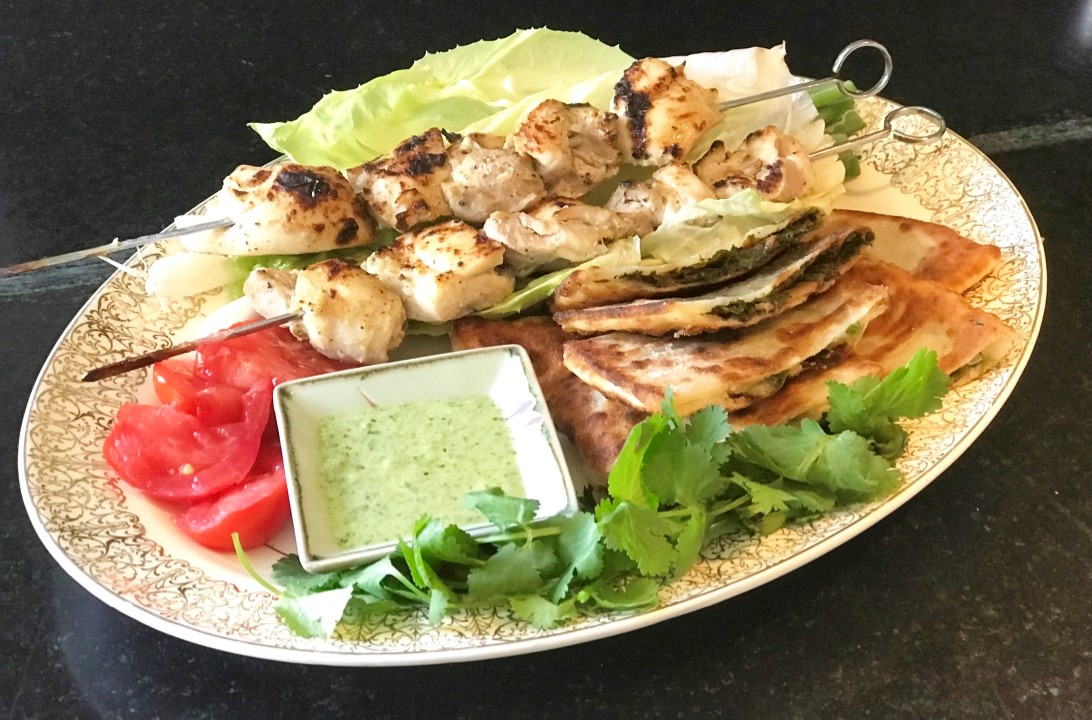 ---
The Proven Platter – Afghanistan, October 2018
Hello Diners!
This month we are traveling to Afghanistan. Naan, a type of flatbread, is the most widely consumed bread in Afghanistan. But for something more interesting I discovered the Afghan "bolani," or filled turnover. The most common filling includes mashed potatoes and lots and lots of green onions. For a very earthy flavor, try a Swiss chard filling. Fried or baked, cut into wedges, they make a delicious appetizer.
There is a recipe on the DFW site for naan that you could make if you'd like to keep it simple and don't have time to fuss with making fillings for the dough. It's as simple as making pizza dough and baking it without the toppings! I've included a link to a YouTube video with a tutorial on how to make bolanis, so you can see it's not that difficult.
To make a complete meal, add in some Chicken Kebabs with Cilantro Dipping Sauce, which works for the bolani as well. The kebabs are very simple to make, just marinate overnight, skewer and grill. Sliced tomatoes round out the platter and provide just the right accompaniment.
Happy travels in your kitchen! Please feel free to reach out if you have any comments or questions about the recipes at nw4@togetherwomenrise.org.
Potato and Chard Filled Turnovers (Afghan Bolani) (Tested)
Makes 8
These tasty little bolani, or turnovers, would make a great appetizer to share or to be included as part of the meal.
I've included recipes for two different fillings, one is a potato filling and the other is a Swiss chard filling. Other options for stuffing this flatbread could be pumpkin or squash or a lentil filling. Get creative and use what you have. In Afghanistan, pumpkin leaves would likely be used, but here I've decided on Swiss Chard. Spinach could work as well, but Swiss chard is sturdier and I like it better for that reason.
Each batch of filling makes enough to fill one recipe of dough. If you want to make both fillings you'll need to double the dough. Or you can simply halve the recipes for filling and make four with potato and four with chard. Serve with Cilantro Dipping Sauce.
Take a look at the YouTube video I've included in the body of the recipe for a tutorial on how to make and form these Bolani. It's really not that difficult!
Dough
3 cups all-purpose flour
2 tsp. fine salt
1 tbsp. oil
1 cup warm water
Potato Filling
1 lb. Russet potatoes
1 cup chopped green onions
½ cup chopped parsley or cilantro
4 tbsp. goat cheese, or 3 tbsp. olive oil (choose one)
1 ½ tsp. kosher salt
1 tsp. ground coriander
freshly ground black pepper
Swiss Chard Filling
2 bunches Swiss chard, about 13 oz. each bunch
3 to 4 tbsp. oil
2 cups chopped onion
2 tsp. kosher salt
¼ cup fresh dill, roughly chopped
Directions for the Dough
Put the flour and salt in a large mixing bowl and give it a good stir to distribute the salt. Drizzle in the oil. Add the warm water and mix with your hands, knead in the bowl until everything comes together. Turn out onto a floured countertop and continue kneading for about 5 minutes, until dough feels smooth and no longer sticky. Keep adding bits of flour to the kneading process if the dough remains sticky. I always find it easier to remedy a sticky dough by adding a bit more flour than it is to remedy a dry dough by adding more water.
When the dough is ready, divide into eight balls, approximately 3 oz. each. Place the dough balls onto a sheet pan, cover with a damp towel, and let rest for 30 minutes.
If you want to make the dough ahead of time, I recommend not portioning it into individual balls just yet. Make sure it is tightly wrapped with plastic wrap and remove it from the refrigerator 30 minutes before you'd like to use it.
Directions for Potato Filling
Begin by making mashed potatoes out of your russets – peel, cut, cook, and mash. Put the potatoes into a bowl and add all the rest of the ingredients. mix well and allow to cool completely before using. This step can be done one day ahead of time.
A note about the goat cheese in the filling: I love goat cheese mixed into mashed potatoes, and I had a log of it in my fridge, so why not use it? Typically, oil would be used to moisten the potatoes though, so there's no need to go out and buy goat cheese if you'd rather not.
Directions for the Chard Filling
Wash the chard well and remove the stems. Cut them off right as they join the leaves. Chop the stems into thin slices and reserve. Chop the chard leaves, roughly chopped is fine as you'll be refining this down the line.
Pick your biggest frying pan, add the oil to the pan, and let it heat up for a moment. Add stems and onion to oil, sauté 10 minutes over low heat until soft. Add the chard to the onions and stir to coat, add a splash of water to the pan, put lid on pan and cook on low, keep stirring every so often until the chard has cooked down, about 5 minutes. If the chard is looking dry but hasn't finished cooking add another splash of water. When the chard is ready, remove the lid, season with salt and pepper, and finish cooking until all moisture has dried up. Don't add the fresh dill just yet. I like to add that off the heat.
Turn the chard out onto a cutting board, finely chop further, and put into a bowl to cool. Season with the dill. This step can be done one day ahead of time.
Forming the Bolani
OK! Now you're ready to form the bolanis! I've got a YouTube video, by Nooria Ali, for you to take a look at. A video is worth a thousand words, so I'll let How to Make Bolanis provide you with good visuals as to the process of forming and frying the turnovers. Fast forward to around the three-minute mark. (The first part of the video shows you how she makes her filling but I did not follow her recipe.)
NOTE: You'll see when she puts the filling into the dough, and folds the top half over, her pressing technique starts with pressing the edge closed first, and then she presses the middle flat. If you press the edges closed first you are guaranteed to trap air pockets in the middle of the turnover (as you will see on the video) and then you'll have to try and press them out. A better way to do this is to fold the top half over, and then very lightly tamp down the middle of the dough first before sealing the edges shut. Just don't press down too hard before the edges are sealed shut or you will squeeze the filling out that way.
As you are filling the bolani, you may want to divide your filling into eight little piles so that you don't run out of filling or have too much left over. I ended up using about 1/3 cup filling for each bolani.
So, once you've made the bolani, you can fry them as shown or bake them. The bolani in my photo have been fried, about 3 minutes per side, and they were delicious, but I was curious about how they would turn out when baked in the oven because I know frying doesn't always translate well when bringing food to a potluck dinner.
I'm happy to say that I liked the baked version quite a bit. In fact, I may have liked them even better! The baked version turned out a with a little more chew to the dough, a drier texture. The fried version was a little more tender, and of course, just a bit greasy in a good way.
To fry: Heat 1 to 2 tbsp. oil in a large frypan, add the bolani, and cook about 2-3 minutes per side.
To bake: Set oven to 400 degrees, place bolani on parchment lined sheet pan, brush tops with oil, bake for 20 minutes, until golden brown.
To serve, cut the bolani into wedges, and serve with Cilantro Dipping Sauce.
Recipe and photo credit: Linda McElroy