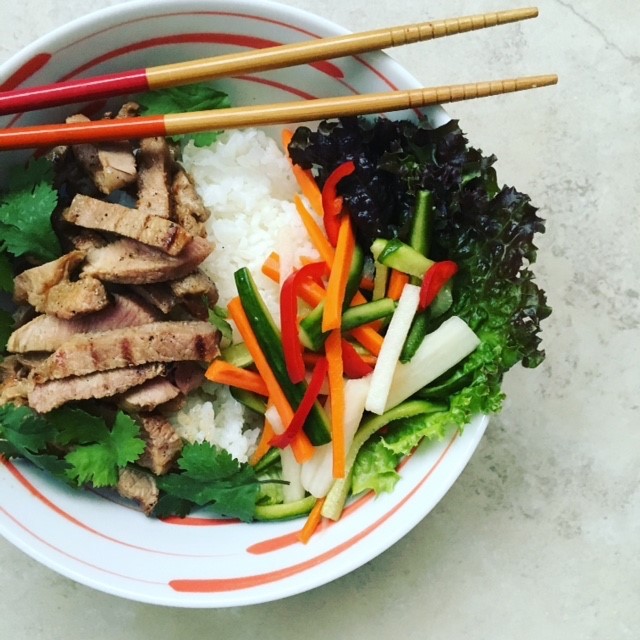 ---
The Proven Platter – Cambodia
Hello Diners!
This month we'll be paying a visit to Cambodia and cooking up some breakfast. Breakfast for dinner, you ask? What is Linda thinking? Well, I'm thinking that Bai Sach Chrouk (grilled pork served with pickled vegetables and rice) sounds like a mighty fine dinner to me. Although, in Cambodia, this is a very popular breakfast, served up on the streets of the capital, and it's hard to find this dish past 9 o'clock in the morning.
In the streets of Cambodia, you will find this dish everywhere, slowly grilled outdoors over charcoal. Since it's winter right now, we'll just have to take it indoors and try using a grill pan, or, alternatively, you can broil the pork.
The dish usually comes with a bowl of warm chicken broth, too. You dip a bite of pork and rice into the broth, and then have a taste of the bracing pickles. I did not serve mine with chicken broth, but I did reduce the marinade from the meat which made a delicious sauce.
I'd love to hear from you if you have any questions about this month's recipe, or comments. You can contact me at www.nw4@togetherwomenrise.org
Cambodian Grilled Pork with Pickled Vegetables (Bai Sach Chrouk)
Serves 4
I've used country-style boneless pork ribs for this dish, but pork shoulder will work as well. The ribs come in manageable pieces, you'll have to further cut them into half-inch slices. If you use a whole chunk of pork shoulder or butt, you'll cut the meat into half-inch slices, but you may have to further cut them lengthwise if the slices are too wide.
For a vegetarian version of this dish I would imagine you could substitute tofu for the pork and it would be delicious. Just cut the tofu into sticks, marinate, and bake in the oven, turning over once, until the tofu caramelizes and starts to sizzle.
I like to use a short grain white rice for serving with this dish, as it sticks together well and makes the whole thing easy to eat.
Ingredients
For the Pork
1 cup coconut milk
3 cloves garlic, crushed
3 tbsp. palm sugar (the equivalent of one disc, melted), or brown sugar
3 tbsp. soy sauce
2 tbsp. fish sauce
Juice of 1 lime
Freshly ground black pepper
1 lb. boneless country style pork ribs, or boneless pork shoulder, thinly sliced, about ½" thick
Cilantro leaves for garnish
Directions
Combine all the marinade ingredients in a bowl and add the pork strips. Marinate for one hour, or as long as overnight.
Remove the meat from the marinade and save it. Grill the pork in a grill pan on top of the stove, or broil it, turning once until you can see grill marks and it looks like the meat is beginning to caramelize.
Bring the marinade to a boil and boil for at least a minute to make the reduction safe to eat, add a splash of water if it is boiling away too fast.
Cut the meat into thin strips and serve with rice and pickled vegetables. Pour the sauce over the meat and garnish with cilantro leaves.
For the Pickled Vegetables
½ cup rice vinegar
¼ cup sugar
1 tbsp. salt
splash of fish sauce
2 mini Persian cucumbers, about 5 oz.
1 chunk daikon radish, about 4 oz., or substitute regular radishes
1 medium carrot
3 garlic cloves, smashed
1 birds eye chile, sliced fine
1 red fresno chile, sliced fine
Directions
Into a small saucepan add vinegar, sugar, salt, and fish sauce, bring to a simmer, or until the sugar is dissolved, let the vinegar cool. Slice the cucumbers, radish, and carrot into julienne strips. Combine the vegetables, garlic and chiles in a bowl. Pour marinade over. Place the vegetables in a jar to marinate for at least 30 minutes, or overnight.
Recipe adapted from: Cambodian Cooking, by Joannès Rivière
Photo credit: Megan McElroy