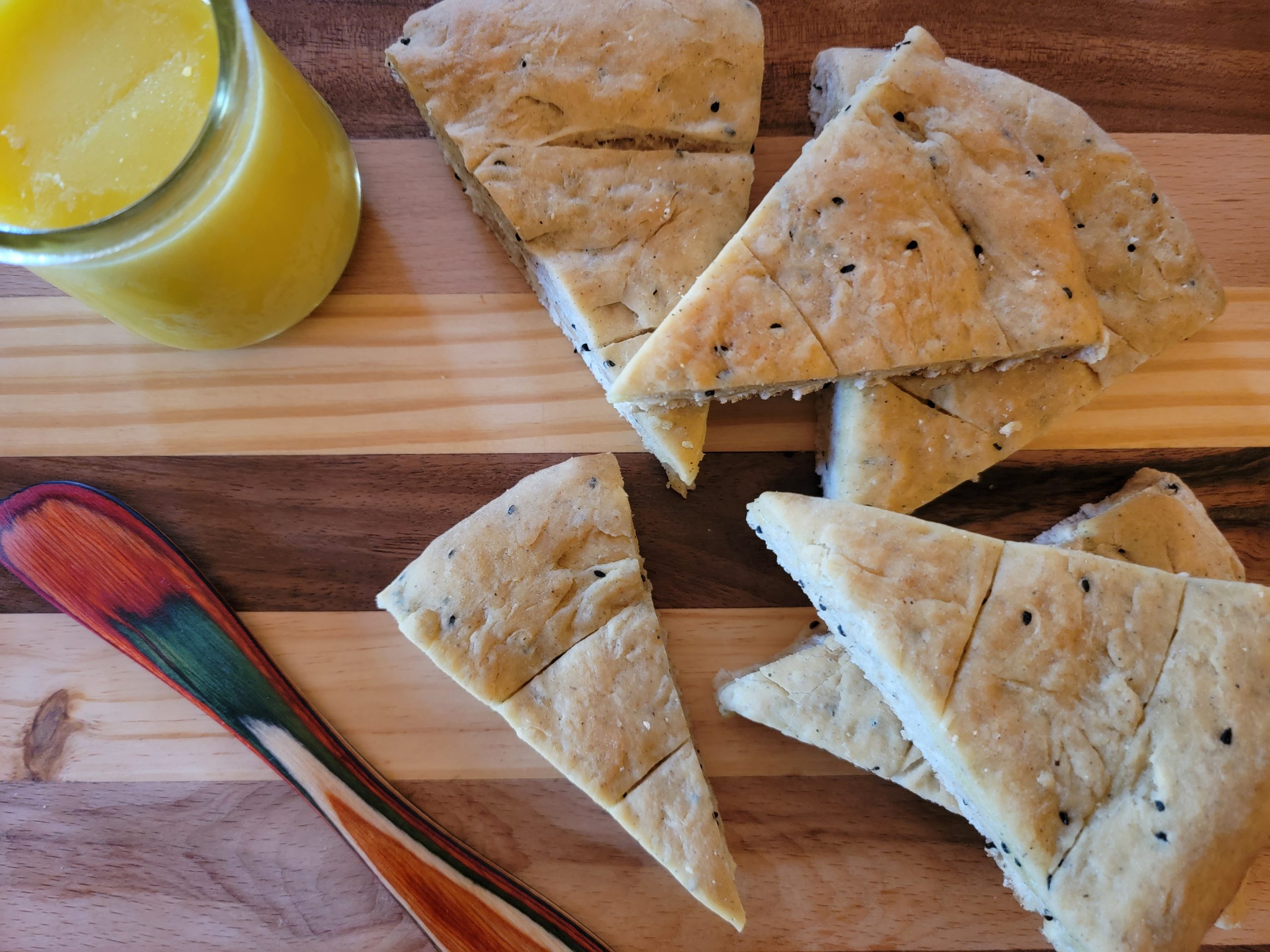 ---
The Proven Platter – Ethiopia, May 2023
This month, two recipes combine for a delicious Ethiopian treat: a spiced butter (Niter Kibbeh) and a lightly sweetened and spiced bread (Himbasha). Note that spices commonly used in Ethiopian cuisine are featured here, including cardamom and fenugreek. Though you can certainly enjoy this Ethiopian sweet bread with spiced butter spread any time of day, it is generally eaten for breakfast or as a side to a meal, as desserts are not common in Ethiopian cuisine.
Niter Kibbeh
1 lb. unsalted butter
1/4 c onion, small chop
1 tsp garlic, minced
2 tsp ground ginger
1 tsp ground cardamom
1 tsp fenugreek
1 tsp ground cumin
1 tsp dried koseret (or substitute oregano)
1 tsp dried bessobela (or substitute basil)
1 tsp grated nutmeg
½ tsp ground turmeric
1 2-inch cinnamon stick
1 tsp black peppercorns
1 tsp whole cloves
Place all the ingredients in a medium saucepan and simmer on low for 2 or more hours. Do not use a higher heat or it will become bitter. Strain through a fine-mesh cheesecloth into a clean jar. Let the niter kibbeh cool and cover so that it is airtight. Serve as a spread at room temperature.
Himbasha
2 tsp instant yeast
1 c warm water
¼ sugar
4 c flour
2 tsp black sesame seeds
2 tsp ground cardamom
⅓ cup light oil (I used sesame oil for added flavor)
Mix yeast and sugar into the water. Let sit until mixture starts to bubble. Mix dry ingredients in a large bowl. Add oil and yeast mixture and mix to form a dough.
Transfer dough to a floured surface and knead until smooth. Form dough into a ball and put it in greased bowl, cover with plastic wrap and set aside in a warm place until dough doubles in size.
Preheat oven to 350°F. Divide dough into 2 equal portions. Roll to form two 10 inch circles. Place into two circles in oiled cast iron skillets. Using a sharp knife, score the dough into 8 even triangles. Brush the top of the dough with oil, and bake for 20 minutes or until cooked through and golden. Serve warm with butter or Niter Kibbeh (spiced clarified butter).
Note: You can experiment with scoring designs to fit the occasion.
Recipe and photo credit: Georgia Reader