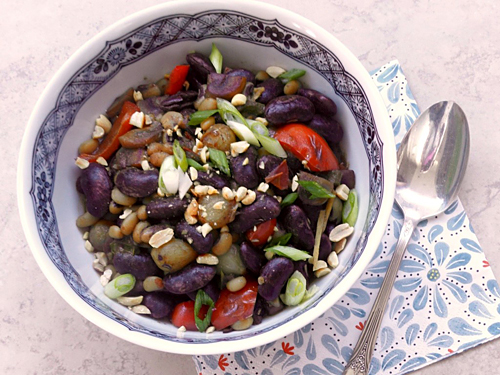 ---
Hello Diners!
We may not be physically traveling to Mali this month, but we are still able to taste and participate in the local cuisine right here at our own dining tables.
Here is a wonderful recipe that is representative of a typical meal. My husband stood at the stove, eating right out of the pot, and was already telling me that I had to make this again! This dish should please anyone with dietary requirements, as it is vegetarian, vegan, gluten-free, and dairy-free.
In the original recipe, called "Beans in Bean Mushroom Sauce," the uncooked black-eyed peas were to be soaked, the skins rubbed off, and then pureed into a paste, which would be the "bean sauce." Then the rest of the ingredients would get folded into this sauce.
Try as I might, I could not get the skins to rub off the peas. And they won't puree properly with the skins on. So I improvised and just cooked the peas whole. It was easier, no blender to drag out, and I think results in a more attractive dish as well.
Beans are often referred to as "the poor man's meat." I used scarlet runner beans from Rancho Gordo, a big, "meaty" bean, and I think they contributed greatly to the success of the dish. It's worth it to seek out a good quality large, meaty bean if you can. But I've also included suggestions for using canned beans for a shortcut.
I hope you give this recipe a try, and as always, I'd love to hear from you if you have any comments or questions. You can contact me at nw4@togetherwomenrise.org.
Beans in Bean Mushroom Sauce
Serves 6 to 8
This is a dish that is served in most African countries using local mushrooms and beans. There are many types of beans available in Africa, just as there are here. I chose to use scarlet runner beans in this recipe, for their beautiful color, shape and size. I wanted something to contrast with the black-eyed peas.
Keep in mind that you will need to cook your beans ahead of time, as much as a couple days ahead is fine. Then you can assemble and cook the dish whenever you are ready. You can also fully prepare the dish one day ahead of time. This gives the beans time to soak up some of the delicious braising liquid and result in a more flavorful dish.
To simplify this dish, you could use canned beans, drained and rinsed. I would imagine that a combination of small white navy beans (instead of black-eyed peas) and kidney beans, would be a good choice.
And do note that you can always freeze the leftover portion of a can of coconut milk in ice cube trays, and have the cubes at the ready the next time you need a portion of coconut milk in a recipe.
Ingredients
3 tbsp. cooking oil, (palm oil, or groundnut oil if you have it)
1 cup pearl onions (I used frozen)
10 large mushrooms, quartered
1 green or red bell pepper, chopped or sliced
1 jalapeno pepper, chopped
3 plum tomatoes, chopped (about 1 ½ cups)
1 (2-inch) piece fresh ginger, sliced into matchsticks
1 tsp. salt
½ tsp. ground cumin
½ tsp. curry powder
¼ tsp. cinnamon
1/3 cup coconut milk
½ cup bean liquid from the fresh cooked beans (or water if using canned beans)
2 cups cooked black-eyed peas (about 1 cup dried peas)
4 cups cooked beans, your choice (starting from 1 to ½ cups dried)
Peanuts, chopped, for garnish
Green onions, chopped, for garnish
Directions
Heat the oil in a large skillet and add the onions, mushrooms, bell peppers, and jalapenos. Sauté for 3 to 5 minutes, until everything has started to soften. Add the tomatoes and cook for another minute or two.
Add the fresh ginger, salt, and spices and stir for one minute. Add the coconut milk, bean liquid and the cooked beans. Simmer until heated through, and liquid slightly thickened.
Garnish with peanuts and green onions.
Recipe credit: Linda McElroy, adapted from "Zainabu's African Cookbook," by Zainabu Kpaka Kannon
Photo credit: Linda McElroy