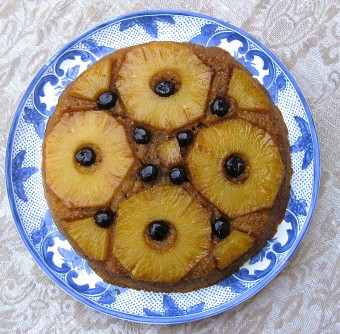 ---
The Proven Platter: Pineapple Upside-Down Cornmeal Cake
This month's Proven Platter recipe is a mash-up of traditional Rwandan ingredients – cornmeal and pineapple – that creates a decidedly non-traditional dessert.
By Linda McElroy
Serves: 8 to 10
Approximate time – 1 hour
Difficulty rating – Easy 
Dessert is not a part of the traditional Rwandan meal. But most Rwandans consume tropical fruits such as avocados, bananas, mangos, papaya and pineapple, and those are often what we would consider a dessert.
Hmmm, how about a dessert with pineapple? Well I have no idea why, but the first thought that jumped into my mind was Pineapple Upside-Down Cake, and when I searched the Internet for recipes, lo and behold, I came across a recipe for Pineapple Upside-Down Cornmeal Cake. Cornmeal? Translation – Ugali! (the cornmeal mush that's a staple in the Rwandan diet) Now I was on to something. I had two ingredients that were indigenous to their cuisine and creative license was born to bring you a dessert that straddles two cultures! It's probably a bit of a stretch, but really, do you want dessert?
In fact, the addition of cornmeal to this cake recipe involves soaking it in milk, and basically turning it into Ugali. This mixture is then stirred into the remaining cake batter ingredients and turns into a delightfully delicious and slightly crunchy take on Pineapple Upside-Down Cake. All without the use of a mixer I might add, another bonus!
Of course, I'm pretty sure if they did make this cake in Rwanda they would not use canned pineapple, as was called for in the recipe. So I've tested this recipe using fresh pineapple. I've made other tweaks as well, cutting down on the cornmeal, and cut back on the sugar and butter, you won't miss it. I also used insanely delicious imported Italian Amarena cherries (because that's what I use for a Manhattan!) instead of good ole' Maraschinos. Use whatever kind of cherries you prefer. And don't worry, I won't judge if you decide in the interest of time that canned pineapple is your friend. It will still be delicious.
Pineapple Upside-Down Cornmeal Cake
Ingredients
Fruit topping
6 tablespoons unsalted butter
3/4 cup packed dark brown sugar (light is OK)
4-6 fresh pineapple rings, sliced about 1/4" thick – or canned pineapple if you prefer
cherries for garnish
Cake
1 cup milk
1/2 cup coarse-ground cornmeal (not fine or instant)
1 cup all-purpose flour
2 teaspoons baking powder
1/4 teaspoon salt
3 whole eggs
3/4 cup granulated sugar
1/2 cup canola oil
Directions
Preheat oven to 350 degrees
In a microwave-safe dish, bring the milk to a boil. Remove the milk from the microwave and add the cornmeal. Stir and let soak at room temperature for 30 minutes.
Meanwhile, melt the butter in a 10-inch cast iron skillet over medium heat. Once the butter has melted turn off the heat, add the brown sugar and stir until the sugar dissolves, about 2 minutes. (If you don't have a cast iron skillet a regular 10" round cake pan will work as well.) Remove the skillet from the heat and carefully place the pineapple rings over your sugar. Place cherries in middle of rings.
Sift the flour, baking powder, and salt into a medium mixing bowl and whisk to combine.
In a separate mixing bowl, whisk the eggs. Add the sugar to the eggs and whisk to combine. Add the canola oil and whisk. By now the cornmeal will have turned into a semi-solid mass. Scoop the whole blob into the eggs and whisk vigorously to break up the lumps. Add flour and stir just until combined.
Pour batter over fruit in the skillet and bake for 35 minutes, or until golden on the top and a cake tester comes out clean. (Be sure to place your pan on a cookie sheet to catch drips just in case your pan overflows.) Remove from oven and let cool for 30 minutes in the skillet. Set a platter on top of the skillet and carefully invert the cake.
Recipe Notes:
According to the original recipe you should be able to place one pineapple ring in the middle of the pan, and then five more rings around the center. As you can see by my photo, I was not able to fit nearly that much pineapple into my pan, and it could be because I used fresh and not canned pineapple (perhaps canned pineapple rings are smaller?). So proceed according to whatever size pineapple rings you have. Another option is to cut the pineapple rings into quarters and then just blanket the whole cake with sliced pineapple, skipping the cherries entirely.
If you are using fresh pineapple you may want to roast it as I did. I felt that my pineapple was just a bit firm, and so I laid my slices on a cookie sheet and roasted them in a 350 degree oven for 15 minutes beforehand. Canned pineapple is much softer and so this step wouldn't be necessary.
Recipe adapted from www.foodnetwork.com
View a very short one-minute video on how to cut a fresh pineapple into rings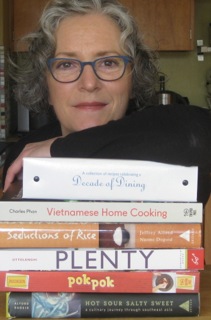 About the Author
Linda and her husband opened Ristorante Machiavelli in Seattle in 1988. After 25 years of cooking in and running a wildly successful neighborhood restaurant they sold the business and retired. Linda loves browsing through cookbooks, and the position of recipe curator provides her with a great excuse to indulge her passion. Linda hopes the dishes she tests and recommends will create a great experience for those who replicate her work in their kitchens.