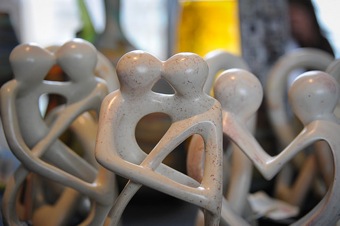 ---
Central Region Conference 2014
Leaders, members and friends of Dining for Women met the weekend of Oct 10-12, 2014 in the Central Region to get to know each other better, to learn more about Dining for Women and to share experiences and information. 
By Marcie Christensen
When Jill Peirce, Mary Toneff, and Beth Wagoner stepped up to become Regional Leaders in 2010, it was before 'The Surge' (the national doubling of DFW chapters that followed a story on NBC Nightly News). There were only 20 chapters in the region. Four years later, there are 53 chapters and more than 900 members who have contributed nearly half a million dollars to empower women and girls in developing countries.
When the planning committee met more than a year ago, we could not have imagined the conference would develop into such an inspiring event. Karen Whitney, a mentor and Cincinnati chapter leader, asked Debra Ruehlman, a member of her chapter, to chair the committee. Debra's leadership and connections turned a regional conference into many delightful surprises, from collaborating with the National Underground Railroad Freedom Center on a celebration of the U.N. International Day of the Girl Child, to educating hundreds of local residents about gender inequity through the film Girl Rising.
Nearly 50 chapter leaders and members gathered at the Netherlands Hilton, a fully restored art-deco hotel just a block from the Ohio River and the Freedom Center. We enjoyed a casual meet-and-greet with 'A Taste of Cincinnati' on Friday evening, and started Saturday morning with a welcome from our dear co-founder, Marsha Wallace.
After learning about human trafficking issues from local FBI agent Pamela Matson, our own members shared some of their experiences. Corinne Blakemore from the Program Selection Team explained the intricate process of considering and selecting the programs we fund. Cindy Bagocius, Colleen Blanchfield and Meg Sears shared stories from their travels to Guatemala, where they visited our grantees Starfish One by One and Thirteen Threads. Rhonda Grissom shared her experiences visiting Children of Vietnam, another DFW grantee. Seeing the recipients of our donations through these travelers' eyes deepened the connections we feel to so many women and girls across the world.
On Saturday afternoon our connections were expanded even further as we heard from three of the founders of organizations we have come to love. Devin Hibbard, of Bead for Life, told us how much our support has meant to the women of Uganda over the years.
Joanna Sherman, co-founder of Bond Street Theatre, thanked us for our support of the Creative Arts Program for women in the Herat Women's Prison in Afghanistan. The program teaches theatre-based skills to women, helping them find their voices to speak out about the judicial practices that imprison women on moral grounds. We learned, through the women's own words, how these skills transformed their lives.
Colleen Clines, co-founder of the Anchal Project, shared the news that our grant allowed the project to hire 32 new artisans (women leaving the sex trade for careers in textiles). Two years after being featured by DFW, Anchal has more than one hundred artisans in India, designing and creating beautiful quilts, scarves and pillows. They are changing their lives one stitch at a time. Colleen brought a selection of beautiful hand-stitched scarves and quilts, and many of our members purchased heartwarming gifts for themselves and their loved ones.
Saturday night's open event at the Freedom Center sold out of its 200 seats. Tara Abrahams, president of Girl Rising, was the keynote speaker. Students from the Cincinnati Arts and Technology Program, high school seniors at risk of dropping out, were in attendance with an exhibition of their original art inspired by DFW and Girl Rising. A marketplace sold Bead for Life jewelry, Anchal quilts and scarves, fair trade products from the local Ten Thousand Villages store, and our DFW cookbooks. Ohio State Representative Denise Dreihaus presented a House Resolution recognizing DFW and U.N. Day of the Girl Child. And Dr. Clarence G. Newsome, president of the Freedom Center, presented their Everyday Freedom Hero Award to Marsha Wallace and Barb Collins.
On Sunday, Anna Schoon, who led us in the dinner affirmation before our meal,  began her term as regional leader as Jill and Mary officially stepped down. Mentors Joan DeVries and Sue Szenderski also stepped down after several years of service, leaving the region with mentors Karen Whitney and Marcie Christensen (continuing since 2012), joined by a new mentor, Kim Whetstone. (Jill and Mary have also graciously offered to stay on as mentors for a while.)
Our Dining for Women culture was clearly evident all weekend: "In all we do, we model our deep belief in collaboration, education, inspiration, and transformation."