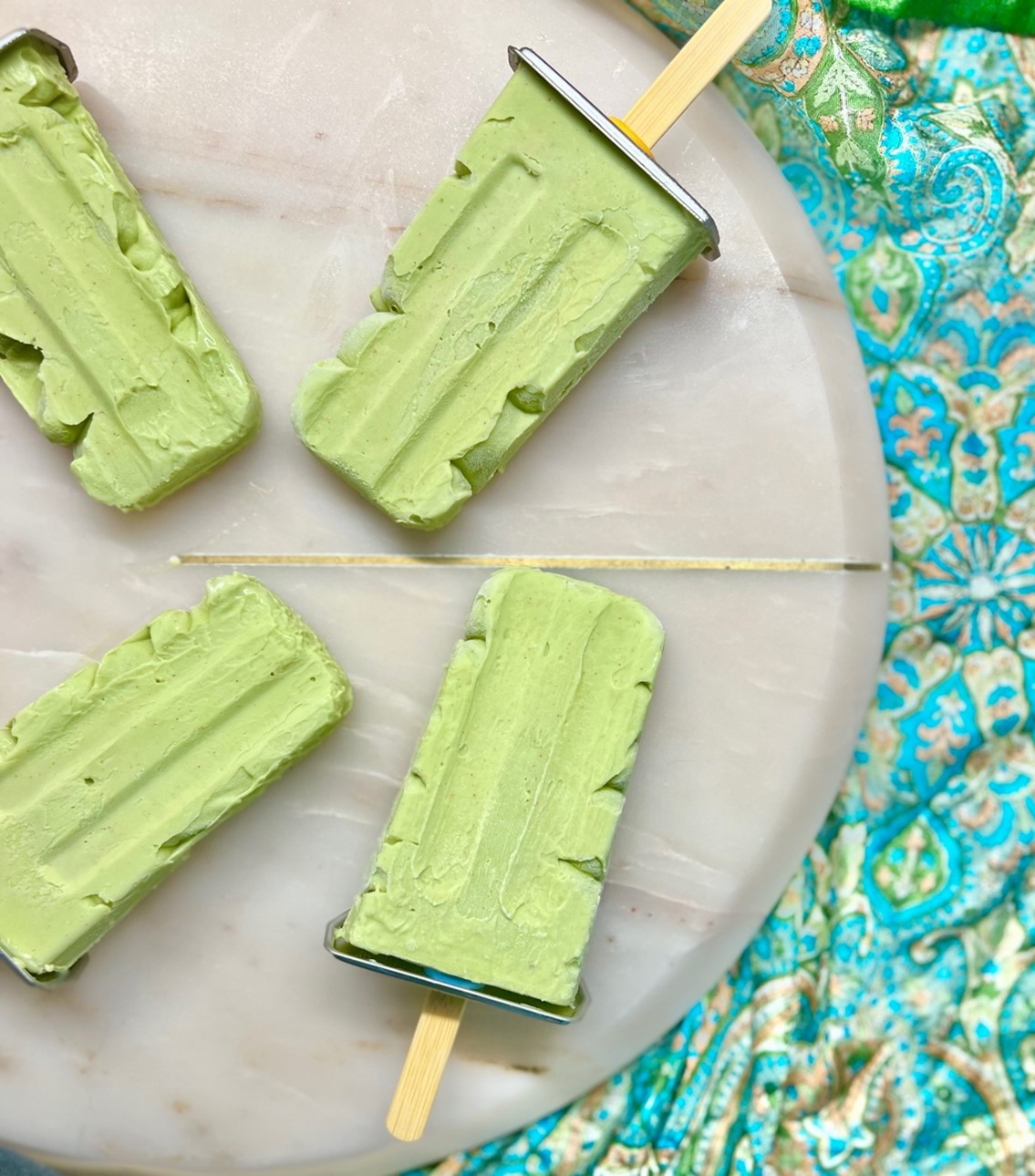 ---
The Proven Platter – Uganda, September 2022
Uganda is known as the "fruit basket" of East Africa and is the second largest producer of fruits and vegetables in Sub-Saharan Africa. Leaning into this abundance, Ugandan desserts rely heavily on fruits. During the hotter months of the year, fruit flavored ice lollies or popsicles, known locally as "barafu," are sold in the markets. Avocados, known as "ova," are plentiful in Uganda. A happy confluence of factors – consistent rainfall, tropical temperatures, and fertile soil – have led to avocados being cultivated in Uganda since the 1550s. This recipe derives inspiration from both the barafu and the fruits most commonly available and consumed in Uganda (ova and lemon).
Don't let the idea of a dessert using avocado throw you off. Avocado is, by itself, just creamy and not particularly flavorful. It therefore lends itself to take on any strong flavor added to it. Mixed with the fresh lemon juice it takes on a creamy, citrusy taste. So much so that I'd wager that you wouldn't guess that this popsicle had avocados in it. Don't also shy away from the paprika added to the blend. The paprika cuts through the richness of the avocado and the sweetness of the cream. Feel free to make this dairy free by substituting sweetened coconut cream for the sweetened condensed milk or use vegan sweetened condensed milk made from coconut or oat milk. The active prep time for this popsicle is the time it takes to cube avocados and blend everything, about 15 minutes. The popsicles do need to freeze overnight.
I'd highly recommend, on a warm evening, an ova and lemon barafa with the movie "Queen of Katwe." Starring Lupita Nyong'o, David Oyelowo, and Madina Nalwanga, the movie is a highly rated adaptation of the true-life story of Phiona Mutesi, the first titled female player in Ugandan chess history. Filmed mostly in Uganda, the movie offers a wonderful insight into the lives of the Ugandan people and how one after-school program and a dedicated teacher helped a girl tap into her extraordinary talent and enabled her to beat the odds. Something you'd agree is very much in keeping with the projects Together Women Rise funds. Enjoy!
Ova (Avocado) and Lemon Barafu (Popsicle)
Serves: 4
Ingredients:
Avocados, ripe – 2
Sweetened Condensed milk – ½ cup
Freshly squeezed lemon juice – ¼ cup
Salt – ½ tsp
Paprika – ½ tsp + ½ tsp (optional)
Equipment:
Blender
Popsicle mold
Method
Pit and cube the avocados.
To the blender add cubed avocados, condensed milk, freshly squeezed lemon juice, salt, and ½ tsp paprika and blend until smooth.
Pour the mixture into popsicle molds and freeze overnight.
Recommended but optional, when ready to enjoy, sprinkle 1/8 tsp of paprika on the popsicle to add a little heat!
Recipe and photo credit: Vinola V. Munyon