---
Kamlari transformation an illustration of our purpose and passion
Former kamlari slaves have had their lives transformed thanks to the efforts of the Nepal Youth Foundation and the support of Dining for Women. They now are transforming the lives of other. An inspiring self-perpetuating cycle that we are proud to be part of.

By Marsha Wallace
DFW co-founder
Twice a year, we are faced with the daunting, but exciting task of choosing grantees for the next funding cycle. It is one of the most rewarding aspects of working with DFW and often elicits energetic discussions among the program selection team.
Learn more about the program selection team process
.
There are always many more programs that pass the criteria than there are slots to fund them so the selection process can be painstaking. During the deliberations in 2011, however, everyone on the program selection team agreed that Nepal Youth Foundation was one of their favorites. It was easy to agree to fund the Indentured Daughters Program, in January 2012. The injustice of young girls being sold into indentured servitude, an illegal practice called Kamlari, incensed every DFW member who learned about and funded NYF.
We were impressed to learn how many girls they had already rescued since the program began in 2000 and that many of the rescued girls had organized and created their own organization called Freed Kamlari's Development Forum (FKDF) . Its goal was to combat the practice of Kamlari and to assist the rescued girls. The members of FKDF, empowered activists, were making waves of change for the rescued girls and through their passionate advocacy and education. They were turning the tide of the Nepalese against the horrific practice of selling their girls.
DFW's grant trained a total of 18 FKDF leaders:  five outreach coordinators, five administration and finance assistants, two business managers, five office assistants and one supervisor to work with 75 volunteers in 5 different districts of Nepal. Their mission is to advocate and educate to end the practice of Kamlari through street plays, organized marches, radio shows and media campaigns. DFW's funding also provided basic financial literacy and vocational training for 20 young women. Those young women were hired as seamstresses by garment companies and now earn substantially more than the average worker in their communities.
The waves of change for freed Kamlari continue! On June 27th, 2013, the government of Nepal declared the abolition of the Kamlari system, a change prompted in large measure by the formerly enslaved girls who have advocated for this action by the government of Nepal. Because of their hard work and dedication, the practice of Kamlari has been almost entirely eradicated in Nepal.   Consequently, the former Indentured Daughters Program is now called Empowering Freed Kamlari!  While some 12,500 girls have been rescued, a  TIME News article, reported that approximately 500 Kamlari remain in indentured servitude.
What a tremendous accomplishment for NYF, the formerly enslaved young women of the FKDF who have fought tirelessly and strategically to stop the horrific practice of Kamlari, and for the people of Nepal.  Empowering Freed Kamlari program is aimed at assisting freed girls by offering:
Leadership training: For the 1375 women who created the FKDF
Economic development: There are 37 new business co-ops with 2,600 members, and 750 young women have started businesses.
Vocational education and career counseling:  82 percent of graduates are employed.
Psychological Support: 50 FKDF peer counselors and five assistant counselors conduct 145 monthly support groups with 2,025 participants.
What could be more noble a cause than working together, learning, collaborating and becoming global change agents? It is exciting and empowering to see such a significant result from the work NYF is doing and that we our supporting. Our members learned about a practice many of us knew nothing about, were inspired to work to combat it, and now we can see the lives of these former slaves transformed. As you can see in the recent post from NYF, these women are going on to transform the lives of others by starting businesses and building strong support systems in their communities.
This is a compelling illustration of the self-perpetuating cycle — a life transformed transforms another — that we are all a part of.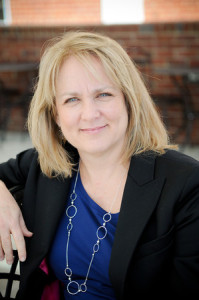 About the author
Marsha Wallace is the co-founder of Dining for Women. She is currently a member of the Board of Directors, a speaker and passionate advocate for the rights of women and girls around the world.