---
The Proven Platter: Banana Nut Strudel
Don't fritter away your time in the kitchen, knock out this scrumptious Banana Nut Strudel made with a Malawi staple.
Hello, Diners!
This month our good works take us to Malawi, located in east Africa.
Bananas feature prominently in desserts in East Africa, and in particular you will often see recipes for banana fritters (zitumbuwa). As delicious as this sounds to me, it's not a very convenient item to bring to a potluck dinner. They must be served hot and fresh out of the oil, making it a time consuming process, not to mention somewhat dangerous if you've had a glass of wine!
I wondered if I could come up with a baked fritter, when I came across a recipe for bananas baked in phyllo pastry. This sounded like a good compromise between a fried fritter and the baked fritter I was trying to create. It's convenient, too. You can bake them ahead of time and rewarm before serving, or you can assemble and freeze them, and bake them right from the freezer. If you can't rewarm them before serving, don't worry. I've had them after they have been out of the oven for several hours and they were still completely delicious.
Banana Nut Strudel
Serves as many as you need
Ingredients
1 banana per four servings
1 phyllo pastry sheet per serving
1 tablespoon chopped nuts per serving, any kind, preferably toasted
1 tablespoon melted butter per serving
Cinnamon sugar
Directions
Preheat the oven to 375 degrees.
Figure out how many servings you need to make and then measure out ingredients accordingly. I don't give measurements for the sugar because I keep mine is a shaker jar and just sprinkle it over the pastry, but if I had to guess, I'd say about one teaspoon per serving.
Cut the bananas in half crosswise, and then cut each piece in half lengthwise.
Lay the sheet of phyllo in front of you with the long end facing you. Brush the right half of it with melted butter, sprinkle with a few nuts and cinnamon sugar. Fold the left half over this side. Now you will end up with the shortest side of the pastry facing you. Brush again with melted butter, sprinkle with a few nuts and cinnamon sugar. Place the banana about 2 inches from the edge and fold the edge over it, fold in the sides, and continue to roll up. Place on a baking tray with the seam side down. Brush again with more melted butter on the bottom (to seal the seam) and on the top, then sprinkle with cinnamon sugar. Bake at 375 for 20 minutes.
Serve with caramel or chocolate sauce, ice cream or fresh berries.
Recipe and photo credit: Linda McElroy (inspired by "The Last Course" by Claudia Fleming and Melissa Clark)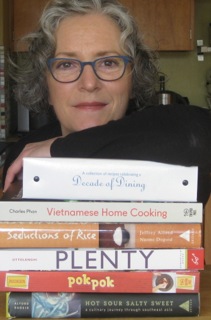 About the Author
Linda and her husband opened Ristorante Machiavelli in Seattle in 1988. After 25 years of cooking in and running a wildly successful neighborhood restaurant they sold the business and retired. Linda loves browsing through cookbooks, and the position of recipe curator provides her with a great excuse to indulge her passion. Linda hopes the dishes she tests and recommends will create a great experience for those who replicate her work in their kitchens.