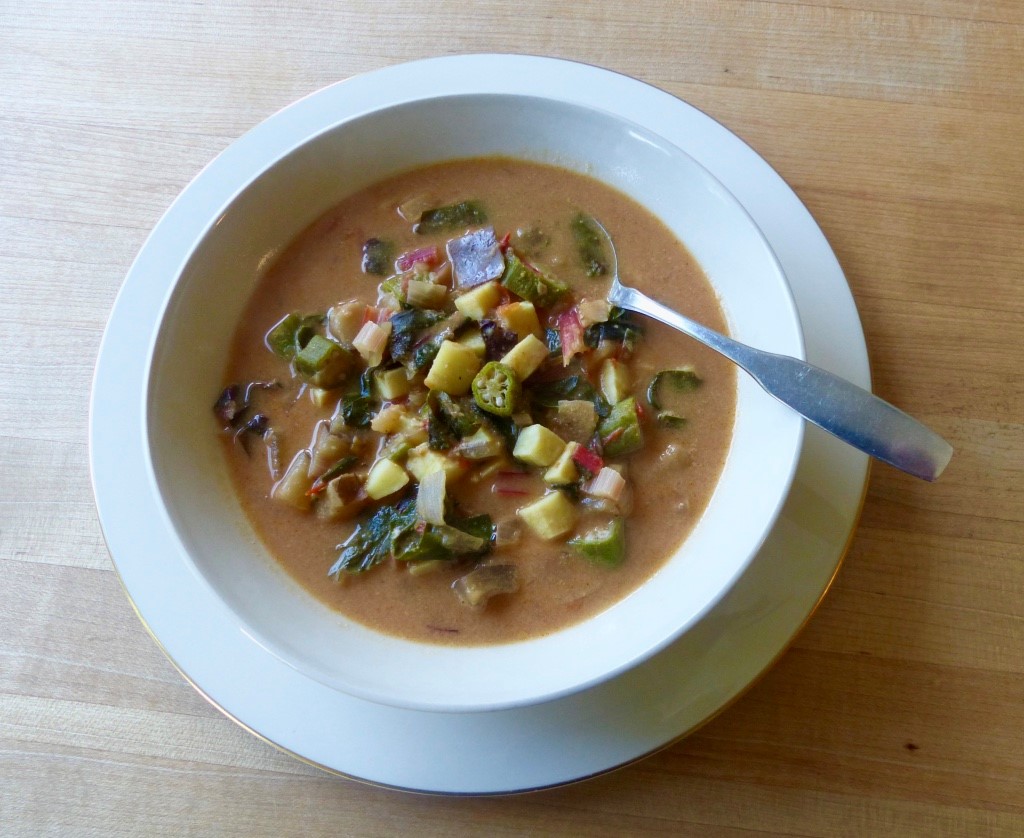 ---
The Proven Platter – Chad
Hello Diners!
The Republic of Chad, located in northern Central Africa, is the subject of our focus and our dining destination this month.
Okra is one of the most commonly consumed vegetables there. It is used both to thicken sauces and as a vegetable used in preparation of soups and stews. I suppose you either love okra or hate it, but as it happens, I love it! And since I've yet to post a recipe calling for okra, I think okra's time in the spotlight has come.
We'll be making a stew called "Daraba," a vegetarian okra and sweet potato stew. If you have unpleasant childhood memories of eating canned gumbo soup and trying to avoid the weird looking okra pieces floating around in it, I hope this recipe will put okra back in your good graces!
There were several recipes on the internet for Daraba, and they all basically said to dump the vegetables into the pot, cover with water, boil, add peanut butter to finish; done. That's OK, but I really like to coax a little flavor out of each vegetable, and I think it's worth taking a little extra time and care with your ingredients. I've included extra steps for sautéing each vegetable separately, and then completing the soup.
I'd also like to direct your attention to last month's Around the World Appetizer Party. If your group didn't meet in November but are meeting in December that would be a really fun option for your meeting.
Appetizer party recipes:
Spice Crusted Sweet Potato Wedges—Africa
Easy Samosas—India
Sweet Chocolate Tamales—Guatemala
Shaking Beef—Vietnam
Mexican Shrimp Cocktail  Mexico
Afghan Eggplant Dip  Afghanistan
Peruvian Lime-Marinated Raw Fish  Peru
Nepalese Lentil Patties  Nepal
Lamb Flatbread Jordan
Peruvian Caramel Cookie Sandwiches Peru
Peanut Chicken Skewers Niger
Sweet Potato and Okra Stew (Daraba) (Tested)
Serves 6
This is a wonderful vegetarian stew that is so easy to make. In about 30 to 40 minutes you'll be sitting down to a delicious, comforting stew. The peanut butter stirred in at the end really brings all the components of the stew together. Serve with white rice if you like.
Ingredients
2 tbsp. oil
1 medium onion, chopped, about 2 cups
1 Asian eggplant, skin on, diced, about 2 cups
3 small tomatoes, diced, about 2 cups
1 large sweet potato, diced, about 2 cups
1 beef or chicken bouillon cube
2 to 3 tsp. salt
¼ to ½ tsp. crushed chile flakes
20 fresh okra, sliced, or 1 ½ cups frozen
4 cups Swiss chard, chopped, about ½ bunch
½ cup peanut butter
Directions
Sauté onion in one tablespoon of oil for 5 minutes, until softened. Add the remaining tablespoon of oil and then the eggplant, saute for another 5 minutes. Add the tomatoes, and cook for a few minutes until the tomatoes start to break down. Add the sweet potato, along with 5 cups of water. Add the spices and simmer for 15 minutes. Add okra and greens and simmer for 5 minutes. Put the peanut butter into a small mixing bowl and add ½ cup hot water, stir to blend the peanut butter into a smooth paste, and add to the soup. Simmer for 5 minutes. Serve along with white rice.
Recipe and photo credit: Linda McElroy