---
The Proven Platter: Chicken and Green Bean Salad (Lawar)
The October 2014 Proven Platter recipe is Chicken and Green Bean Salad (Lawar) – one of Bali's most famous dishes. It's also a major effort so be prepared for a lot of work. But it's worth the effort!

By Linda McElroy
Serves: 8 to 10
Approximate time – Days (but worth it)
Difficulty rating – Difficult (ditto)
I'm exhausted! I have just finished shopping, slicing, dicing, chopping, pureeing, frying and toasting all the many ingredients that go into our recipe of the month, Lawar.  I chose this recipe because it is an important dish in Bali, not realizing how labor intensive it would be. Well, I did have an idea, but as usual I underestimated how much time it would take to make. So, fair warning and apologies in advance. But if you choose to make this recipe you will be richly rewarded by a colorful and delicious dish, not to mention healthy and low fat! And I will break it down for you so that you don't have to make it all in one day.
Indonesia's 13,000 islands represent the fourth-most populous nation in the world. As you can imagine, cooking varies greatly by region or island. Our program this month is based in Bali and I was happy to discover a cookbook completely devoted to Balinese cuisine, titled "The Food of Bali."
Lawar (finely chopped meat and spices) is one of Bali's most famous dishes. An entire day beforehand may be spent preparing the many ingredients that go into an elaborate Lawar that will feed an entire village. Typically the women are "allowed" to prep and chop these ingredients, and everything is set out in the morning for the mixing of the Lawar. But the task of combining all of these ingredients properly is considered so specialized that either a ritual food specialist or the most senior male in the family compound is called in for the task. That's when I decided that I was definitely up for the job!
While this is an authentic recipe from a Balinese cookbook, I am sure it is scaled down to more basic ingredients. As such, we will not be using the blood of a fresh pig, a more traditional essential!
I've streamlined the recipe just a bit for you. Instead of steaming the chicken in banana leaves I've opted to stir-fry it. But if you have some banana leaves hanging around your freezer feel free to use them to steam the chicken. That's how they do it in Bali.
In the recipe for the spice paste I've included the lesser known ingredients just the way the recipe was written because I wanted you to have the real deal account. I was able to find everything except for kencur and salam leaf at my well-stocked Asian grocery. If there are any ingredients you can't find just eliminate them, I am sure the dish will be delicious no matter what. Fried garlic and shallots alone would make this dish worthwhile!
While this looks like a complicated recipe it's more labor intensive than anything else. (I hope your knife is sharp because you'll be doing a lot of chopping!) Think of it as a chicken and green bean salad. The spice paste can be made a week ahead of time. The green beans and chicken can be prepped a day ahead of time and stored separately in the fridge. Then all that's left is to fry your shallots and garlic and toss everything together.
No major religious or private celebration in Bali would be held without serving this ritual dish. Only the eldest and most experienced men are allowed to mix the many ingredients.
Get the Recipe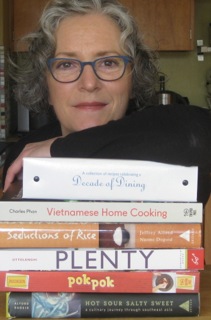 About the Author
Linda and her husband opened Ristorante Machiavelli in Seattle in 1988. After 25 years of cooking in and running a wildly successful neighborhood restaurant they sold the business and retired. Linda loves browsing through cookbooks, and the position of recipe curator provides her with a great excuse to indulge her passion. Linda hopes the dishes she tests and recommends will create a great experience for those who replicate her work in their kitchens.