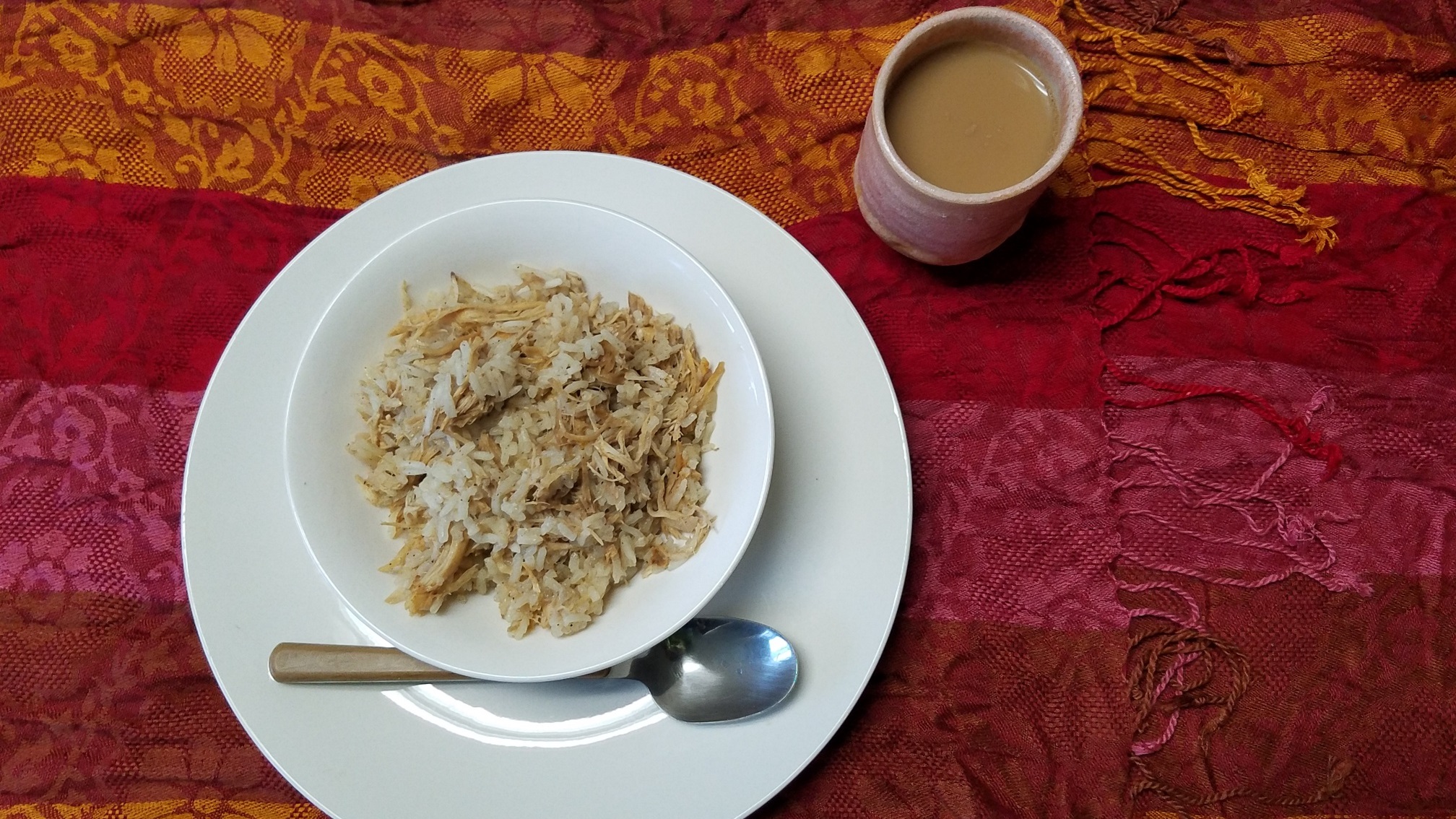 ---
The Proven Platter – Kenya, June 2020
Rice cooked with meat and vegetables is eaten all around the world. Pilaf, or rice cooked in broth, is believed to have originated in Persia around 500 BC. By the time it reached Africa, it had become a blend of rice, warm African spices with various meats mixed in. In Kenya it became Pilau, a rice and meat dish with a familiar spice blend.
While traditionally this dish is made with bone-in chicken pieces, like any dish that has made its way around the world, substituting ingredients that you have on hand works. The first time I made it I boiled frozen turkey and chicken carcasses to make the broth and used the meat picked off the bones. The second time I made it I used vegetable broth and plant based "chicken strips." Both combinations were complemented by the distinctive spice blend.
It pairs nicely with fresh greens and a cup of warm Kenyan chai.
Pilau
Ingredients
1/4 c olive oil
1 c onion, small dice
1 Tb minced garlic
1 tsp ground cumin
1 tsp ground coriander
1/2 tsp ground cinnamon
1/4 tsp ground cardamom
3 lbs. shredded chicken
2 cup uncooked rice
4 cups chicken stock
salt & pepper
Directions
Heat the oil in a 6-quart pan over medium-high heat. Add the onions and garlic and stir until browned.
Add the cumin, coriander, cinnamon, and cardamom and stir to combine.
Season the chicken with salt and pepper. Cook the chicken in the onions and spices, stirring occasionally, about 10 minutes.
Add the chicken stock and deglaze the pan. Add the rice and stir thoroughly. Bring to a boil and simmer for 10 minutes.
Cover the and reduce heat to low. Cook on low for 20 minutes.
Remove from heat and let sit 15 minutes with the lid on.
Kenyan Chai
2 c milk
2 c water
2 Tb loose black tea leaves
2 tb sugar
2 tsp chai masala
Put all ingredients in a saucepan, whisk and bring to a boil. Remove pan from heat and let tea step for 5 minutes. Strain and serve warm. A vegan version of this can be made by substituting coconut milk, oat milk, or your favorite alternative milk.
Chai Masala Mix
1 tsp ground ginger
1 tsp cinnamon
1/2 tsp nutmeg
1/2 tsp cloves
1/2 tsp cardamom
1⁄4 tsp ground black pepper
Recipe and photo credit: Georgia Reader