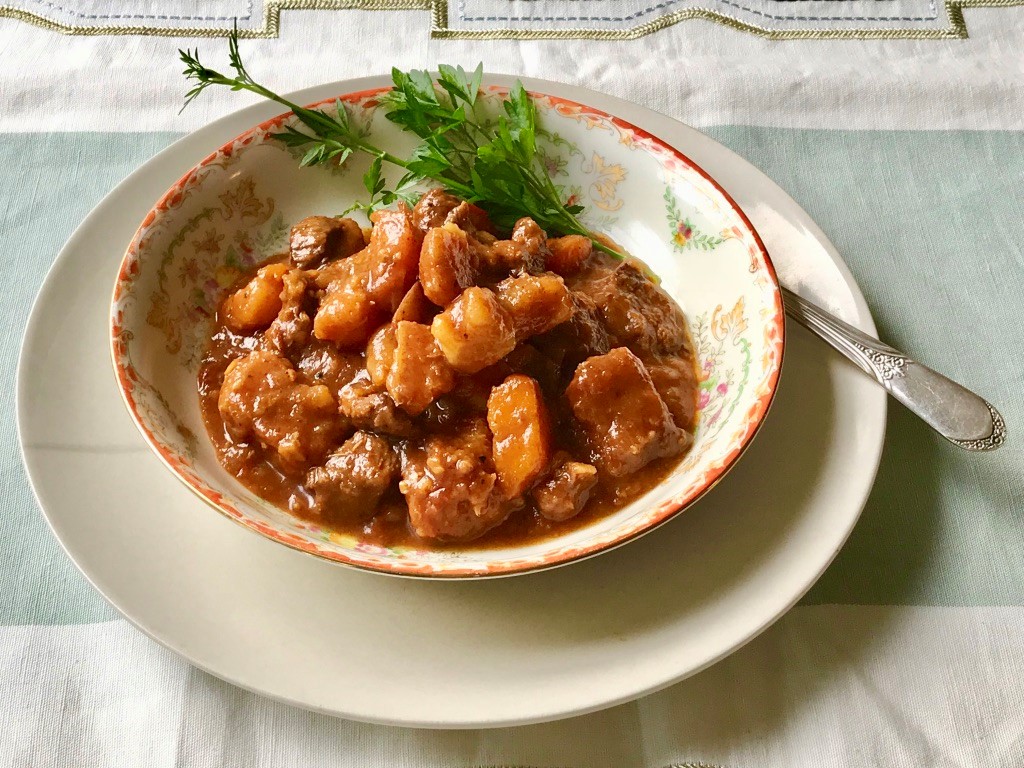 ---
The Proven Platter – Kenya, November 2018
Hello Diners!
Kenya calls us to come for a visit this month! And since it's November, it's definitely time to think about a warming beef stew, epic comfort food at this time of year. Kenyan Beef Stew is not all that different from our American version. It contains meat, potatoes, and carrots. I find that the difference is in the spices used and the inclusion of tomatoes and plantains.
I don't often share recipes including plantains, because for many it is an unfamiliar item and one not easily found in the grocery store. Or often they are fried, which makes them a little too fussy to bring to a potluck dinner.
In this case though, you can treat them just like potatoes. I've given instruction in the recipe of how to peel them for those who need to know. If plantains aren't available at your grocery store you can easily just add extra potatoes, and maybe carrots as well, to make up the difference.
I've also included an updated recipe for Sukuma Wiki, a delicious braise of kale and tomatoes. The markets should be full of bundles of the frilly greens right now. Swiss chard and collard greens are also great choices for this dish. Using a blend of a few different types of greens gives this dish even more depth and flavor.
Happy cooking! Please feel free to contact me if you have any questions or comments about the recipes at nw4@togetherwomenrise.org. I love to hear from you!
Kenyan Beef Stew (Ndizi na Nyama)
Serves 6
The literal translation of Ndizi na Nyama turns out to be "Plantains with Meat," or as I like to call it, Kenyan Beef Stew. If you can't get your hands on some plantains, it's fine to add more potatoes in place of them. But if you can find plantains I do recommend using them. They add a great texture. If you are unfamiliar with how to prepare them here's what you do: slice the ends off, score the peel all the way down the length, then peel and cut into chunks.
I've noted in the recipe to use a boneless beef chuck roast and cut it into pieces. That's just how I like to make stew. It's fine to use already prepared beef stew meat, but the reason I don't is that sometimes you end up having to cut some of the pieces down anyway.
Ingredients
1 ½ lbs. boneless beef chuck roast, cut into bite size pieces
1 to 2 tbsp. cooking oil
2 medium onions, chopped, about 2 cups
3 large cloves garlic, chopped
1 jalapeno pepper, chopped, seeds removed for less heat
1 tbsp. chopped fresh ginger root
1 tbsp. tomato paste
3 medium tomatoes, chopped, about 1 pound
1 tsp. curry powder
1 tsp. paprika
½ tsp. freshly ground black pepper
3 to 4 cups beef broth or water
2 to 3 tsp. kosher salt, to taste (depending on if you use salted beef broth)
2 large carrots, cut into chunks, about 2 cups
2 large new potatoes, cut into chunks, about 2 cups
1 to 2 plantains, depending on size, peeled and cut into chunks, about 1 ½ to 2 cups, (the one I used weighed 12 oz. with the peel on)
Directions
Start by browning the beef cubes in a large frying pan, drizzled with a little bit of oil. You may have to do this in two batches to avoid crowding the pan and thereby steaming the meat instead of browning it. Remove the beef cubes and put them into a large pot or Dutch oven that the stew will finish cooking in.
Once the beef is browned drizzle a little more oil into the pan and add the chopped onions; keep the heat to low, and let the onions cook until they soften and pick up the color of the meat juices left on the bottom of the pan. Next add the garlic, jalapeño pepper, and ginger, stir that around for a minute.
Add the tomato paste and mix it in thoroughly with the vegetables in the pan, let the tomato paste caramelize for a minute or so. Add the chopped tomatoes, curry powder, paprika, and black pepper. Stir that around for a few more minutes, until the tomatoes start to break down and become saucy.
Scrape the contents of this pan into the stew pot with the meat. Add 3 cups of stock or water to the pot, but make sure to add some to the frying pan you just used in order to clean and deglaze the pan, and add that liquid into the stew pot as well.
Bring the stew to a simmer and add the carrots. I wouldn't add the potatoes and plantains just yet because they don't take as long to cook as the carrots do. BUT, it depends on how firm your plantains are. If they are quite firm then add them in along with the carrots. If not, add them in with the potatoes.
Add the salt now too, start by adding 2 teaspoons at first. You can taste later on to see if you still need to add more. Simmer the stew, covered, for 30 minutes.
Add the potatoes, and plantains if you haven't already done so, and let the stew simmer for another hour. Stir occasionally, you may have to add another cup of stock, depending on how you like your stew. I ended up using 4 full cups. Check to see if the meat is tender. It should be, but if not, simmer longer until it is fork tender.
You could serve this with rice or ugali, but that is not really necessary since there is plenty of starch in the stew. Enjoy!
Recipe and photo credit: Linda McElroy