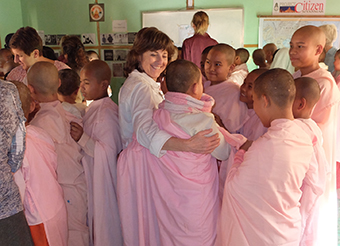 ---
Meeting girls on two continents
Those who travel with Dining for Women are personally seeing the similarities in girls' struggles around the world, and how two of our supported programs are helping those facing the biggest biases and lack of opportunities.
By Patricia Andersson
DFW Travel Director
Just a few weeks ago in early February, the DFW Travel Program completed a trip to Burma/Myanmar where we had the opportunity to meet the girls taking part in Girl Determined's Colorful Girls Circles. (Here is a report on our trip.) Visiting them in five different settings, we saw how the needs of the girls varied based on the situation they were in – ranging from a Circle in a boisterous urban school in Mandalay that was home to 7,000 students, to a Circle set up at a nunnery in Yangon where the girls were sheltered from the world to an almost debilitating degree. And while the approach may be altered to accommodate the girls' situations, the messages remained the same for all: you have a right to speak and be heard; your education is important; you have options for your future and deserve to have a say in it. You are valuable.
In just another few weeks' time, the Travel Program is off again, this time to visit the
Mariposa Center for Girls
in the Dominican Republic. This trip will be even more hands-on, as we'll spend much of our time working directly with the girls on a variety of projects. And while Mariposa's program differs from that of Girl Determined, underneath the same ideas are being imparted to the girls – with the most important, all-encompassing message being: you are valuable.
Believing that one is valuable can be a life lesson for a girl of any country, influencing her growth and development for years or decades, and we see the negative effects of a lack of self-worth in young women worldwide. Yet for girls who face an even stronger cultural bias against a woman's worth than we do in the developed world, this hurdle to believe in oneself may never be cleared – if it is even identified or challenged.
The programs we fund do challenge this bias, and provide positive models for girls to overcome the hurdle. Girls experience strong facilitators and learn about women leaders in their own country – in Burma/Myanmar, Aung San Suu Kyi; in the Dominican Republic, the Mirabal sisters (in whose honor the International Day for the Elimination of Violence Against Women was founded). This modeling is also an aspect of the Travel Program – the girls we visit experience a different way of being a woman in the world from our travelers, who let them know in many ways that their value is seen and their blossoming encouraged. For all our cultural differences, on a one-to-one level, love and caring know no race nor language barriers.
Follow along on our experiences in the Dominican Republic by signing up to receive the weekly Travel email. Subscribe to our newsletter and choose Travel in your special interests. 
Featured photo: Marilyn Murphy (Thousand Oaks, CA) shares a hug with a Colorful Girls Circle participant in Burma.