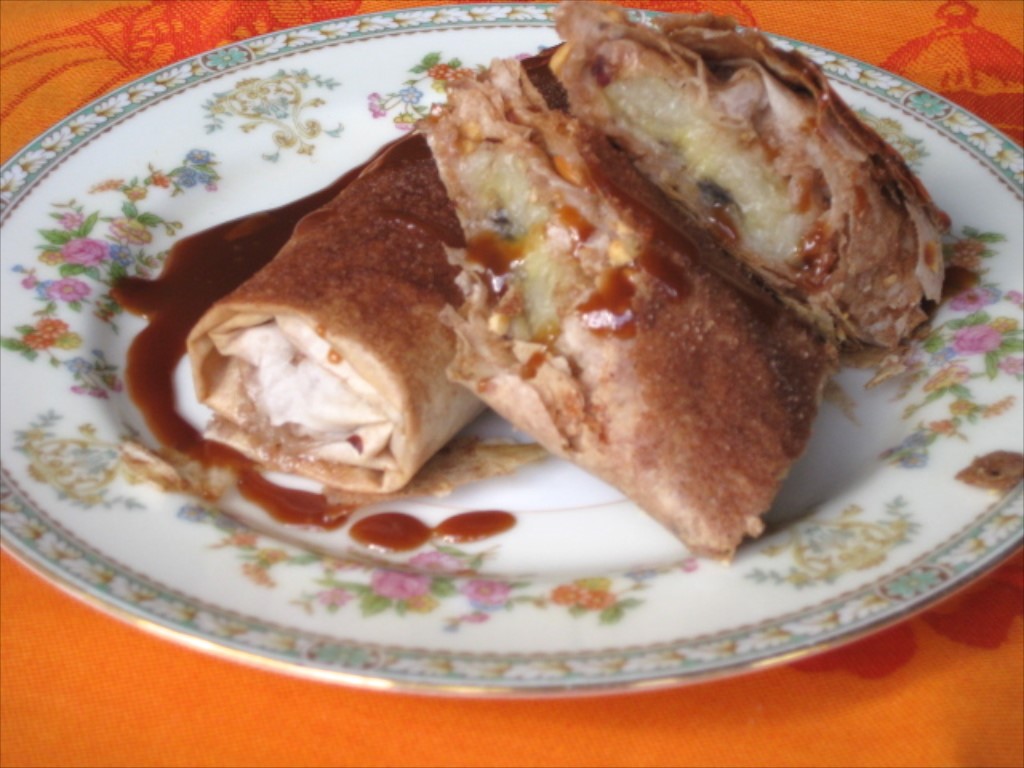 ---
The Proven Platter – Around the World Appetizer Party
Hello Diners!
It's that time of year again. Everyone is busy with the holidays, and hoping they'll be able to fit everything in that needs to be accomplished and stay sane. Let's hope you will find the time to attend your chapter meeting of Dining for Women this month!
I'm back with a new slate of "Around the World Appetizers" to help you out! I've looked back over the archives and pulled out some recipes we've made in the past. For those groups who like to focus on making recipes relevant to the country we are supporting, you'll be pleased with these choices, I hope!
But for those groups that like more flexibility, I recommend that you try out a new appetizer recipe on your group this month, maybe something you'd like to serve for company and you could use a friendly test group to review it for you.
Since Malawi is the country we are sending our program support to this month, I would like to feature this easy recipe for Banana Nut Strudel. Bananas feature prominently in desserts in East Africa, and in particular you will often see recipes for banana fritters (zitumbuwa). My recipe is an easy hack that will give you the same effect, with less work and no deep frying.
Please feel free to contact me at nw4@togetherwomenrise.org if you have any questions or comments about the recipes. I'd love to hear from you!
Banana Nut Strudel (Tested)
Serves 8
Bananas feature prominently in desserts in East Africa, and in particular you will often see recipes for banana fritters (zitumbuwa). As delicious as this sounds to me, it's not a very convenient item to bring to a potluck dinner. They must be served hot and fresh out of the oil, making it a time-consuming process, not to mention somewhat dangerous if you've had a glass of wine!
I wondered if I could come up with a baked fritter, when I came across a recipe for bananas baked in phyllo pastry. This sounded like a good compromise between a fried fritter and the baked fritter I was trying to create. It's convenient too, you can bake them ahead of time and rewarm before serving, or you can assemble and freeze them, and bake them right from the freezer. If you can't rewarm them before serving, don't worry. I've had them after they have been out of the oven for several hours and they were still completely delicious.
Ingredients
2 bananas
8 phyllo pastry sheets
8 tablespoons chopped nuts, any kind of nut you like, preferably toasted
8 tablespoons melted butter
Cinnamon sugar to sprinkle
Directions
Preheat the oven to 375 degrees.
Cut the bananas in half crosswise, and then cut each piece in half lengthwise.
Lay the sheet of phyllo in front of you with the long end facing you. Brush the right half of it with melted butter, sprinkle with a few nuts and cinnamon sugar. Fold the left half over this side. Now you will end up with the shortest side of the pastry facing you. Brush again with melted butter, a few nuts and cinnamon sugar. Place the banana about 2" from the edge and fold the edge over it, fold in the sides, and continue to roll up.
Place on a baking try with the seam side down, brush again with more melted butter on the bottom to seal the seam and on the top, and sprinkle with cinnamon sugar. Bake at 375 for 20 minutes.
Slice in half on the diagonal, and serve with caramel or chocolate sauce, ice cream, or fresh berries.
Recipe and photo credit: Linda McElroy (inspired by "The Last Course" by Claudia Fleming and Melissa Clark)
Around the World Appetizer Party
Malawi: Banana Nut Strudel
Bolivia: Turnovers/Salteñas
Guatemala: Beet and Cabbage Tostadas
Bhutan: Cheese Dip/Ema Datshi. I recommend serving this dish with sliced baguette to dip into the cheese.
Afghanistan: Yogurt Marinated Chicken Kebab
Peru: Turtles/Chocotejas
Cambodia: Spicy Chicken Wings